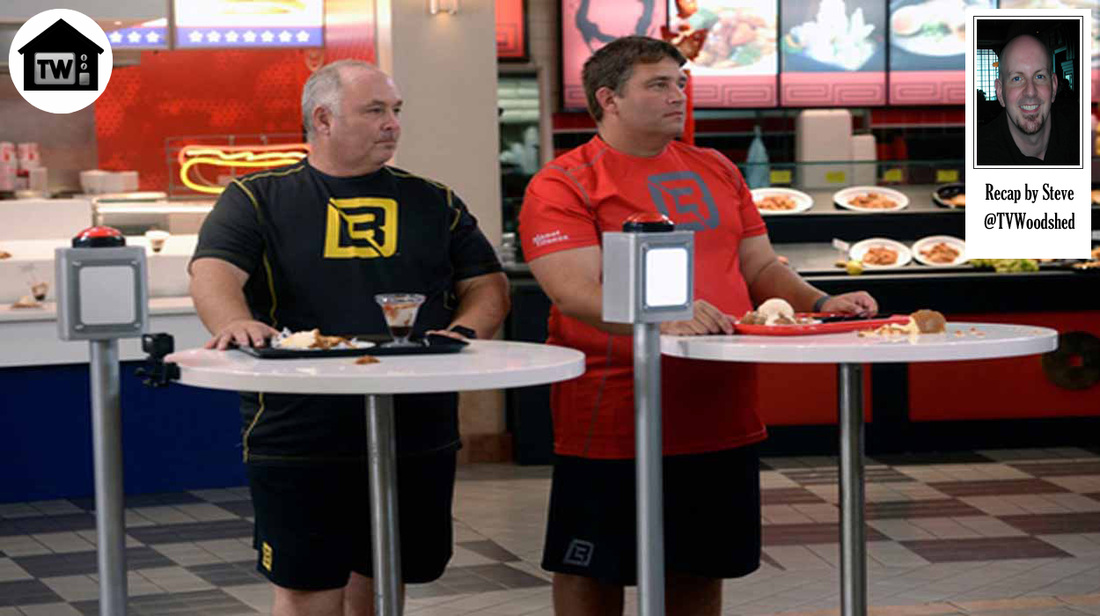 Okay, so, I don't know what's going on at NBC's scheduling department, but we've got two episodes of The Biggest Loser back to back tonight and for the foreseeable future. We're binge-watching the binge eaters!
Previouslies: A bunch of fat people arrived on the ranch, got their fat asses handed to them, and Britney went home. Wait, who's Britney again?
Food court. The contestants arrive at the mall after hours. Did their moms drop them off in wood-paneled station wagons and give them money for the movies? Bob is standing next to a delicious-looking pile of crappy food, and tells the contestants that Americans spend over $100 billion a year on food like this. Are you sure? That seems a little low. I spent nearly that on Girl Scout cookies that I haven't even gotten yet.
Bob explains that there's going to be a trivia contest, and good Lord, are the rules ever complicated. But that's
Biggest Loser
for ya. Each round one of the fatties will have to pick the food that they think is the correct answer to the question, and if they get it right, they can force two people on the other team to eat it. Because forcing fat people to eat bad food makes PERFECT SENSE on a weight-loss show. The trainers each have one bullet they can take for their team.
So the thing starts, and there's lots of running around and hitting buttons, and we're all made to feel bad about the food choices we've been making. Dolvett, the hero of the day, steps up and eats nachos so Toy and Jacky don't have to. He claims he doesn't enjoy it, but I think secretly he does. And let's face it, he can burn those nacho calories just by smiling.
Jen misses the chance to jump on an explosive pile of chicken alfredo, because she doesn't realize how bad it is. Doesn't realize how bad it is? What is this, your first day? She redeems herself later by eating some mac and cheese so that Colby – who still needs subtitles, by the way – and his mom Hope don't have to. And judge me all you want, but watching Jen eat mac and cheese? Kinda hot.
So Dolvett's team runs away with the challenge and now they get to choose one person to sit out the weigh-in, either from the other team or their own. Intrigue!
Back from commercial, the teams meet up with Bob at some sort of medical research facility. We know this because of the sign on the door that reads MEDICAL RESEARCH FACILITY. Thanks for the mallet to the head,
Biggest Loser
. Everyone goes inside to an autopsy room, and who should be waiting but Doctor Death himself! How appropriate! Hey there, Doctor Death! I see your face is still slowly collapsing into itself. Lookin' good!
Doctor Death has something on the autopsy table covered with a blue sheet. Is it a dead body? I really hope it's not a dead body. After making the whole group feel like shit, he publically shames that big ol' lump Colby by reading off all the bad stuff he drinks on an average day – soda, sports drinks, and the like. It doesn't sound that bad to me, because I drink more than Colby does, but whatever. It's not about me. Doctor Death dramatically pulls back the sheet to reveal an entire slab of cocaine! Oh, sorry, it's sugar. That's a shame. We could have given each contestant a bindle of the ol' nose candy and seen if that helped them lose a few pounds.
Anyway, it's 460 pounds of sugar, which is how much Colby is taking in every year. Man, think about how many Pixie Stix we could make with that table! Doctor Death throws a handful of sugar at Colby, because verbal abuse is not enough. Colby says, and I'm quoting here, "Mawln danna ippty shaw nelly." Seriously, can we get a hillbilly translator in here for him?
Doctor Death says that being a big old fatty can cause infertility in both women and men, so if Hope and Colby want to have a baby, they need to … hold on. Wait wait wait wait wait. Time out. Hold the god-damned phone. Hope isn't Colby's mother? She's his WIFE? Get. The. Fuck. Out of here. EEEEEWWWWWWWWW! And they're trying to make a hillbilly baby? You mean to tell me that Colby looks at Hope – Hope! – and says, "Boy howdy, I gots to butter that biscuit." Urgh. I'm gonna hurl. I'm seriously gonna hurl.
Next up for public shaming is Toy, who happens to have the highest percent of body fat. There's 218 pounds of it. To show her what that looks like, Doctor Death and Bob fill a fish tank with saturated fat and smear it all over the place. I wonder if it smells like French fries. I bet it does. Now all we need are some really sturdy fish and we'll have one tasty aquarium.
Finally, they pick on the elder statesman of the group, Rob, and show him the date December 14, 2020. The good Doctor asks if that means anything to him. Is it the date that Marty travels to in
Back to the Future II
? Oh no, of course not – that's the date that Rob's going to die. Die! I'm not sure I'd want to know the exact date of my death, but Rob isn't given a choice in the matter. Rob promises to do better, and Doctor Death agrees to hold a party on December 14, 2020. Oh, I'm sure that'll be a hoot. Rob promises to be there, assuming the myriad other things that could kill him between now and then won't do so.
After a quick built-in Jennie-O turkey commercial, it's into the gym, where the beatings will now begin! Richard, ever the devious one, keeps an eye on Team Jen (bleah) to figure out who they should bench for the weigh-in. Felicia sets herself apart from the pack by butting heads with Dolvett, but you can just picture the finale where she's saying, "Yeah, Dolvett and I had our differences early on, but now I just love him to death." So whatever.
And on to the Double Scale of Doom. Team Dolvett (rrrgh) chooses Colby to sit out, to which Colby responds, "Y'all shone millybilly ennuh dawl jang." Words of wisdom from the hillfolk, ladies and gentlemen. So everybody weighs in, Team Dolvett loses, and Whitney and Jacky are below the line. In the Elimination Room, Whitney gets the axe, and then Felicia has a meltdown because she feels Dolvett let them down. Hey! DO NOT speak ill of Dolvett! Ya crazy bitch.
Dolvett, sensing that something is rotten on his team, is waiting for them at the house after the elimination. He takes full responsibility, as any great leader would, and promises to do better by his remaining fatties. His remaining fatties are grateful, except for Felicia, who adopts a "wait and see" attitude. That's the spirit!
We don't get to catch up with Whitney yet, because they've haphazardly stitched this episode into the next episode, and we'll see what she's up to after that elimination. Which will be in about an hour. This double episode thing is just plain nuts.
Next week! Sorry, later tonight! The contestants are forced to pull food trucks, because that's not insane, and we witness the debut of the Last Chance Challenge. What could that be?
Let's find out right now!