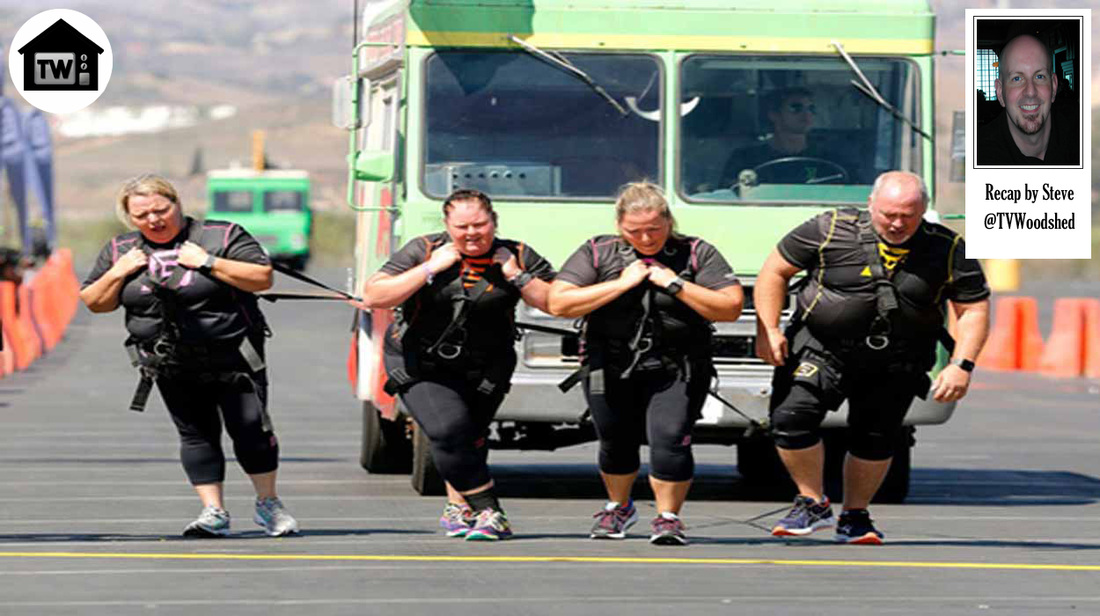 It's next week but it's still this week, if you can dig that. In the second part of tonight's double-header, the fatties are forced to drag food trucks in the scorching heat, and then show off their mad rowing skills. Oh, and some Spanish chick comes to cook.
Previouslies: Um … it just happened, like, two seconds ago.

Parking lot. The sun is blazing as the contestants arrive to meet Bob. The show freely admits that a week has passed, even though for us it's only been moments. Has The Biggest Loser perfected time travel? I always suspected it would be this show. Anyway, the challenge this week is for the teams to pull small, medium-sized, and large food trucks across a finish line. I would point out that small, medium-sized, and large are relative measures.

Sarah and big dumb ol' hick Colby from Team Jen (blugh) have to sit out because of medical reasons, but as usual on this show, the reasons are not explained. Both of them were just fine a few minutes ago, but I have to keep reminding myself that a few minutes ago was a week ago in Biggest Loser time.

Bob explains that the winners of this particular challenge will win a cooking lesson from Chef Lorena Garcia, and everyone oohs and aaahhs about the prospect. Shut up, all of you. You don't know who that is. No one knows who that is. The losing team has to spend the week eating food off the food trucks. Oh, I would so totally throw this challenge, and I think some of the contestants are thinking the same thing.

So the fatties get harnessed up and they have two people pulling the small trucks, four people pulling the medium-sized trucks, and the entire teams pulling the large trucks. One of the trucks is a pizza truck called "Pizza My Heart," which makes me happy. And upon second viewing, I notice there's a guy in the truck, steering. Hey! We can easily pull a 6,000-pound truck, but you never said anything about a guy! Anyhow, Team Jen gets an early lead on Team Dolvett, thanks to injured Colby shouting at them incoherently, and Team Jen wins.

The gym. The teams work out, as the teams are wont to do, and Dolvett does some weird thing to try and make his team more of a team. I don't fully understand it. He puts someone in charge of yelling out numbers and then someone else takes over yelling out numbers. If not for all the sweat and puke, I'd guess they were playing bingo. Either way, the team seems pleased that they're more team-y.

Team Jen shows up for their cooking lesson from Chef Lorena Garcia, and she makes them wonderful, healthy food while poor Team Dolvett has to order wonderful, healthy food from a food truck. Seriously, when I heard they were eating off a food truck, I assumed they'd be stuck with mozzarella sticks and those giant turkey legs you get at the county fair, but they're eating salad and stuff. Big whoop.

I figured it was off to the Scale of Doom, but ho! What's this? We're back in the gym for something Bob is calling the Last Chance Challenge! He hypes it up good, but in the end it's just part of a Last Chance Workout that's worth a two-pound advantage on the scale. Four members from each team hop on the rowing machines and row their little hearts out, but in the end, Team Jen wins. Well that was a whole lotta nothin'. Next time make them wade through a pool of caramel or something.

And now it's time for the weigh-in! Team Jen gets its two-pound advantage and we're off to the races. In the end, it comes down to whether or not Richard has lost six pounds or more. He loses nine, and Team Dolvett celebrates their victory while Hope jiggles with heaving sobs a few feet away because she's below the yellow line with Luis. I think she's mostly sad at the prospect of going back to her rusty tin shack in Ramshackle, Arkansas.

Then it's off to the Elimination Room. I notice that when Team Dolvett is in the room, they seat left to right, but Team Jen seats right to left. EVERYTHING IS DIFFERENT! I don't hold out a lot of hope for Hope because she's not nearly as telegenic as Luis, which is a kind way of saying she's uglier than a lard bucket full of armpits. Alas, Hope does not float, and she is eliminated. Colby takes it especially hard and doesn't want to let go of her hand. Come on, Colby. Someone has to go tend to the mud harvest.

We catch up with Whitney – you remember Whitney, got eliminated halfway through this double-header slog? Well, she's lost 31 pounds and is still fat. They show her at a speed dating event, and the less said about that, the better.

Then we catch up with Hope, who has lost 32 pounds and is still fat. Maybe she'd weigh less if she took that big flesh-colored pouch off of her chin. Oh – that is her chin? Oh. Well, anyway, I'm sure Colby will be thrilled that his wife is slightly less fat, still balding, and according to her doctor, ready to make little inbred babies. Pardon me while I shudder FOR THE REST OF THE DAY.

Next week! Colby receives diction lessons from Sir Ian McKellen and becomes a modern-day Eliza Doolittle. Jen's thighs rip her favorite workout pants and she trashes the gym in a blind rage. And Bob gets highlights.

​