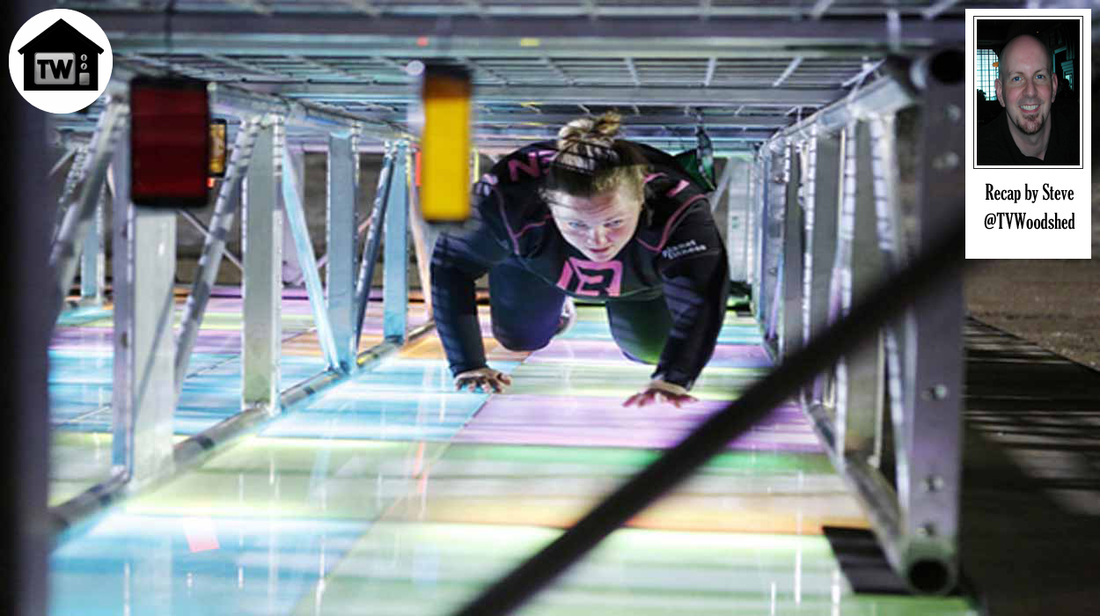 In this week's first episode, the contestants are forced into a terribly convoluted game of Simon to prove that they're addicted to their iPhones. Don't ask me, I just work here. But things look up when they get to chat with the folks at home and the tears start a-flowin'!
Previouslies: The food court. The loss of Whitney, whoever that is. Pulling food trucks. The loss of Hope. Just another day at the ranch.
This week we start with the contestants meeting Bob in a brightly lit dirt lot in the middle of nowhere at night. It would seem that they've moved away from filming these crazy challenges in midtown LA, which I'm sure pleases midtown LA to no end. Bob rubs it in that the contestants were tempted by food and money, and now makes them feel bad for being glued to their iPhones for 11 hours a day. Well then how are they supposed to finish Boom Beach, smart guy?
Bob explains the overly complicated challenge this week, which I guess is supposed to break the contestants of their addiction to technology? It's an old-fashioned game of Telephone, which dates back to the 17th century. But, y'know … technology! The first person has to raise a crate that hides a monitor with flashing colors, then memorize the colors, and pass them on to the next person, who has to run part of an obstacle course, and so on. The last person has to submit the colors. It's EXACTLY as stupid as it sounds.
Team Dolvett goes first, and Dick Hatch (insert your own joke here) is the color memorizer. Instead of passing them on as colors, he uses a mnemonic device to create a sentence that makes no sense at all. It's like, "Gravy Bob Rugs Yesterday Because Rupees Youngling" or some shit. Those colors get entered, and then they do it again with "Ragnarok Yang Bang Glutamine Gassy Bullshit." Amazingly, the silly sentences work, except for one last color, which is "Yangtze." Their total time is 25:44. Can you imagine watching that in real time? Half an hour of this nonsense? Oy.
Now it's Team Jen's turn, and in a singularly brilliant move, they choose everybody's favorite slack-jawed yokel, Colby, as the color memorizer. That's right, for a game predicated on COMMUNICATION, they choose the guy who only speaks fluent hillbilly as their starter. So Colby decides to memorize the colors themselves and pass them off in small chunks, so we have plenty of shots of Colby saying "Rid Grayn Yella Bloo." At one point, he even says "Ornge," even though orange isn't one of the colors. Great plan, Team Jen. They lose the challenge.
So now Team Dolvett has to decide if they want to have video chats with the folks at home, or exclusive use of the gym for the week. Just to make sure they get tears from absolutely everybody, they show little teaser clips of friends and family, and sure enough, Niagara Falls, Frankie Angel. Team Dolvett shows some sense and picks the gym. Team Jen is very excited that they get to talk to loved ones and lose the weigh-in.
So Team Dolvett works out inside and Team Jen works out outside, and really, there's not a whole lot of difference except for air conditioning. Then Team Jen gets on the COMPUTER to have their VIDEO CHATS, proving that the challenge did, indeed, break them of their technology addictions. Everybody gets all weepy and simpers, and we collect enough tears for this episode and probably half of the next one. Mmmmm, salty goodness.
Then it's back to the gym/great outdoors for a Last Chance Workout, and Jen is having her team throw rocks around and carry big logs. Colby is in his glory because he's playing around in the dirt, and I assume it reminds him of slopping the hogs back home. But Jen is annoyed because everybody's half-assing it, so they have a team huddle, and then everyone is better and they work out hard. Boy, those huddles are something else!
And off to the Twin Scales of Doom! Bob informs everyone that there's a red line this week, and everyone gets all panicky and groany. I don't understand why. Isn't it easier than having to agonize over the decision between two people under the yellow line?
Either way, the weigh-in begins and it's a close one. In the end, Team Dolvett loses and Richard is under the red line. Well, at least we won't have to look at that uncomfortable "naked man inside a ship's steering wheel" tattoo on his back any more. Richard shows no emotion whatsoever in having lost. Luckily, the Tear Bank is filled from earlier.
Next week! Meaning right now! The contestants get shuffled around and then are forced to climb around on shipping containers. Oh yeah, someone's gonna die.
Let's see who!