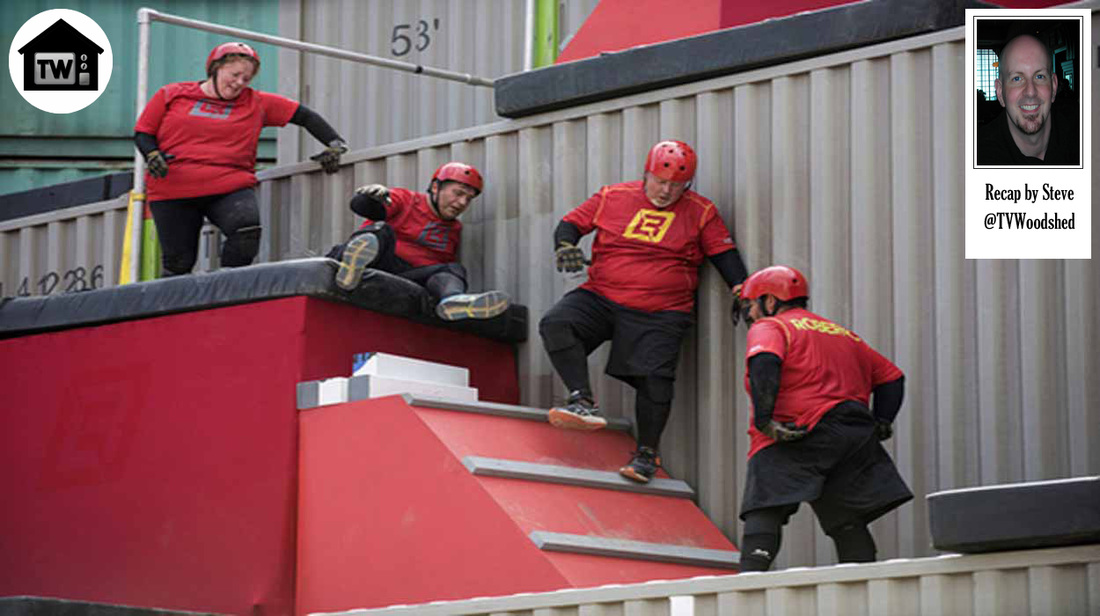 Hour two is upon us, and it's time for this season's BIG TWIST. They're going to mix up the teams, and everyone's going to whinge and moan about losing their trainer and teammates. Whatever. Just lose weight, you bunch of fatty crybabies.
Previouslies: The stuff that just happened before the commercial break.
Once again
The Biggest Loser
employs time travel – only a moment has passed for us, but an entire week has gone by for the contestants. They don't look any less fat. Maybe this past week was Twinkies Week. Either way, they meet Bob down at the docks. Tommy used to work on the docks. Then the union went on strike and he was down on his luck. It's tough. So tough.
Bob drops the BOMBSHELL that they're mixing up the teams this week. Oh no! Whatever shall we do? Colby and Jacky are the biggest losers from last week, so they get to keep their trainers and then pick teammates from the opposite team, who will pick teammates from the opposite team, and so forth. I offer up once again that it's too early to invest in these people because there are still too many, so the only takeaway is that twins Roberto and Luis are now on opposite teams. I don't know how the Earth managed to stay on its axis, but it did.
But there's no time to dwell on the new team configurations! It's time for a challenge! After a quick change into new team colors, the contestants are told that they need to run to the top of one pile of shipping containers, grab some puzzle pieces, then run to the top of another pile of shipping containers, and put the puzzle together. Fine, let's get this over with. As an aside, I will say that I'm happy that none of the contestants have safety rigs for this challenge. Maybe we'll get some injuries!
Speaking of injuries, Felicia and Sarah aren't medically cleared to participate in the challenge. Is that code for saying they have their menses? To balance out the teams, Toy and Vicki sit out too. This is the way to do
Biggest Loser
, baby. Get yourself hurt and sit out all the silliness. So the challenge begins and I will admit that it's as exciting as watching a bunch of fatties clamber up shipping containers can possibly be. Team Jen assembles their puzzle first and it says "3 Pound Advantage." Hooray!
The teams arrive at the gym and Dolvett and Jen are delightfully befuddled by the switchup. It's all highly amusing. And then the tears start flowing and everyone complains and moans about losing a world-class trainer and being stuck with a world-class trainer instead. All right, are all you ungrateful wretches finished? Can we get a workout in? Thanks so much.
So everyone starts working out, and Toy is upset to see someone named Stephen doing a boxing workout with Dolvett, because that used to be their thing. I would swear on a stack of Bibles and in front of a jury of my peers that this Stephen character just materialized out of thin air. I have absolutely no memory of him whatsoever. See? This is why I don't get chummy with any contestants until we're down to, say, five or six.
Jen sits down with Erin, she of
The Voice
fame. It appears to be just another opportunity to get the tears flowing, but surely with the drama of the TEAM SWITCHING, we have enough for this week, right? Erin wants to live a life of honesty. There's nothing dishonest about eating an entire package of Reese's Peanut Butter Eggs, sweetie. Trust me. I know.
Then it's back over to the gym and Bob announces another one of these Last Chance Challenges, which will stick the losing team with a one-pound disadvantage at the weigh-in. Bob says this challenge will suck. Well, now, don't oversell it, Bob. Let's see for ourselves. It'll start with two contestants on treadmills, and then two on bikes, and then two on Jacob's Ladder, which apparently everyone really hates. I could never make one with the string, much as I tried.
So the thing starts, and Bob has the chance to scream at everyone, which I imagine he misses since taking over as host. By the by, Luis isn't even in the gym because he had back spasms that made it impossible for him to even walk. Suuuuuuure you did, Luis. Suuuuuuure you did. Anyway, Team Jen looks to have an insurmountable lead, but then Toy screws the pooch on Jacob's Ladder and Team Dolvett wins. So now Team Jen only has a two-pound advantage at the weigh-in. Drama!
The Scales of Mount Doom. For the second week/episode in a row, there's a red line. Again, there's fear and anxiety, and again I say it's got to be easier than going into the Elimination Room with your dumb silver platter and weeping over your decision. Anyway, everyone weighs in, Team Dolvett loses, and Sarah is below the red line. Who is Sarah again? Jen starts crying, so I guess Sarah used to be on Team Jen? Shows how much I'm paying attention. Bye, Sarah. Whoever you are.
We catch up with Richard, who is down 43 pounds so far and is running about town with his husband, Emi, and their dogs. He seems happy, but in a weirdly emotionless way. Then we catch up with Sarah, who is down 62 pounds, and says that being on
The Biggest Loser
was life-changing. Well duh, Sarah, of course it was.
Next week! They sneak in a bunch of contestants we've never seen before and no one notices. The gym needs to be fumigated when it's discovered that Colby's hair is actually a nest of deer ticks. And Jen loses her lip gloss into her cleavage. Forever.

​