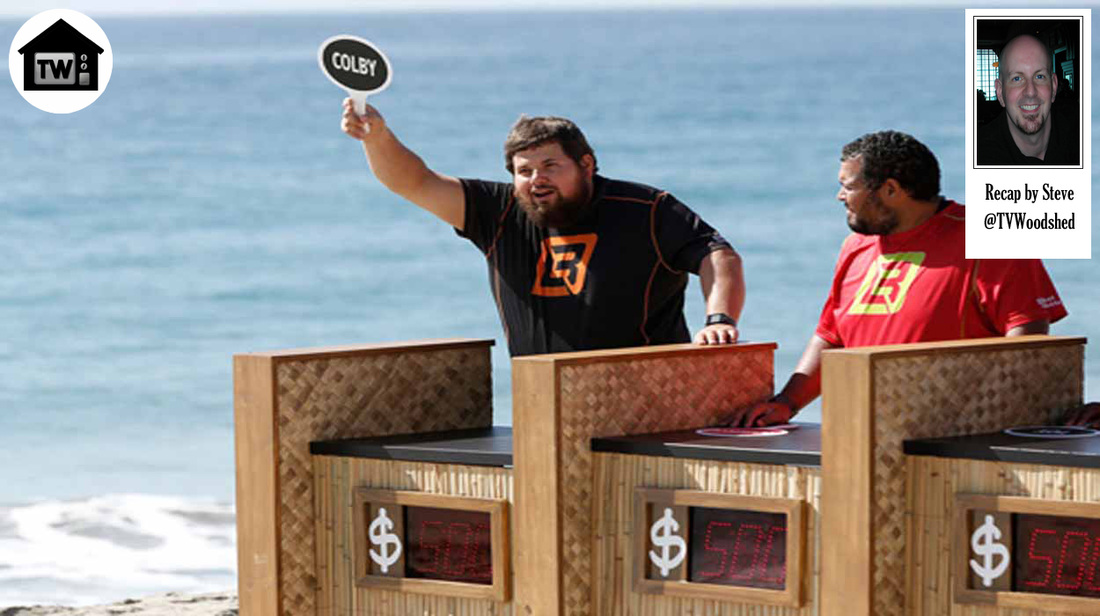 This week's first Biggest Loser presents us with a mixed message: The contestants are presented with the temptation of luxury, and yet when they scoop up the luxuries like a pack of rabid Kardashians, they're not made to feel guilty about any of it. Isn't temptation bad? I'm so lost.
Previouslies: The contestants were forced to memorize colors and climb over shipping containers, and everyone's favorite tax-evading Survivor, Richard, got the boot, along with Sarah, whom no one remembers.

Ah, a beautiful day at the beach. The sun is shining, the surf is rolling in, and there isn't a cloud in the sky. I wonder what horrible torment and anguish await our hapless contestants. Oh dear God! It's Bob Harper in a tiki hut! Run! Run for your lives! Okay, let's wait and see what he has to say. And then run for your lives.

Bob tells us that luxury is this week's temptation, and that you need to find a balance between luxury and sloth in order to stay healthy. Doesn't that assume that these shlubs can afford luxuries? I bet when ol' Colby thinks about luxury it has something to do with indoor plumbing. Anyway, Bob's going to host an auction for a bunch of luxuries, and each contestant has $500 in Biggest Loser Bucks to spend. Disclaimer: Biggest Loser Bucks are not actual currency and cannot be used to purchase goods and/or services.

Colby is very excited about the auction because they remind him of home, where he attends auctions for cattle, livestock, and his wife, Hope. The first item up for auction is a full-day spa treatment, which Felicia gets for $40, after Colby bumps up the price despite having no interest in – or concept of – a "mini piddi." Next is, and I swear I'm not making this up, a "one-on-one" with Bob at his house. In describing this one-on-one encounter, Bob says "We're gonna work out …" and then completely trails off. Um.

Jacky is super-excited about this one-on-one with Bob notion. Jacky, you realize Bob is gay, right? His very first workout video was titled Queer Abs. Regardless, Jacky will not be denied and gets her time with Bob for $70. Nice knowing you, Jacky.

Next is four Trek bicycles, whatever those are, which Rob gets for $50. Roberto gets a set of assorted kitchen stuff. Stephen blows his entire Biggest Loser Bucks wad on a trip to the Bahamas, and then runs down the beach and into the ocean. I guess the flight's not included. Toy snags a "growing pound" – write your own joke here – by spending her entire $500 on it.

Then there's the offer to fly in a loved one for a day. Erin is so deliriously horny that she bids all of her Bucks as fast as she possibly can, and her boyfriend will soon be her sex slave for 24 glorious, pelvis-pounding hours. Oooh, and now there's a Mystery Box. I guarantee everyone watching this episode across the country all screamed "What's in the fuckin' box?!" at the same time. I know I did. Big ol' Colby just cain't resist that Mystery Box, so he buys it for $500 and it turns out to be immunity. So that's what's in the box. FYI.

Back in the gym, where all these fatties belong, Jen and Dolvett are working their teams hard, but some team members are distracted by their upcoming luxuries. Especially Erin, who plans to crush her boyfriend's D in every measurable sense of the word. But she assures Jen that she'll be burning calories, so it's all good.

We meet up with Jacky at Bob's house, and he understandably doesn't let her in. Seriously, he forces her to work out in his garage. Luxury! When the workout is over, he STILL doesn't allow her in the house and forces her to get all weepy by the pool. Boy, this was Biggest Loser Bucks well spent, huh?

Then it's Last Chance Workout! The teams are working out in the blazing sun, which is suspicious, until it's revealed why – Bob has a Last Chance Challenge for them! It's really not all that exciting. The teams flip tires and then step up on them, and though it's a close finish, team Jen wins a one-pound advantage. Someone comments that Erin's night of fatty-bumping must have given her a boost. I bet it did. I just bet it did.

Scales of Despair. We only get to see the contestants indulging in their luxuries with brief color-washed flashbacks. Aw, I wanted to see Erin get pounded! This show never gives me what I want. Bob tells the contestants that the only thing that matters is how much weight they've lost when they step on the scale. Ah, so making lifestyle changes and confronting demons are out the window then? Gotcha. Finally calling a spade a spade.

So the teams go up on the scales and get weighed, and Team Dolvett wins the thing by a pretty wide margin. I guess luxuries really do make you fat. Toy and Vicki are below the yellow line, but they're not nearly sad enough about it, so Bob rubs it in that if Toy had used her "growing pound" this week instead of saving it, she would have been safe. Yeah, well, if she'd worked out more and eaten less, she'd have been safe too. So here we are.

In the Elimination Room, Toy gets the boot. But … but she had the saddest story of all! Where are we going to find the feels now? The team comes back to the house and Jen sees that Toy is gone, and she blames herself for telling Toy not to use her "growing pound." Maybe you should have also checked her room for Twinkies.

Next week! Meaning, as always, in mere moments! The teams are thrown into inflatable boats for a challenge, which means someone will definitely drown. And we're running low on tears, so Bob sits the contestants down and gets some flowing. Here we go!
​