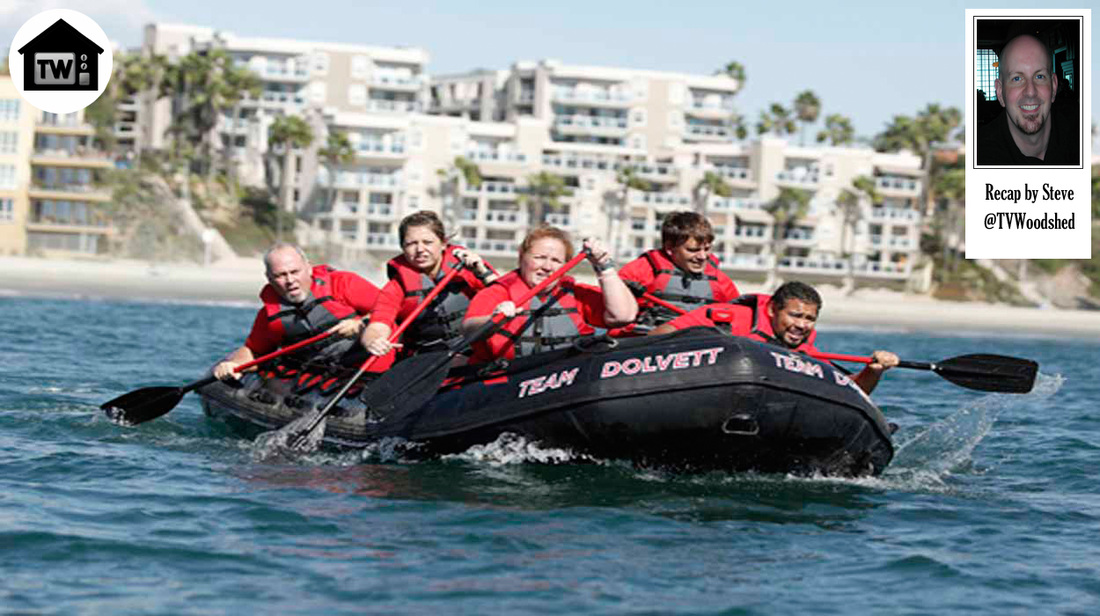 In part two of this week's two-hour-yet-one-hour-episodes, the contestants are thrown into boats and forced to paddle out to a yacht, where The Skipper and Gilligan are waiting to give them a three-hour tour. And then there's a bunch of crying. Status quo.
Previouslies: Toy took her "growing pound" and went home, where hopefully her pounds are not growing.

Hey, look at that, we're right back to the beach! The producers must have rented a few blocks of beach time and decided to use them up as quickly as possible. Bob greets the contestants and tells them that the winners of today's challenge get a whole day on a luxury yacht that's parked just off shore, and that the yacht has letters from home. Cue the tears! Somebody – Jacky maybe? I don't know, somebody – says that her kids are everything to her. Blech. If you love your kids so much, why don't you marry them? Whoever you are.

So the contestants have to haul in a bunch of buoys, each of which has an oar. Once they get all their oars, they need to jump into an inflatable boat and paddle out to the yacht. Oh, this is such a recipe for disaster. Hey, if someone falls overboard and drowns, does that person's weight still count at the weigh-in?

They show Bob calling out instructions from the yacht. Bob's voice must really carry, considering the yacht is about a mile out from the beach. Either way, the fatties start hauling in their oars and boats, and both teams paddle their chubby little hearts out. Team Dolvett wins, and Team Jen sits in their dumb little boat, looking about as happy as Tom Hanks did when Wilson floated away. To add insult to injury, Team Jen has to paddle back to shore while Team Dolvett nibbles on caviar and sips Champagne.

Yes, speaking of Team Dolvett, they all pile on the yacht and it sinks. Sorry, that's just how I pictured it happening. They have lovely snacks and drinks and read letters from home, and Lord have mercy do we fill up the tear coffers! We should have tears for weeks after this! After all the whimpering and sobbing, they all settle back and enjoy the sweet, sweet taste of victory. And strawberry pound cake.

Then Jen tries to sneak in a commercial-within-an-episode for Lara Bars. What is this, my first day? Nice try, but I'm not recapping your product placement.

Back to the gym for more sweating, cursing, heaving breathing, and so forth. I wonder if there's farting. I bet there is. Like someone goes for that last sit-up and just lets one rip, totally out of their control. Where can I find the Biggest Loser gag reel?

Then, probably because the episode's running a little short – it certainly can't be because we're lacking for tears – Doctor Bob sits all the contestants down and tries to give them a psychoanalysis. How is he qualified for this? Does he have a diploma tattooed somewhere on his arm?

Felicia talks rather calmly about her abusive stepfather, and how she felt like her mom chose him over her. Colby contributes something to the conversation, but it sounds like "Yon jerder bumblewumble col denny." Thanks for that, Colby. It means a lot and I'll carry that advice with me always.

Scales of justice. Nobody has any pound advantages or "growing pounds" or anything else this week, so it's lose weight or die. The teams weigh in, and while we're here, I may as well point this out – Colby has a tattoo on what I imagine he refers to as his "left tit," and it's the letter "C" next to a dollar sign. Is that because Colby is money? Or did he think that by getting it, money would be naturally attracted to him? Did his horoscope tell him to get it one day? Mysteries!

So anyhow, the teams weigh in and the percentages are really close. Erin climbs up on the scale and promises that if she makes it into one-derland, she'll grace us with a song. Oh, I have never hoped for a zero so hard in my life. I'm not far off – Erin loses a pound, so she gets to one-derland, but via the wrong side of the yellow line. She still sings, but I can't comment on that because I fast-forwarded over it. I regret nothing!

Vicki and Erin are up for elimination in the Elimination Room, which, I suppose, is where one would logically be up for elimination. I get the sense that since Erin is younger and cuter than Vicki, and arguably more famous, the producers leaned on the rest of the team to keep Erin. And they do! Vicki is sent packing, but assures us that the next time we see her, she'll be one hot momma. Ew. That which is heard can never be unheard.

We catch up with Toy, who has lost 57 pounds and is still enormously fat. They show her going on a hike with her family and reciting some sort of poem about her dead son getting wings and she herself getting wings. I guess Toy will join the X-Men now?

Then we catch up with Vicki who, despite statements to the contrary, is not one hot momma. However! We see Vicki at the gym with her family and she does have one hot daughter. Yow. Vicki is thinner and more brunette, I'll give her that. And she says the best thing to come out of The Biggest Loser was the free membership to Planet Fitness. Because that $10 a month would really have broken the bank.

Next week! Bob invites the entire cast and crew to his house on a day he knows he won't be there. Dolvett endorses a product that makes his eyeballs as white as his teeth. And Jen gets her head stuck in her cleavage and suffocates.

​