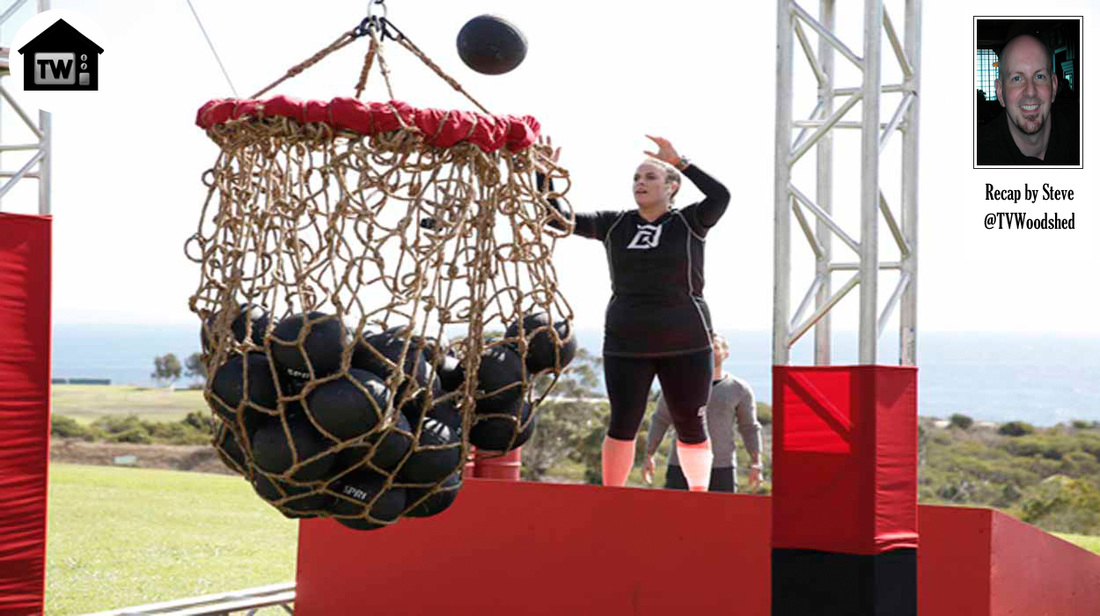 For tonight's first helping of carrot sticks and celery, one fatty from each team gets sent home for the week, and their weight is all that matters on the Scales of Doom. All that matters! Meanwhile … well, actually, there is no B story, so enjoy!
Previouslies: Vicki and Toy got sent home, but they've already faded from memory so hard and fast that I'm not even 100% convinced they were ever on the show.

The contestants meet up with Bob on a rolling hillside somewhere. Colby has something to say about it, but as usual, I can't understand a word he says. Let's assume he's talking about slopping hogs. Bob reminds them of all the temptations they've faced so far this season – sex, drugs, rock 'n' roll, that kind of thing. This week's temptation will be … going home? How is that a temptation? Oh, I see, whoever goes home will be tempted by stuff at home. Like sex, drugs, and rock 'n' roll.

Bob explains that the winning team for today's challenge gets to pick someone from the other team and someone from their own team to go home. If the previews last week hadn't spoiled the fact that it's Luis and Roberto that go home, this might be compelling. Anyway, for the challenge, there's a sack that the contestants have to keep aloft while the other team throws medicine balls in it. First sack to drop loses. I have to imagine that Bob himself created the challenge where you have to get balls in a sack.

So everybody's running around, throwing balls in sacks – like you do – and Team Dolvett finds that they can't hold their sack any longer and it falls, spilling balls everywhere. This episode is only 10 minutes old and it feels so dirty already. Team Jen gets to pick who goes home, and to the shock of absolutely no one, it's Luis and Roberto. Back to Chicago with you, boys!

Luis and Roberto are very happy that they don't need seat belt extenders on the plane from LA to Chicago, but it seems that they did need a few drinks. Not judging, just observing. Bourbon has calories too, y'know. The boys arrive at home, where the entire clan is waiting for them. Not sure if this is Luis' house or Roberto's, but I suppose it doesn't matter. Everyone is thrilled to see them, and we have our first tears of the episode, so the producers are thrilled too.

There's a huge Mexican spread on the dining room table, and the centerpiece is a steaming vat of pozole. I'm not familiar with pozole, but judging by the look of it, it's made with stewed aborted fetuses. Roberto and Luis are strangely not furious with their respective families for serving up such an artery-busting buffet, and both opt for the veggie platter perched precariously on the corner of the table. ¡Viva verduras!

Back at the ranch, everyone is screaming and sweating in the gym, and Jen decides to see if she can poke Lauren for some bonus tears. It works, and Lauren whimpers about being in debt, having a son who watches too much TV, and being the screw-up of the family, all of which is undoubtedly true. Jen gives her a pep talk and then Lauren is fine. Woo, pep talks!

Back in Chi-Town, Luis and Roberto return to the high school where they're gym teachers and run the poor kids ragged. Go Mustangs! Xavier, one of the kids who's a big fatty, gets all weepy with the whole "if they can do it, I can do it" thing. More bonus tears! Bob shows up to surprise Luis and Roberto, but really, I think he was just in town for the LGBT Pride Parade. Bob makes the brothers run around and lift heavy things and do handstands, and we all learn a valuable lesson.

While the contestants on the ranch get in their Last Chance Workout, Luis (or maybe it's Roberto, I don't know) goes to Soldier Field to watch the Bears lose while the other one goes to Navy Pier to get splashed by Lake Michigan when the boats go by. Yeah, I know my Chicago landmarks. Then it's back to LA to face the Scales of Doom!

At the weigh-in, the numbers are pretty solid, except for Rob on Team Dolvett, who loses 3 pounds, and Erin on Team Jen, who loses 3 pounds as well. They're both below the red line, and it's all up to Luis and Roberto to see who wins the weigh-in. The twins both lose 11 pounds, but somehow that means Luis has won and Rob gets sent packing. Sorry, Rob. But get to steppin'.

Next week! Singles! Shots! Parasailing! Pool! Piercings! Wine country! There's so much that I can't believe it's all in a single episode. I can't wait an entire week! Luckily, I don't have to!
​