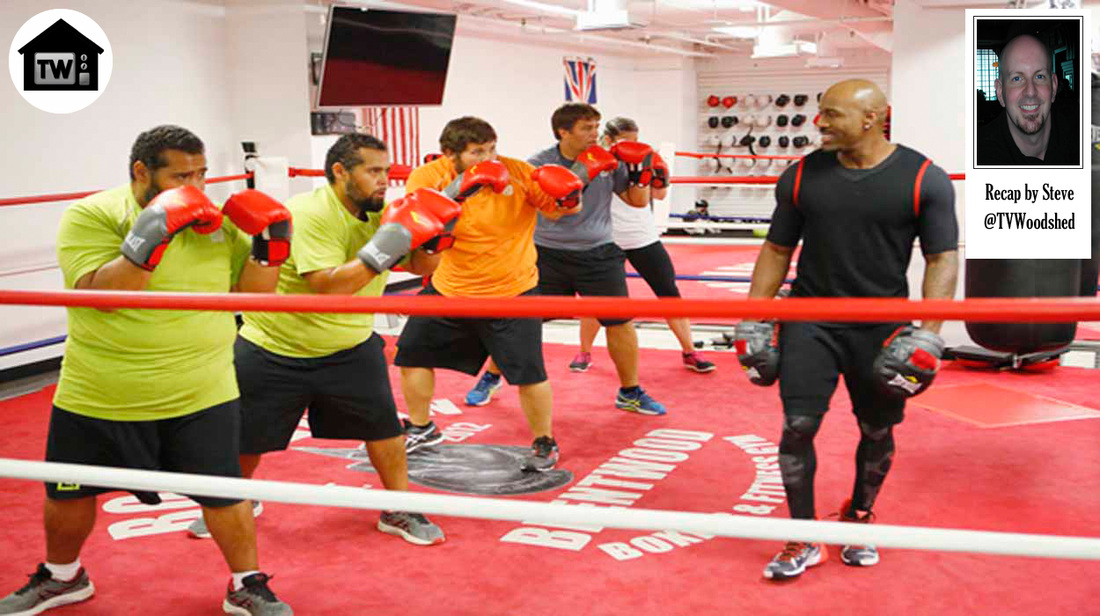 We've still got an hour to go, so let's keep rolling! The contestants are given free rein this week, to either go do fun, life-enriching things or keep working out like they've done for nine weeks now. Me? I'd be outta there like a shot.
Previouslies: Luis and Roberto went home temporarily, and then Rob went home for good.

Bob is up bright and early to slap a sign on the gym, telling everyone that it's closed until further notice. Because why would we want give people who are trying to lose weight access to a gym? The contestants arrive, and Bob tells them a bunch of things in rapid succession: the gym is closed, the kitchen has been cleaned out, they're getting individual colors, and they each have a car to do with as they please. Well, not exactly as they please, but more on that in a moment.

First I need to ask – what's up with the individual colors? Roberto and Luis are both yellow, and Stephen and Jacky are both a shitty bluish-gray. If EVERYONE is competing as an INDIVIDUAL, then why are people sharing colors? There are only eight contestants left. Surely you can come up with eight individual colors, can't you? Stupid show.

Anyway, Bob dismisses everyone to their car, and within each is an envelope that contains a choice – either work out with Jen at an offsite location or go on a wine-tasting tour. I'd try to find some sort of loophole that allowed me to take Jen on a wine-tasting tour, but that's me. Colby and Jacky decide to head to wine country, and the rest head to Jen country.

Now here's another aside – big ol' Colby is on a winery tour (which somehow also features a petting zoo) with Jacky, Stephen's wife. Does this strike anyone else as odd? I realize that everyone had freedom of choice in this decision, but if you were just tuning in for the first time, you'd think Jacky and Colby were on a very romantic date. Which, ew. I bet Colby's beard smells like Cheetos. So, anyhow, Jacky and Colby have wine and snacks and the others get their asses kicked.

Then it's challenge time! Oh, if it's a trivia contest about wine, the others are going to feel so stupid about their choice. Nope, it's a classic Biggest Loser obstacle course. Run through a slalom, drag a bunch of sandbags by a rope, walk them across a balance beam, throw them in a wheelbarrow, run them across a field, and use them to spell "immunity." You know the drill.

So there's running and dragging and balancing and throwing, and only Felicia and Luis make it to the end. It looks like Luis is going to take it all, but apparently he misspells "immunity" with his sandbags. Since they went with yellow lettering on burlap bags, I'm gonna have to accept that explanation, because I can't read a single letter. Nice design choice, Biggest Loser. Stupid show. Felicia wins the challenge and immunity.

Roberto commiserates with Luis and starts talking shit about Felicia. Dude, I don't know much, but even I know you don't insult a hungry woman. Felicia talks shit back, and it starts to feel like the old days of the Biggest Loser when everyone was constantly at each other's throats. Yeah, old school! But then everyone remembers that bullying of any sort is not tolerated in this pussified, homogenized culture of ours, and Roberto apologizes. Ugh.

The girls head out for a girls' night and the boys do the same. I don't mean that the boys head out for a girls' night. You know what I mean. The girls drink lots of shots and say wooo a lot and make us all embarrassed for them. The boys drink the lowest-calorie beer and play pool. The girls discuss an alliance. The boys do too. Felicia suggests the girls all go get piercings, and they do, and the boys presumably go to bed.

The next day, the cars have new envelopes. This time the contestants can work out with Dolvett offsite or go parasailing. What idiot would pass up the opportunity for a day with Dolvett to go out and get killed in a horrific boating accident? Your answer is Felicia, Jacky, and Lauren. Everyone else goes to a boxing ring and does a boxing workout with Sexual Chocolate. While the girls are out on the parasailing boat, Felicia gets hooked up to the chute and carried skyward, and Jacky and Lauren both say "Bye, Felicia!" without knowing what they're actually saying. These gals need to visit the Urban Dictionary.

Scales of Fat Justice. It's time to get everyone weighed in as individuals, so I suppose it's time for me to start learning who these people are. Felicia, with her immunity, weighs in first and loses 2 pounds. Feh. This girl doesn't know how to take advantage of immunity. Gain, dummy! Lose it next week! Big ol' Colby drunk hisself some wine like some rich fella, but still loses 7 pounds. Roberto loses 6 pounds and Luis loses 1. Maybe Luis misunderstood and thought he had immunity.

Jacky loses 6 pounds and Stephen loses 7. I must say, Stephen has some impressive chest hair. It's thick and lustrous, but doesn't creep down to his stomach or up to his shoulders. It's like a chest hair shrug. Lauren loses 3 pounds and then Erin crushes it with 8 pounds! Yay, Erin! I'm gonna commit early and say she's my pick to win this whole dog-and-pony show. Lauren and Luis are below the yellow line.

In the Dining Room of Despair, the votes line up the way you expect them to – the girls vote for Luis and the boys vote for Lauren. But ho! What's this? Stephen shows himself to be a girl and votes for Luis! What a twist! That sends Luis packing. I would not want to be Stephen and have to face Roberto when they get back to the house.

We catch up with Rob, who has lost 100 pounds since being on the ranch and looks pretty damned good. He's whooping it up while he chases his grandson around Chuck E. Cheese. They show footage of Dr. Death telling Rob that he'd die in December of 2020, and then they show Rob in a video conference with the good doctor, who says they've added 15 years to that projection. So December 2035. Got it. Thanks, doc!

Then we catch up with Luis, who has lost 105 pounds and looks tremendous. He's happy, he has energy now, he loves his kids, blah blah blah. Say hi to Planet Fitness for me.

Next week! Colby tries to make love to a pig but suffers performance anxiety. Dolvett upgrades to big gold hoop earrings and then decides to go full pirate with a patch, a peg leg, and a parrot. And scientists discover a portal to an alternate dimension in Jen's cleavage.
​