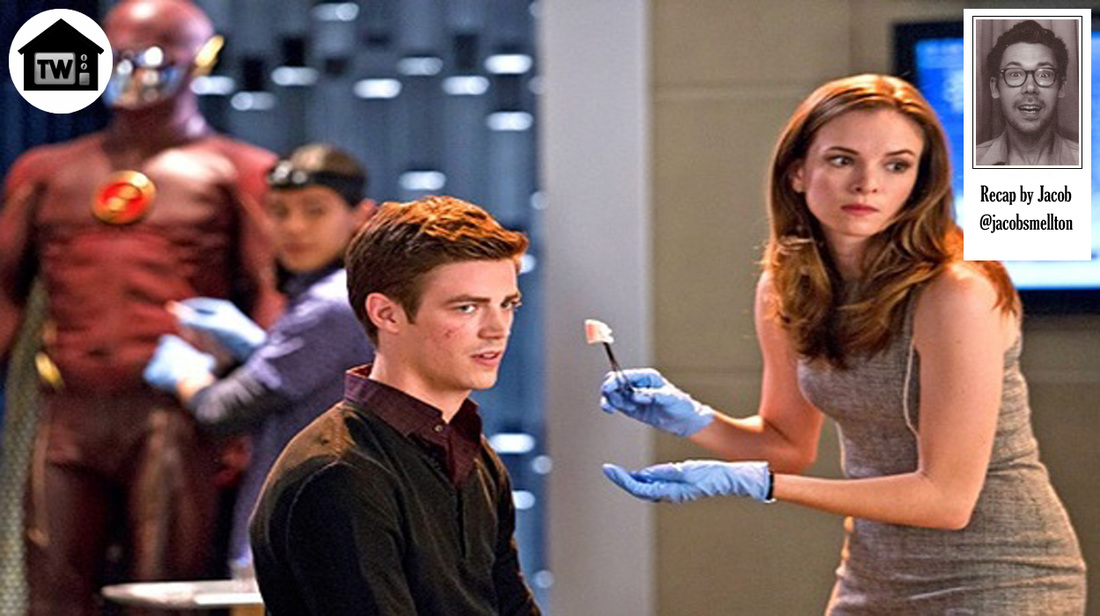 "This is the part where I'm supposed to do the whole intro thing." – Barry Allen, 2014, every episode of The Flash. So three things: 1. I thought the conceit of Barry Allen telling The Audience/Arrow would be thrown out by now. 2. Will every episode be punctuated by an appearance from Arrow? I know they're friends in real life (i.e., the DC universe) but does Flash show up all the time onArrow? 3. Haven't you heard of in medias res? Take a film class Barry, gaw!
On his way to a save puppies from a fire, Barry runs all the way to Metro City (can I write for DC now?) by accident. What a maroon. For a reason that I'm not sure about, Caitlin isn't happy that Cisco and Barry are saving the lives of men and women in a similar fashion to that of the "My Hero" video. Maybe there's a copyright thing involved.

Dr. Wells agrees that Barry should understand his limits and stop running around the city like a goober in a red suit. Cisco mentions to Barry he noticed a spike in Barry's vitals and instead of saying, "Yeah, I had a weird headache after running at 400 mph into a burning building – give me a meta-human Tylenol," he lies and takes off for work (CSI work, not Flash work).

At the scene of a gun store robbery, Barry insists that the police should be looking for a crew of multiple thugs, even when their footage shows only one man robbing the store. Joe is, for some reason, mad at Barry for being The Flash and helping solve the crime. He has an anger-induced flashback of Barry running away to visit his father in prison. Do all cops live so close to a maximum-security prison? I guess it makes sense.

Instead of using his fancy science equipment that taxpayers paid for, Barry uses his magic Flash powers to solve the gun store crime. I hope Rand Paul wasn't watching this episode.

Barry and Iris attend a cloning seminar when the one-man team of six dudes busts in and makes off with all of the fancy jewelry that one wears to a cloning seminar. After Barry saves a security guard from death by firing squad, he passes out on the concrete. Barry loves him some coma.

Iris wakes Barry up in an alley and he proves himself to be a total dingus by admitting that he fainted. He could have at least said that he was knocked unconscious by one of the thugs, but oh no, "I was dizzy" seemed to be the perfect excuse.

Back at the lab, the scientists are in a tizzy about Barry's fainting and about the fact that he forgot the golden rule of science, "Sharing is caring." Apparently no one has made Caitlin so mad since Ronnie (her fiancé who died in the explosion, not the film Run Ronnie Run). The first test that Barry undergoes is the classic treadmill/cardboard box scientific exam; it's a regular OK Go video. Barry runs until he faints and then falls into some boxes. It was all TBS VERY FUNNY. It turns out Barry isn't eating enough and it's causing his body to shut down. His adjusted diet comes out to somewhere near 850 tacos, which is oddly close to how many tacos I consume a day. Do you guys think I'm The Flash? I've never noticed that I'm moving faster than everyone, but that would explain how I went through that chocolate almond milk so quickly.

Joe makes his way to Star Labs and he's not happy that Barry is Flashing around town saving the day, and wasting precious tax dollars on his fancy red suits.

SO! This really weird thing happens in the episode when Iris shows up at Barry's lab and he tells her how he feels about her, but he does it when he's running around, presumably faster than she would be able to hear it. I don't mean to be a hair splitter, but wouldn't his voice catch up to her non-meta ears? He's not moving faster than sound, is he? If he is, would it kill Dr. Wells to say something like, "He's moving faster than sound" as he removes his glasses? I deserve to know what's happening.

AAAAAANYWAY, the six-man one-man guy's name is Danton Black (yep!) and he wants to kill Dr. Stagg (the clone guy) and he initiates a shootout with the cops at Stagg industries. Barry tries to Flash around and beat up the clones, but did I mention that there are six of them and only one The Flash? Needless to say, at the end of Act II, Barry does not beat the Black clones. The clones Black? There's not a good way to say that.

As it would happen, Danton Black was a bio geneticist who had his research stolen by Stagg, and when the particle accelerator went off, he happened to gain the powers of cloning himself. What luck!

Barry quits being The Flash after his first superhero misstep and runs away like a little baby. He runs so fast that he flashes back to seeing his father in prison. Joe wears a hat in this flashback.

Dr. Wells interrupts a meeting with Stagg and Joe. They have a chat about meta-humans and how way out and wacky it is that there's a guy that can split into a million other guys. Joe wants to know if Dr. Wells knew that Barry had Flash powers when he first brought him to the lab. The answer is, of course, a big "Yes, I have a magic iPad that allows me to see into the future." But you can't say that sort of thing without sounding like a bag of mixed nuts (even in a town filled with meta-humans) so Dr. Wells spouts some mumbo jumbo about protecting the city and how doubt is the real enemy.

Barry eats around 839 tacos while whining to Iris, but she wants to talk about The Flash for her investigative journalism report. Was she a reporter in the pilot? Anyway, you guys, Barry is The Flash! He could help her write stories and then they can fall in love! Unfortunately, Barry is called to Star Labs under duress, which is all a ruse as it turns out that Caitlin grew a copy of Black from stem cells (thanks Owebama) and she immediately comes up with a plan for how to defeat Black. Joe John Waynes his way into Star Labs and shoots the clone for no other reason than he is a clone. Nice shootin', Tex.

At Stagg Industries (or whatever it's called) Black and his clones show up to kill Simon Stagg, but Barry's got his groove back and he's Matrix bullet timing all over the place. It turns out that Black doesn't care about his research, he's actually upset about his wife dying of a degenerative heart disease before he was able to grow her a new heart. I guess when Stagg stole the research, he also impeded Black from growing a heart? It kind of sounds like an undercooked version of Re-Animator to me, but I'll give it a pass.

Black grows about a million billion clones who trounce Barry while the team back at Star Labs gives him the ol' "nothing is impossible" pep talk. Barry super punches Black and knocks out all of the clones. In a form of seppuku, Black jumps out of a window and kills himself.

After all of the hubbub, the team has a good laugh about Black's posthumous nickname "Multiplex." What a bunch grade-A dicks.

Back at Barry's loft, Joe brings over three entire pizzas for his adopted son to demolish while they work on a way to solve the Allen murder mystery. The episode ends with a nice pizza pie and a voice over. I dare you to come up with a better Tuesday night.

Oh wait. The episode actually ends with Dr. Wells surprising Simon Stagg in his office and they exchange some standard evil dude jive talk about capturing The Flash and then Dr. Wells stands up and stabs Stagg to death in order to keep Barry safe. How many seasons of The Flash will air until Dr. Wells runs out of people to surprise with this whole standing routine? Two? Three? For the viewers' sake, I sincerely hope not. More than likely this whole sitting thing is Tom Cavanagh's idea. Who wouldn't be exhausted after appearing on so many canceled TV shows?

Next Week! Barry learns something new about his constantly changing body, also he eats 900 burritos. At the end of the episode, Dr. Wells stands up from his chair and says something sinister (again).
​