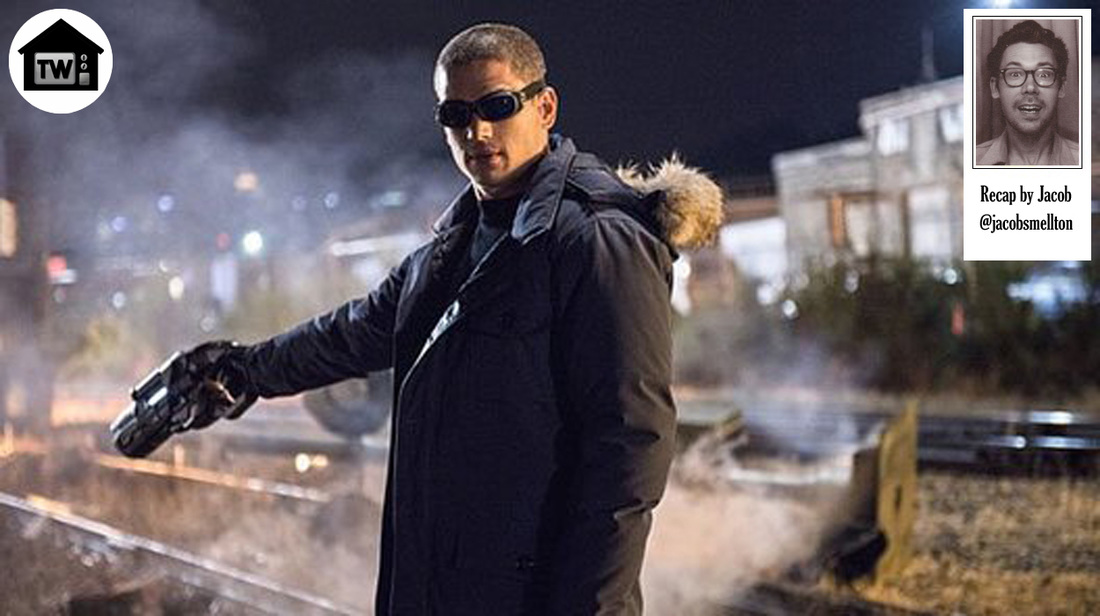 What does the fastest man alive do on his day off? Sit around and catch up onScandal? Work on personal projects? That's what I do. Do crime scene investigators get a day off? Crime never sleeps or something. ​
Before Barry was struck by lightning, he watched
Scandal
and worked on his web comic "The Adventures of Barry" like the rest of us norms, but now that he's Flashing around he can do all that and more! He has friends! Sure they're obligated to hang out with him because it was their particle accelerator that exploded and made him into the freak that he is now, but whatever. He has friends! They play board games! Sure, he has to play the board games at the same time in order to test his ability to multitask, but now he has friends and don't you dare ruin this for him.
A security guard riding in an armored truck is reading about a diamond exhibit opening in the Central City Museum on Saturday, because as a security guard, it's good to stay informed. But maybe with this outbreak of meta-humans you should keep an eye out for transient creeps that seem to be lining the roads of Central County (it's a long shot, but I bet I'm close). Before the guards know it, a
Fast and the Furious
-style heist is upon them. The robbers hook up the armored vehicle to a tow truck and freeze the door with some kind of … freeze gas. Before you assume these criminals are run-of-the-mill street toughs, it may behoove you to hear that they count how long the heist is going to take. This ain't their first rodeo. Would a newbie bank (truck) robber be counting down the seconds until the heist was over? I don't think so. He'd probably still be trying to get his bandit mask on straight and looking for his clean dollar sign bag.
The Flash shows up and stops the heist, but one of the robbers shoots a security guard and Barry has to run him to the hospital, giving the robbers ample time to cross dissolve into the next scene.
When the CCPD show up to the scene, they find that everything is still intact, and that the bandits were after the diamond that the security guard was reading about earlier in the episode. HOLD UP. You have the diamond in the back of your truck and you're reading a physical newspaper article about it? You know that you could pull over to the side of the road and take a selfie with the diamond, right? Companies expect most of their employees to be complete idiots, so just go for it.
Even thought there isn't much to investigate, Barry still cracks the case by having seen the face of one of the bandits. Good detective work, Flash.
The bandit has been identified as Leonard Snart. Maybe I heard his name wrong – I am watching and writing this in a coffee shop that's blasting free jazz. Yep, it's definitely Leonard Snart, the son of a crooked cop who's an uncatchable bank robber (probably because his name is Leonard Snart, and no matter how many diamonds he steals, he's never going to fill the hole that his father left when he named him Leonard Snart). So Iris shows up with coffee and tells Barry that she's starting a blog about "The Streak," and that's worrisome because:
Barry is The Streak/The Flash
Can we please stop calling him The Streak? It brings to mind novelty songs and bad memories of grade school.
Back to something more important: The names on this show. The Streak, Leonard Snart, and the new character that we're just about to meet, Felicity (Smokin') Smoak. The names on this show sound like they were created in a fake name generator. I know it's not the fault of the writers for The Flash, erm, The Streak, it's in the hands of DC comics and their inability to change a character's name after 50+ years. Maybe Leonard Snart or Felicity Smoak flew back in your day, grandpa, but for every Leonard Snart I demand one Jim Stancil, and for every Felicity Smoak I better get at least one Megan Krumholser. It's time we ground this show in the reality of unpronounceable names and characters having to confer with one another after they meet a new character.
"Can you
believe
her name is Megan Krumholser? Is she a general in an '80s action film? Were her parents holders of crumbs in the old country and then their name got twisted on Ellis Island?"
"Be quiet, here she comes."
That's all I want.
So Felicity Smoak is another CSI nerd who knows Barry from out of town and they act like adults about the whole thing by sputtering incoherently. Smoak and Barry go on a walk through Central City Park and she's pisssssssed that he never called her after he got out of the coma. OH MY GOD SHE'S FROM
ARROW
. Even though my earlier diatribe about the new character named Felicity Smoak probably made me seem like a n00b to all the major
Arrow
fans out there, I contest that she's not
Arrow
and I don't write about
Arrow
so how am I supposed to know? ANYWAY, she and Barry talk about how he's super fast now and how she thinks it makes him even more of a babe. Barry shows off for the pretty girl by running really fast and setting his shoes on fire. As someone who's gone through close to a million pairs of Converse in my short life on this earth, I can contend that there's no way that his high tops are "fine." No, Barry, your shoes probably fell apart while you were lacing them up, before you were ever struck by lightning.
At the bandits' hideout, they discuss normal bandit stuff like how long a heist takes and how now that this Streak/Flash/Blur guy is on the scene they need to get faster and how they can't shoot cops because they "don't need the heat."
Barry takes Felicity to STAR Labs where Caitlin and Cisco dance around knowing Felicity/
Arrow
. No matter how much the CW wants that sweet crossover viewership between
Arrow
and
The Flash
, err, The Streak, gah! The Blur – it ain't gonna happen baby. I'm #TEAMFLASH all the way. Doctor Wells shows up and pulls the DOUCHIEST move that any guy can pull – he immediately begins to flirt with Felicity and does that super-sexy smart guy thing where he removes his glasses while saying something smooth. I do it all the time.
Barry brings Ms. Smoak to Iris' coffee shop and she tries to set them up on a group date. As much as I want Barry to get the girl (Iris), it's hard for me to care about a character that can't see what's in front of him. More to the point, it's hard for me to feel sympathy for a character that is a GROWN ADULT that acts like a Muppet Baby. What do you want Barry, a third pretty girl to lust after you? Will your meta-human sexual appetite not be sated until you have a woman in every shape and color allowed by network television? This isn't Rome, Barry, it's Central City.
All right, so the bandits are trying to figure out how to slow down The Flash, and a mysterious tech guy has a stolen thingy from STAR Labs that slows down fast stuff.
At trivia night (that's where the double date is taking place) Barry, Iris, and Thawne are playing as E=MC Hammer (so it's totally okay to hate their guts) when Felicity shows up dressed like an '80s video vixen (sans the hair). Felicity, I know you want to impress Barry, but you have to rein it in. You had him sputtering when you were dressed like the cast of
The Baby Sitters Club Goes to College
so you don't need to turn it up to 11. Save that shit for the wedding of your best frenemy or the funeral of your best frenemy.
Leonard Snart cases the museum because HE WANTS THAT DAMN DIAMOND! Meanwhile at trivia night, Barry and Felicity are destroying the competition. Iris almost punches Barry in the face when he shrugs Felicity off, and I'm not sure that I'm not going to reach through the screen and punch him in the face. This isn't the '90s, I don't need a will-they-won't-they back-and-forth to make a show watchable. If I want to watch
Moonlighting
, I'll watch
Moonlighting
.
Joe calls for backup to catch Snart so Thawne and Barry leave the TRIVIA NIGHT to chase Snart through the daytime (I'll try not to hit too heavily on this gaffe, but it's crazy annoying). Snart goes around freeze-raying everything in sight. He kills a museum usher and sort of freezes Barry.
At STAR Labs, Cisco comes clean about building the "Cold Gun." In trying to explain the necessity of a cold gun, he kind of makes himself sound like a total dick. Barry is completely in the right for admonishing Cisco for building a freeze ray (I refuse to call it a "cold gun") that killed a guy and can really ruin Barry's night. Maybe it isn't worth screaming in Cisco's face, but the creation of a freeze ray definitely raises some questions:
What other anti-Flash goodies did Cisco create?
If Barry eats ice cream too fast, will he die?
What about the ice from Sonic? While I prefer crushed ice, should Barry stick to cubes?
What about sno-cones?
Snart goes back to the museum in a parka (because he's way into cosplay) to steal the diamond, but Felicity has already hacked into the city's network to find Captain Cold, nay, Leonard Snart (his real name strikes so much more fear into my heart). Felicity gives a pep talk to Caitlin and Cisco as Joe and Thawne give chase to Snart. Barry chases Snart to a train where Snart reveals that he's going to KILL EVERYBODY because Barry is a Muppet Baby who doesn't believe in collateral damage.
Snart wrecks the train with his freeze ray and Barry gets everyone off the train. (I think? It's hard to tell with their graphics.) Before Snart can deal a freezing death blow to Barry, the STAR Labs team shows up to save his bacon. Snart backs down and walks slowly off into the distance with the diamond and the freeze ray. Instead of chasing Snart down and throwing him in the slammer, Barry goes back to STAR Labs and hugs Felicity goodbye. UGH, how are we expected to root for such a wiener?
On the train back to
Arrow
ville (or wherever
Arrow
lives), Barry meets up with Felicity and she basically says, "Hey dum-dum, I have a superhero fetish and you're a superhero now so let's do this," and thankfuckingchrist Barry kisses her.
After weeks of postscripts where Dr. Wells would do something ominous and stand from his wheelchair, we're treated to a mostly black screen punctuated with Snart talking to a guy we can't see about using fire (or something?) to start pulling heists in Central City. Okay! Great!
IN TWO WEEKS! Fire Guy and Ice Guy team up with Wind Guy? The news starts referring to The Flash as "Speed Guy?" Cisco creates an oil slick gun, oops!
​