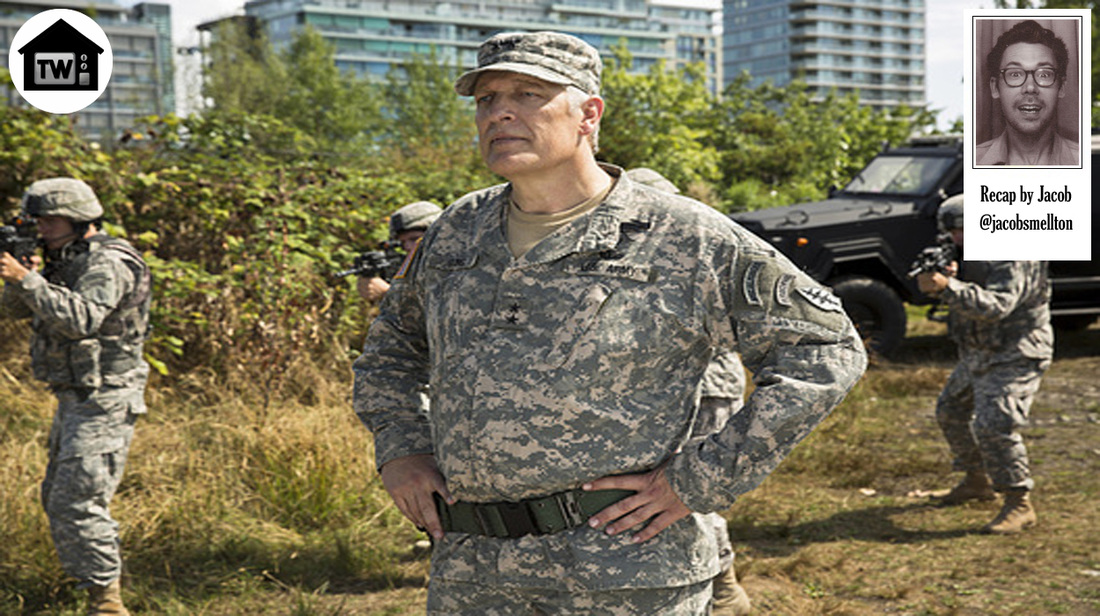 After a week away from Barry and the gang, I'm not sure if I'm ready to be whisked away on the high seas of semi-high adventure. Has the week off given Central City time to pick a nickname for Barry? Or are my worst fears true and no one is going to call Barry "The Flash" until the last episode of the season? If I'm right, you all owe me 700 tacos. If I'm wrong, well, leave it in the comments.
Barry welcomes us back with to the show about a guy running around in red spandex with a philosophical question: How often do we think about how our friends have come into our lives? As he opines about friendship, we see that he's watching his friends from across the bar instead of hanging out with them because he's a creep who collects people instead of hanging out with them? Is this actually a backdoor pilot for a new series about the character "The Collector" from Next Gen episode 22 of season three, "The Most Toys"? If it is, I'm all in baby! On second though, buying round after round of drinks for your friends might be the nicest thing you can do. I take it all back, Barry.

Did I say "round of drinks" earlier? I meant shots. The characters on this show knock back shots like they're trying out for the Charles Bukowski Olympics. No wonder Central City is full of raving lunatics. Slow down! Have refreshing Diet Coke with lemon, or maybe a sparkling water.

As Barry drops off his crazy juice to Cisco and Caitlin, they all decide that Detective Thawne is the hottest dude in Central City, and Cisco sinks into a deep depression after he realizes he's the sixth-hottest guy on the show.

1. Detective Thawne
2. Joe
3. Doctor Wells
4. Random Security Guard
5. Barry
6. Cisco =[ =[ =[

Barry's worried that all the shots he's been drinking aren't working. It must be terrible to see the love of your life being pulled away from you day after day and not be able to drown your sorrows. Maybe you should try yoga, Barry. Or poetry. While everyone from STAR Labs and the CCPD gets shitfaced, a mysterious black-clad ne'er-do-well blows up part of a building and leaves a window washer in peril. Fortunately for the window washer (hopefully making at least ten bucks a pop), Barry can now run up the side of a building, so everything is a-OK.

At CCPD, General Eiling from the Army takes over the bombing investigation and is SUPER NORMAL AND NOT MENACING ABOUT IT AT ALL. Joe agrees to give up all of their evidence, except for one piece of paper that Barry saves that has every piece of pertinent information. It's nice that all the important stuff fits on one letter-sized document.

At STAR Labs, we learn that General Eiling is totes into experimenting on meta-humans and that even Doctor Wells thinks he's a creep (so you know he's no good). Barry chases down their suspect, Bette Sans Souci, whose touch can make things explode. "What kind of things?" you ask. Well, how about Barry's suit? She accidentally blows up Barry's suit while he wee-wee-wees all the way back to STAR Labs. It would seem that General Eiling wants to use Souci as his own personal Army bomb thing. What's more important is that Joe is upset that Iris is writing a blog about The Flash. A BLOG! Barry tries to get Iris to shut down her site but she says no way and vows to keep writing her very important blog about meta-humans. Doesn't that sound like how every YA series came into fruition?

"Marion, you have to stop writing about meta-humans/sexy vampires/surfing mummies."

"Get outta my face, Victor, I'll never stop writing about werewolf gymnasts/rock and roll ghosts/mutant hackers."

At the Center for Inflicted Wounds, Souci begins to seek revenge on a doctor who … did doctor stuff? Barry and Eiling arrive at the same time to capture the human bomb and luckily her bomb skin doesn't make Barry explode when he picks her up and runs her back to STAR Labs. Neither do the fancy gloves that Cisco makes for her. I get the feeling that Cisco made Souci her fancy gloves because of an odd mitten fetish, but who am I to judge? While performing a physical on Souci, Caitlin discovers a tracker embedded in her arm, and just like that General Eiling and the Army are in the pipeline to STAR Labs.

Eiling and West have a quick bad guy stand-off while the Army searches the lab for their meta-human, only she's somewhere in an abandoned area with Barry, Cisco, and Caitlin, blowing stuff up while waxing philosophical about duty.

Meanwhile, ON THE INTERNET, Iris has posted another blog about The Streak and everyone gets very worried that a meta-human is going to read her blog and um … no one knows, but they do know that they don't want her writing a blog. In a last-ditch effort to get Iris to stop writing a blog, Barry appears to Iris as The Flash/The Streak. Great idea Barry, try to convince the very curious wannabe reporter to stop writing about The Flash/The Streak by showing up as The Flash/The Streak and getting your MAD FLIRT on. Well done. Bravo.

Back at STAR Labs, Souci learns that the shrapnel in her body that gives her super blow-up powers has merged with her DNA and can't be removed. So that's a drag. Souci takes a moment to herself and the rest of the STAR Labs team conspires to kick her out into the cold or throw her in the ocean. There's really no plan, but they know they don't want her hanging around.

Barry tells Joe that he talked to Iris in his Flash/Streak costume and that he wants to tell her the truth but Joe plays Dr. Phil and tells Barry that he can't tell her that he's The Flash/The Streak until he tells her he's in L-U-V Love. I assume this means Barry will never tell Iris about his super powers.

Doctor Wells approaches Souci and convinces her to use her human bomb abilities to kill General Eiling. Wells is one heck of a master manipulator; one might think he's not the handicapped scientist that we think he is.

Barry races to the field outside of Central City to stop Souci from killing Eiling, but no matter how fast he can run he can't save the human bomb from her fate. Eiling shoots Souci in the chest and her body becomes an organic 10-second countdown and Barry deduces that the blast from her body could destroy Central City. OH NO! He takes her body and runs across the Central City Reservoir (let's call it that until I'm corrected on the Internet) and drops her body in the water with just enough time save the city from a body explosion.

After a day spent running on water and watching a lady explode, Barry goes to see Iris about her blog and asks her one last time to stop writing about The Flash/The Streak, and instead of telling her the truth he tries to pull the family card and she balks. From there he meets up with Cisco and Caitlin at a bar where they introduce him to SUPER ALCOHOL and the STAR Labs team begins a round of SHOTS SHOTS SHOTS!

In the epilogue, we learn that five years ago Eiling and Wells worked together to make a … super dog? Or something? Whatever it was, its name is Grood and rather than Google the information I plan on continuing to be shocked at the depths that Harrison Wells will sink to in the name of science.

NEXT TIME! People finally start referring to Barry as The Flash. Iris starts selling ad space on her blog and General Eiling pays for a 782X270 sized video banner that explains how much he hates Doc Wells. Also, more shots!
​