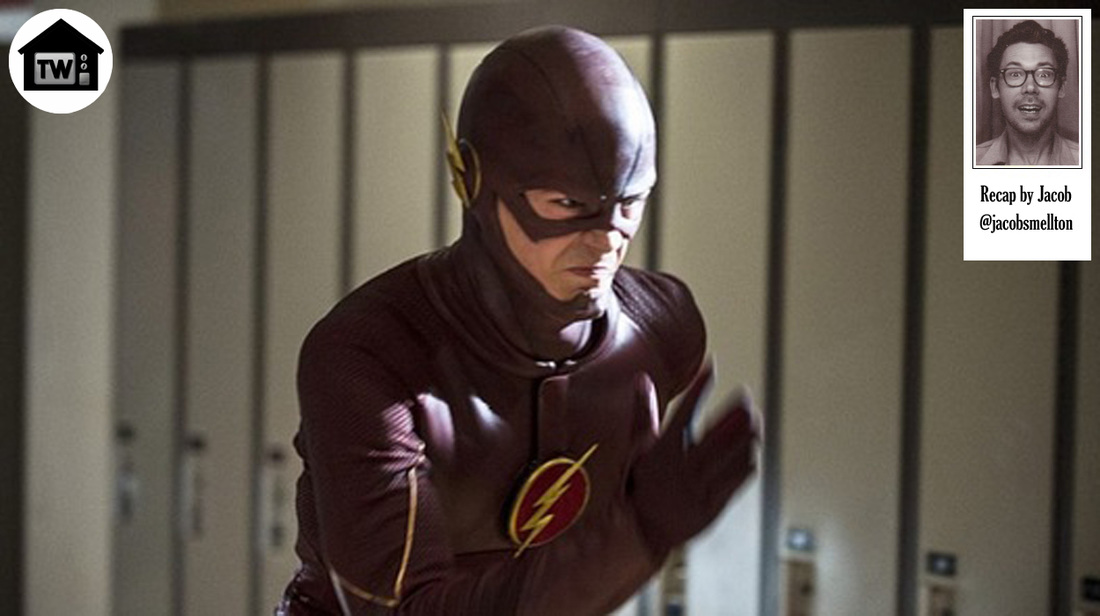 Once again Barry confronts an enemy by looking back to the past and using lessons that he thought were meaningless at the time. Fortunately for the viewer, he doesn't have to use too much algebra to take down this week's big bad.
This was a pretty blog heavy episode. I know I've touched on it in the past, but The Flash really does say the word "blog" a lot. Like a lot a lot. Iris reads her blog aloud in the dark after hours in her coffee shop (like most bloggers tend to do). The moment she posts her most recent blog (the one she was just typing) Barry shows up to tell her to stop it with the blog because she could get in trouble. How did he read the blog so quickly? "Speed reading," he says. "UGH! STOP IT!" we all say.

Cut to a bro driving a stolen Hummer recklessly though the streets of Century City as Joe and Thawne rightfully try to catch the kind of tool that steals a yellow Hummer. The cops try to take down Super Bro but he's made of metal or something and bullets don't affect him. After crashing the Hummer into an alley that looks suspiciously like a backlot, Super Bro pummels Barry just as easily as he slams Monster energy drinks (which is very easy).

On their way to the lab, Cisco and Caitlin are debating how many bugs Barry swallows in a day (this episode is really trying to appeal to me), and they discover Barry cowering on the floor. It turns out that Super Douche is made of steel and Dr. Wells says, " ... a man of steel ..." and the audience takes a break to throw up.

In a quick flashback we discover that Super Douche, aka Tony Woodward, was a bully that spent his formative years terrorizing Barry and pining after Iris. This episode just got personal. And kind of boring. Most of this week's dialogue is spent reminding Barry that the best way to win a fight is to avoid one and that a winner is usually someone that walks away. Did I accidentally put in one of my copies of Road House?

Joe asks Dr. Wells to help him solve Barry's mother's murder. The good/bad doctor is cagey about the investigation. It seems like he knows more than he's letting on/duh Joe we already knew this stuff.

Cisco builds a janky Johnny #5 to help Barry with his fighting skills. The trumped-up training regime is meant to channel his speed into strength so he can fight Woodward (I guess! I'll believe any fake science mumbo jumbo you tell me!). After about a minute of getting beat up by Gortimer (or whatever the robot is named) the robot dislocates Barry's shoulder, and then Barry's called away to help Thawne with the Woodward case.

Thawne wants to know why Barry and Iris are acting like total boners to each other and we go to another flashback where Joe teaches Barry to box and tells him that the best way to win a fight is turn around and walk the other way. I can't with the flashbacks, I just can't.

It turns out that Woodward is a complete douche, and there's police evidence to prove it. Not only did he steal a yellow Hummer, but he also made off with a bunch of kegs from a microbrewery. When they question the guys at the brewery, we find out that Woodward fell into a vat of molten iron (the kind kept at most microbreweries) at the exact moment that Barry was struck by lightning.

Super Douche shows up at Iris's coffee shop to tell her that she should write a blog about how The Streak is a big baby who couldn't even beat up a bug. Woodward checks the television and sees that he's a wanted man; he then asks for the shop's ONE PHONE and crushes it. Okay fine, but are we going to pretend that the store only has one phone or that no one else in the shop has a phone? I can't with this coffee shop, I just can't.

Anyway, Woodward tips Iris with about a million 20-dollar bills and leaves. Iris posts a message on her blog specifically for The Streak to read and since it's the most popular website in town (Iris should start selling ad space, no more coffee shops for this cop's daughter). Barry immediately goes to get information about Woodward.

Barry runs out to Woodward's beer bottle and puka shell necklace-strewn hideaway outside the city and is crushed by a shelf full of weights. Don't worry, Barry is fine. He will always be fine.

Cisco does some Big Bang Theory math and deduces that Barry has to hit Woodward while running at MACH 1! But if he does it wrong he'll break every bone in his body! He will not do it wrong.

Keeping with the theme of repeating important exposition, Thawne and Barry go to the CCPD boxing ring to knock off some steam and talk about how they were bullied in elementary school. Barry and Thawne trade punches on the ol' bag while Thawne says things like, "You need to work on your speed" and "Focus your energy." If I were Barry (and just to reiterate, I am not Barry Allen), I would be exhausted with people telling me what to do. Maybe I would run to the moon or something. Or I would never stop eating tacos.

Joe and Dr. Wells grab an afternoon drink and discuss the possibility of meta humans existing prior to the particle accelerator's explosion. It's revealed that Dr. Wells opened STAR Labs one month after Mrs. Allen's Murder, and before storming away (or as much as he can) he tells Joe to visit Tess Morgan for more answers.

Woodward kidnaps Iris and takes her back to the elementary school she attended with Barry and himself. He wants her to start blogging about him rather than writing about The Streak. I'm not certain, but this may be the shortest game played by a villain ever. He should have at least aimed at getting a writeup in the New York Times or The Paris Review. Believe me it's tough, I've been trying to get published by the Review for YEARS with no luck, but I bet things would be different if I could turn into metal. Barry pops in to rescue Iris and then consults an earlier flashback about running away/punching a guy at Mach 1.

The supersonic punch works and Woodward is out. He wakes up in the STAR Labs illegal holding center (seriously, we need to talk about this Abu Ghraib-style holding area they've built in the bottom of the lab) and Barry taunts him from across the clear glass that every bad guy ever will some day be trapped behind.

After the hubbub, Joe apologizes to Dr. Wells. It turns out that Tess Morgan was Dr. Wells' fiancé who died in a car crash. Joe still thinks something supernatural happened and Dr. Wells is excited to have a free bottle of scotch.

That evening, Joe goes through old case files in the epilogue and is surrounded by red and yellow light, just like when Barry's mother was killed (!). He catches a quick glimpse of a yellow guy in a Flash suit who steals all of the case files and leaves a photo of Iris – which is kind of weird because you'd think Joe would have plenty of those lying around. OH! There's also a butcher's knife stabbed into the photo with the message, "STOP OR ELSE" carved into the wall. We don't know who sent the man in yellow, but we do know he wasn't standing next to a dictionary open to the definition for subtlety.

NEXT TIME! Arrow shows up! Or Flash goes there? I need to check my TV Guide. Either way we get more Felicity Smoak and that's fine with me!
​