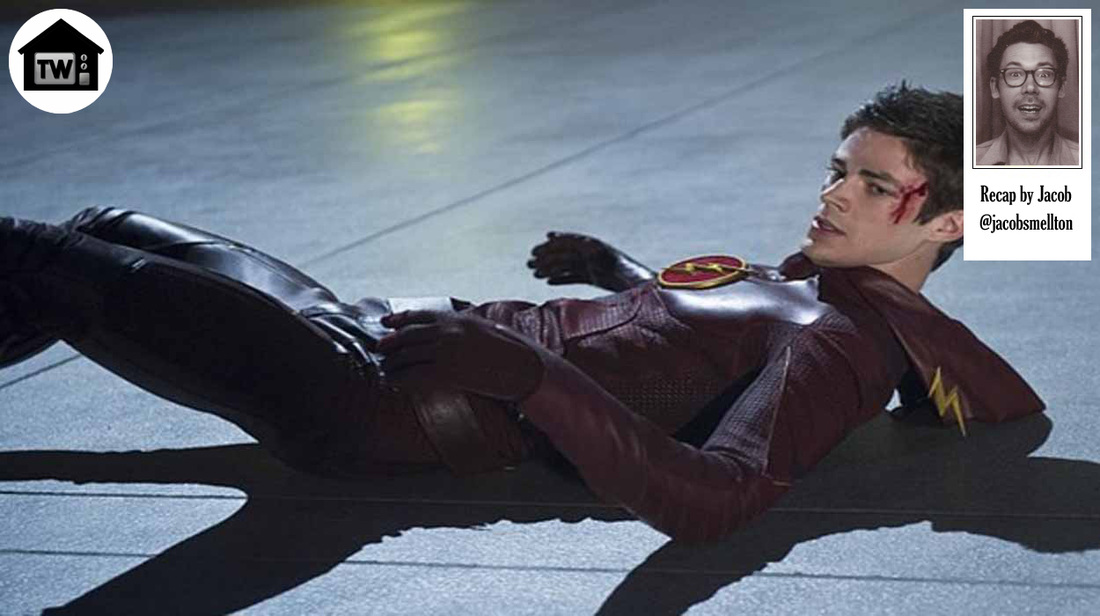 Hey Speedsters! Welcome back to Central City. While there may be less abs and brooding on this side of The CW, there's apparently two more minutes than are usually allotted to a television program. Hopefully they'll be dedicated to Barry's love of hot yoga.
It's Christmas in Central City, but Barry has no time for Christmas cheer. He's chasing … another Flash? BOOM SMASH CUT TO A DAY EARLIER WHEN BARRY APPRENTLY HAS TIME FOR CHRISTMAS CHEER. He and Joe are trimming the tree and drinking eggnog when a call comes in from the DA. As soon as Joe leaves, Iris and Barry crawl onto the floor to open a few presents. Maybe some generous soul will give them a box full of patience this year. Barry gets Iris a replica of her mother's wedding band and she gets Barry a new microscope, "the best on the market." If you say so! I took a screen cap of this moment to send in to the Webster's people to include in the 2015 edition under the phrase, "one-sided relationship."

Christmas is ringing into the city and it seems that the much-lauded TWO EXTRA MINUTES is being wasted on b-roll of Christmas ornaments. I think I even saw a few wreathes.

Caitlin is leaving the mall with Dr. Wells' Christmas gift (wheelchair polish, presumably) when she notices that a mysterious figure is tailing her through the parking garage. Two things about that mysterious figure:

1. He can set himself on fire/is the character Firestorm.
2. It's Ronnie! Caitlin's ex-fiancé. Her old flame, you might say.

Ugh. Sorry. I'm fired.

Okay, I'm back. And with double pay!

At Mercury Labs (Central City sure does have a lot of labs), the man in yellow (you know, the guy who killed Barry's mom and ruined Joe's wall a few weeks back) kills two security guards and scares the bejeezus out of a scientist who bears more than a passing resemblance to Butch Vig. When Barry learns that the man who killed his mother is back and that Joe knew about it, he's less than pleased.

After the news of the man in yellow breaks, Dr. Wells fills everyone in on what Ol' Yeller was looking for. Apparently, Dr. Christina McGee (big wig at ML) is developing prototypes for the technology of the future. She's experimenting with tachyons that allow someone to travel faster than light/through time! This is kind of my least favorite part of the episode/series so far. While most television is spent delivering exposition, The Flashdesperately relies on that exposition to take us from one scene to another. What should have been an intriguing episode about Barry coming close to catching a killer that has tormented him for his entire life, long-term effects of time travel, and the existence of necessary evil is bogged down by at least seven expository breaks.

At CCPD, Barry and Dr. Wells meet with Doc McGee about the tachyon prototype. Dr. Wells makes some ominous comments about "securing the future" that rightfully send Doc McGee running. At the moment I can't get a read on Doctor McGee (what with her astounding 20 seconds of screen time) and I don't know if she's good, bad, or somewhere in a gray area, but I don't disagree with her decision to leave as soon as Dr. Wells turns into a hand-rubbing creep.

Barry, in his family murder room (not the best way to describe it), flashes back to his mother telling him that he's never alone because of love or something like that. Immediately afterwards, the Reverse Flash murders his mother, so I guess I can understand his abandonment issues. Directly following his murder-filled flashback, Iris shows up to tell him that she's moving in with Eddie, furthering Barry's abandonment issues. Before he has time to think about how alone he is, Reverse Flash shows up and the two start a game of chase that goes straight through Central City into their fancy football stadium. The two start speed fighting and Reverse Flash taunts Barry with the knowledge that he'll always be one step ahead of him.

Barry blackmails Doc McGee into handing over the tachyon accelerator and Detective Thawne turns around and threatens Joe with his amazing tattletale abilities in order to be put on the Flash case.

Caitlin and Cisco start Ghost Bustering through an abandoned facility of some sort (probably another laboratory) and they find Ronnie (Caitlin's ex-fiancé) who seems to have lost his memory/ability to speak like a normal human being. He has kind of a Frankenstein's monster moment and runs away while he waves his fiery arms around.

Joe and Dr. Wells ask Barry to leave STAR Labs while they try to catch Reverse Flash and he is piiiiiiiiissed. To blow off some steam, he goes to the maximum security prison to speak to his dad and apologize for failing to catch the man in yellow. Barry feels like a big ol' failure that can't get his dad out of prison. They have yet another prison heart-to-heart where Barry's dad tells him to let it go and maybe stop telling everyone that he doesn't have feelings for Iris because even his dad (WHO IS IN PRISON) knows that he wants to get all up on Iris.

Barry goes back to Joe's and finds Iris trimming the tree (still?!) and he tells her that he loves her. Her response is less than ideal.

Dr. Wells and his cop buddies catch Reverse Flash in a force field and the whole thing feels waaaaay too easy. Joe asks him why he killed Barry's mom and Reverse Flash straight throws shade at Joe and starts harassing Dr. Wells with classic bad guy patter ("We meet at last," etc.).

The containment field is fluctuating and Reverse Flash gets out of the barrier and starts beating the shit out of Doctor Wells. Joe destroys the tachyon barrier and Reverse Flash takes out the cops as Barry arrives and starts a fast guy hardcore match in the parking lot (falls count anywhere/any time). Right when Reverse Flash is about to deal his final blow to Barry, a burst of flame catches him off guard – Firestorm saves the day before flying away. Firestorm can fly? I think I'd rather watch the show with the fiery flying guy.

At the CCPD, Thawne has an existential crisis about why Reverse Flash didn't kill him and Joe finally caves and tells Thawne about the existence of metahumans. But he is a bit coy about knowing who The Flash is.

At the end of the show there's a Christmas party with the entire gang, sans Dr. Wells (more than likely he's prepping some evil stuff for the epilogue), and like every work party I've ever attended, no one can stop talking about work. Cisco realizes that there were two speedsters present when Barry's mother was murdered, one yellow and one red. Barry tells Iris and Eddie that he's happy that they're moving in together and NO ONE believes him.

Meanwhile Dr. Wells enters his future room, puts on a ring that contains the Flash logo, and opens a secret door on the wall to check out his YELLOW FLASH SUIT. In a very Venture Brothers season 2 moment, he wishes a "Merry Christmas" to the suit.

What could have been a very interesting episode that explored the possible origins of Reverse Flash and how the murder of Barry's mother was essential in shaping Barry's view of right and wrong became an over-expository drudge. Hopefully the second half of the season won't be afraid to explore the nature of Barry's overwhelming desire to be a good person (outside of being a superhero) and how Dr. Wells, for better or for worse, has a part in shaping that.

NEXT TIME! Captain Cold makes his return with fellow seasonally themed rogue, "Heat Wave," and guess what? It's the two guys from Prison Break – I wonder if this was in their contract. Eddie gets fed up with Barry making mooneyes at Iris and takes on the mantle of Professor Zoom just to piss everybody off. See you next year, speedsters!
​