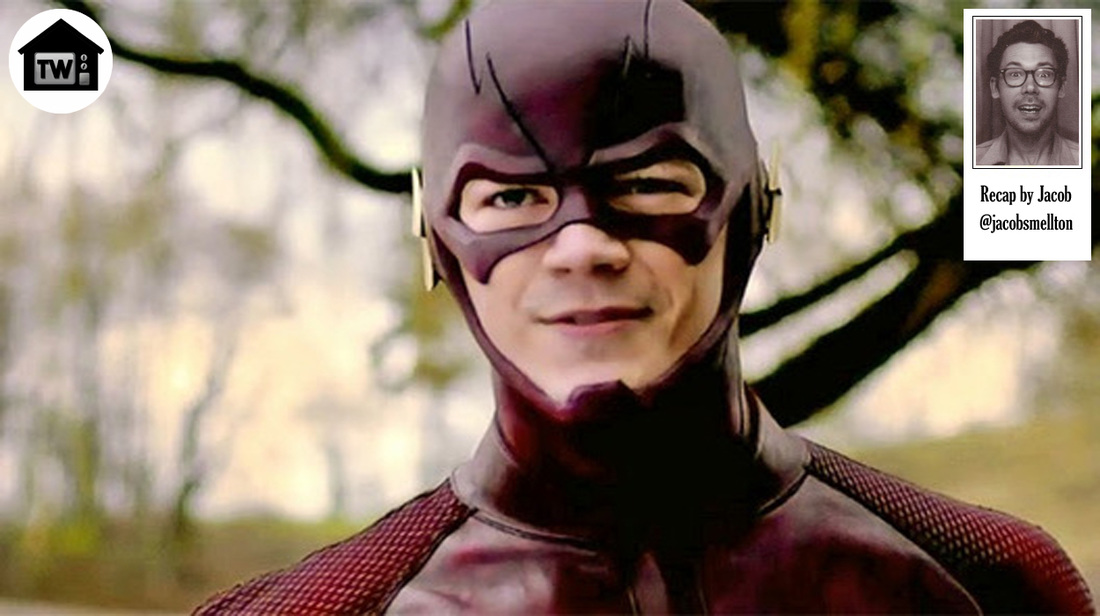 Here are the things I know about The Flash: He is very fast (all of the time? Some of the time? He controls it? It controls him – similar to the husband ofThe Time Traveler's Wife/Nutty Professor?). He has a red suit, or possibly a rust-colored suit (if this is a show about oxidation, I quit). I know that he used to wear an upside-down wok on his head until the PC police put him in red leather. And I know that Warner Brothers tried all of this before, about 24 years ago. I vaguely remember a Flash television show, but in the way I remember Viper and pogs. They were all certainly things that existed and that I passed on in favor of playing Legend of Zelda and carrying alternating copies of Shakespeare's complete works with me wherever I went in hopes of impressing older, more cultured women. ​
I don't have high hopes for the new incarnation of The Flash, but I do know that people are going apeshit about superheroes right now and that enough television writers grew up maligning a lot of the superhero junk that came out of the '90s and now that they have some cache (although, let's be real, you're writing
The Flash
for CW) they want to make the thing they like good. Maybe I'm being naïve. Maybe I'm over intellectualizing a show about a hunky dude who wears red and is friends with another hunky dude who wears green. Can foie gras prepared by chefs raised on Lean Cuisine be good?
The Flash
begins with a voiceover telling us to believe in the impossible and, like a child dizzy on lemonade, pointing out every red blur that we see on screen. "Look at me! Look at me! I'm in Ibiza, I'm in New York!" Barry Allen explains that he's the fastest man alive and that he's a complete dork. We flash back to young Barry wearing a lot of red and getting beat up by some less color-coordinated bullies. That night he wakes to see his mom screaming on the floor and surrounded by crazy flashes of red and yellow. More than likely, the intense red-and-yellow lighting flashes are actually other very fast beings and they're punishing Barry's mother for raising such a weenie.
Barry is transported out of the house (don't ask me how, Flash powers?) and as he runs home (slowly) the scene transitions into modern day where an older Barry is still slowly running down a city street.
Two detectives arrive at a scene of a bank heist and they're steamed at Barry, who is aaaaalways running late. Detective Joe says that Barry was running an errand for him, and since Barry is a huge dope, he hands him a half-eaten chocolate bar. It turns out that within in the video transition, Barry has become a CSI expert and has joined the Central City police force. Why no one thought to call this show
CSI: Fast
I'll never know. Barry is a whiz at CSIing things, he knows what kind of car was used to get away from the scene of the crime, and he knows that there's animal excrement in the tire tracks. So ... a horse robbed the bank? It makes sense, they do always seem to be planning something.
At Barry's massive loft, he paces around like a nerd while a girl who happens to be his friend keeps pestering him about making it to see the particle accelerator on time. The girl is Detective Joe's daughter. They're best friends but Barry wants more!
At the particle accelerator opening (don't you get tired of typing that sentence?), Barry acts like a weenie around Iris (Detective Joe's daughter) and instead of asking her to go steady with him, he backpedals until the crazy/sexy/cool scientist in charge of the particle accelerator, Harrison Wells, starts the show. A mugger steals Iris' bag and Barry gives chase. I hate to be this guy, but shouldn't she have been keeping a closer watch on her bag? It was the opening of a particle accelerator, after all. The mugger embarrasses Barry in front of Iris before Detective Eddie Thawne catches the laptop thief and Iris turns full on into a cartoon wolf, her heart beating out of her chest and a jazz band playing in her head.
Detectives Joe and other guy follow Barry's advice and go to find the getaway car, and when they find the driver, Clive Martin, he shoots the detective that wasn't given a name and literally jumps on a plane and flies away.
While Barry's watching television in his loft, the news from the particle accelerator turns grisly, instead of going to plan and accelerating particles, the accelerator explodes and sends a shockwave through Central City, destroying the crime plane and striking Barry with super lightning.
Nine months later, Barry wakes up from a coma, fully waxed below the eyebrows and surrounded by nerds. He has boss abs now and he's in the Star Labs hospital facility. Harrison Wells, now in a wheelchair, greets Barry and takes him to see the destroyed accelerator and explains that Barry's cells are moving at an extraordinary rate. Barry thanks Harrison and his team of nerds by leaving as quickly as he can to visit Iris.
While reconnecting with Iris in the coffee shop where she works, a waitress begins to drop a tray of coffee and time slows down around Barry. Things aren't as they seem in the world of Barry Allen.
Meanwhile, the guy that we saw get blown up in the crime plane is alive and well and robbing banks with crazy super powers. I think he can do something with sand. Or weather? Detective Joe is now partners with Detective Pretty Boy Thawne. While Joe and Thawne go to the bank, Barry starts running Flash-style all around the city. He breaks a window! He runs head on into dirty laundry! Pretty much everything that you would do if you could run really fast.
Barry goes back to Star Labs and they start running tests on him. The first test is to see if he can stand being dressed as a complete dork while making small talk with regular humans about his newfound power. We meet the team of nerds led by Doctor Wells – Caitlin and Cisco. Caitlin isn't too hot about all of this science business ever since the particle acceleration accident; it killed her career and her fiancé.
In mid-run, Barry realizes that as a child he saw a guy dressed in a yellow Flash costume running circles around his mom.
At Star Labs, Barry learns that he not only runs fast, but also his body heals at an extraordinary rate. If there were ever a time to impress Iris by going over Niagara Falls in a barrel, it would be now. He explains to the Star Labs Crew that when he was 11 he saw his mother murdered by a ball of lightning that contained a man; he thought that was in his imagination but now he's not sure. Harrison reassures Barry that he's one of a kind, but we know ... oh, we know.
Barry goes to meet Iris and sees her kissing Detective Thawne. Boo-urns, Iris! They go for a walk and she explains that she and Eddie really like each other and Barry acts like a weenie before a car almost crashes into him and he does his Flash thing and chases down the driver, who happens to be Clive Martin, and it looks like he's had more practice with his powers than Barry. Once again Barry looks like a weenie in front of a girl. Barry tries to convince Joe that Clive Martin is alive and well and controlling the weather, but Joe thinks that Barry has lost his damn mind and all of a sudden they're yelling about Barry's mother's murder. Wow! Who knew that insisting that Clive Martin could control the weather would need a trigger warning?
At Star Labs, Barry is freaking out at Harrison until he explains that the accelerator explosion created more than one "meta-human" and Barry insists that Wells is responsible for the meta-humans and thus responsible for the safety of Century City. Wells doesn't believe that he owes anything to the city and that Barry should stop playing super hero. Barry makes an over-exaggerated jerking off motion and leaves Star Labs.
Barry runs all the way to Starling City where we catch up with the story already in progress as Barry finishes telling his story to ... Green Arrow.
Arrow
(is it okay if I call him that?) rightly wonders aloud why Barry would come to him – I guess they were friends? Are friends? Did they go to super hero college together? Someone please fill me in on their friendship. Are they buddies on the same pointy costume Internet forums? Arrow gives Barry the confidence that he needs to become a hero with a
Community
-esque speech and they part ways, never to meet again.
*wink*
Just so we're clear, everything that has happened up to this point has been in a recollection that Barry has been telling to the Green Arrow, including all the "that's me, and that's me" stuff. Does he think that Arrow is impressed with that kind of thing? The guy can accurately shoot an arrow, that's way more impressive than running fast.
Barry meets with Cisco and Caitlin in an abandoned basement and Cisco gives him a heat-resistant suit originally designed to keep firefighters safe from extreme conditions. The suit comes with a communicator that allows Barry to speak to the nerds back at the office and a lightning bolt thing that measures his vitals.
At Clive Martin's crime hideout, Detectives Joe and Thawne catch up with Martin who, as it turns out, speaks in a heavily exaggerated southern accent; it's half Cajun, half cartoon alligator, and half Gambit (I'm not good at math). Joe and Thawne don't believe that Martin can control the weather and Martin is pretty sure that he's God. No offense guys, but if there is a god he doesn't talk like Taylor Kitsch in the
Wolverine
movie. Barry arrives on the scene as Martin creates an F-5 tornado and Barry tries to stop it by running around the tornado in an opposite trajectory. As Martin increases the power of the tornado, Wells speaks to Barry on his in suit communicator, pumping him up and giving him super hero advice. He literally says, "Run, Barry, run." It's all very ABC Family Movie. My favorite part of the sequence is when Barry starts running around the tornado while, at Star Labs, Harrison watches a graphic of a tornado surrounded by red squiggles. Good job guys! I like your very scientific graphic! Martin, distraught over not being God, tries to shoot Barry but is in turn shot by Joe – now the fourth person who knows that Barry can run very fast.
The next morning, Joe apologizes about taking his father to jail and calling Barry crazy. He makes Barry promise that he'll keep this whole fast running thing quiet and keep Iris safe.
Barry goes to prison to see dear old dad, played John Wesley Shipp (the Flash from the '90s) and he tries to convince Barry to live in the now and stop trying to find his mother's killer. But no way! Barry Allen is going to keep fighting crime as The Red Streak ... er, The Flash.
Back at Star Labs, Harrison STANDS UP OUT OF HIS WHEELCHAIR and LOOKS 10 YEARS INTO THE FUTURE to see that The Flash has gone missing in some kind of Infinity Crisis. I don't know what's happening, but I'm glad this show is immediately embracing its ability to be bat shit crazy rather than making the world wait until Season 3.
NEXT TIME: Will Barry Allen run very fast to stop someone who can melt ice cream with his mind? Will Harrison remove his glasses when he finds something fascinating? Of course he will.
​