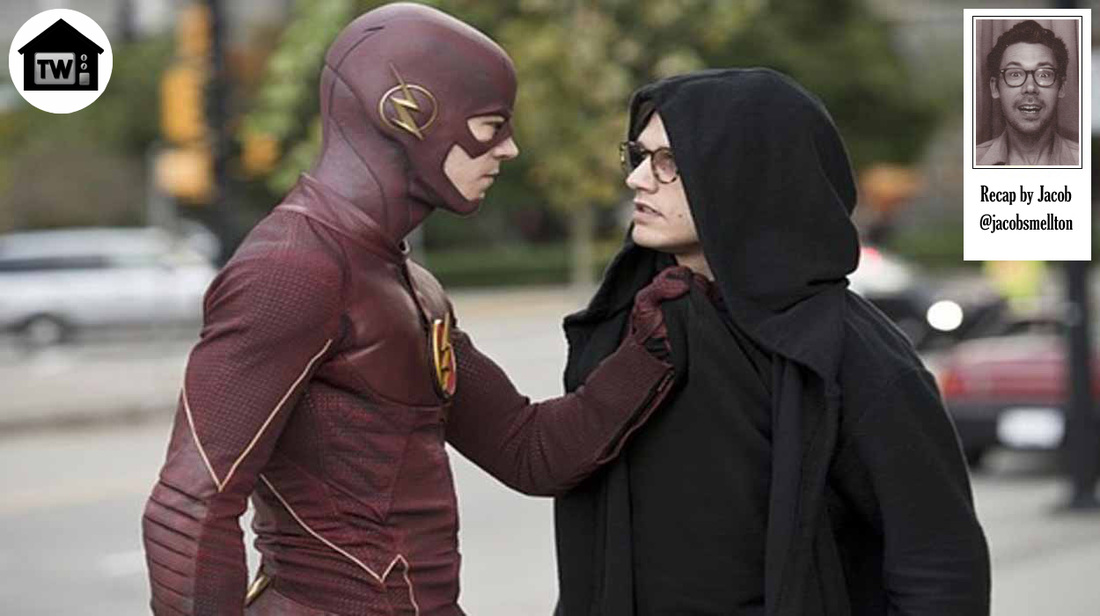 Oh The Flash, my weekly respite of speed-based fiction, I'm so happy that you're back on your regular schedule. This week we learned quite a bit (and almost too much?) about Dr. Wells' past, and … his future? You see, because he's from the future.
The episode begins with Barry chasing a motorcycle gang while Dr. Wells gives him directions via his head set. Am I the only person that felt like Dr. Wells was playing a live action version of Pac Man? Is that what everyone's into in the future? Are arcades simply warehouses full of time-traveling devices where you jump back to the early 21st century, kill a kid's mom, establish yourself as an idealistic super scientist, blow up a particle accelerator causing half of the city to gain super powers, befriend one of the super humans (who also happens to have had their mother mysteriously murdered), and use them to play Pac Man? It really feels like they're taking the long way around on that one.
After the game of biker Pac Man, Cisco insists that the whole super crew take a picture together. Barry, still in his Flash costume, does some speed-related phone garbage and takes the picture while actually being in the picture. I know all media corporations assume that anyone watching their programs are basically mutated trailer trash gobbling up Big Macs and RC, but we get that The Flash is fast. It's the main conceit that the show is built around, you don't have to prove it to us anymore – we'll give Barry the benefit of the doubt.
Back at Barry and Joe's bachelor pad, Iris is hanging out and avoiding Detective Thawne when someone from Central City News calls and offers Iris a job as a reporter based on her wildly popular blog about The Flash. I don't know if anyone from the
Central City Gazette
is reading
Television Woodshed
, but I'm available.
Did you know Dr. Wells has a house? I honestly thought he lived in the basement of STAR Labs or went back to the future at the end of every episode. He's apparently done pretty well for himself in the super science game because his house is reeeeeeeally nice. And not like your one friend who has wealthy parents and an okay job nice, like R. Kelly nice.
Anyway, Dr. Wells doing what every man with ambiguous wealth does when he's alone in his giant mansion – listening to opera and drinking scotch from a beaker (seriously, he's drinking scotch from a beaker) when he gets a phone call. His phone makes a weird noise and a mysterious voice tells him they "both know what he did." From the dark, the mysterious and now very dorky voice tells him that it's "time to pay the piper." Then Dr. Wells' glass roof (!) shatters and he uses his secret super speed to avoid getting cut up like a teenager in a Hot Topic.
The next day, Barry, Joe, and the CCPD come over to Harrison's place and he brushes the whole thing off. "It was a prank," he insists.
Harrison has a flashback to Cisco's first day at STAR Labs. Dr. Wells is playing chess with a young dork when Cisco shows up and the younger chess-playing dork totally rips into Cisco's dumb shirt (it's a "KEEP CALM AND HAN SHOT FIRST" shirt, so the ire was not unwarranted). Harrison tells the dork, Hartley, to go easy on Cisco. And that despite bringing on some new talent, Hartley is "still his guy."
Back in the present, Thawne thinks it's odd that Dr. Wells isn't cut up like a teenager in a Hot Topic and decides that he's going to investigate the good doctor.
While the CCPD is fingerprinting the house or whatever, Barry puts the shattered roof glass back together and discovers that there was no point of impact. That whoever shattered the glass must have been using a supersonic device. Dr. Wells already knows who attacked him – Hartley Rathaway, his old colleague. Hartley, who was once heir to the Rathway fortune, but was cut off from his family's inheritance because he came out to his parents.
Despite (or maybe because of) his parent's homophobia, he was a total dick and referred to himself as "the chosen one." Dr. Wells says that Hartley left STAR Labs after the two of them had a "disagreement." Methinks there's more to this story.
In another flashback, Cisco and Hartley get into a nerd off about who has the smartiest pants. Caitlin and Cisco meet for the first time before she takes off to have dinner with her fiancé. Can we go one scene without Caitlin mentioning Ronnie? It's awful what happened to him, but give it a rest.
On Iris' first day at the paper (or TV news station? They never actually say) she meets the news team and they are diiiiiiicks. Iris pitches an idea about a thing that helps battered women do something but all they want to hear about is THE FLASH!!!! "What's The Flash doing to help battered women? How many tacos can The Flash eat? WE MUST SATIATE OUR FLASH-STARVED AUDIENCE!!!!" – The Central City News Team
Barry tells Joe about his glass theory. He thinks Hartley is using sonic technology to go after Dr. Wells and Joe thinks that something fishy is going on with the good doctor. Before they can discuss the issue in more depth, a call rings through the CCPD – Rathaway Industries is under attack and EVERYONE goes to see what's up: the cops, The Flash, the STAR Labs crew, even Iris is there. While Barry tries to stop Hartley from destroying his family's office, Hartley, who reveals that he can "hear" sound waves by interrupting his communication with Harrison, gets chatty with the speedster and tries some sound wave glove mumbo-jumbo.
Hartley tries to overpower Barry, but since he's a nerd and Barry is technically a jock, Harley doesn't stand a chance. After Barry captures him, Hartley reveals that knows Dr. Wells' secret. Get in line, sister.
Barry brings Hartley into the lab, and there's some veeeeeery gay banter among the crew. I like this Pied Piper fellow, I really hope he sticks around to provide color commentary for the rest of the season. He's like the STAR Labs Bruce Vilanch. Harley is stuck in the containment unit and
everyone
starts speaking Latin to one another. It's like a fucking David Lynch movie all of a sudden.
Hartley figured out that STAR Labs was working with The Flash because he started tracking The Flash's movement – every time Barry finishes a mission, he runs back to the Lab.
Hartley tells Barry that Harrison is going to turn on him. Hartley mentions the Doctor's secret agaaaaain. Ugh, just tell everyone, you creep. How bad could it be? It's not like he's a crazy person from the future who murdered Barry's mom and is using his knowledge of pre-existing events to shape future history. Oh wait …
Doctor Wells gets ready to spill his beans about the sassy prisoner. He tells the gang that a year prior to turning on the particle accelerator, Hartley warned him that there was a chance that the accelerator could explode but he made the decision to go for it anyway because he felt that the possibility of learning something outweighed the risk of killing a bunch of people and turning a bunch of other people into freaks on a molecular level. Caitlin is understandably upset, and once again she mentions Ronnie. Barry thinks that Dr. Wells owes them more than an apology and he huffs off like a teenager in a Hot Topic.
At the paper (?), Iris' boss tells her to start working on a story about The Flash and she asks ace reporter, Mason Bridge, for some help. He makes a lot of general statements about women and blogs. I sure hope he gets an ironic comeuppance or learns a lesson before the end of the episode.
Iris and Barry meet at Jitters to complain about their equally miserable day. Iris tells Barry about being called a "worthless, talentless, millennial." I didn't know that Iris was Facebook friends with my mom, I never see her in my mutual friends list. Barry says that he believes in her and thinks she can be a great writer. If he really wanted to give her a leg up in the media, why not show up as The Flash and give her a scoop? It worked for Peter Parker.
At STAR Labs, Cisco realizes that the Flash crew walked right into Hartley's trap. He was using the lowest setting on his Nintendo Power Gloves because he wanted to be brought to the containment unit. For a bunch of geniuses, they really don't pay attention to the five super villain tactics and tricks. Being caught on purpose is basically the go-to thing for super villains. Read some comic books, dum-dums.
Harrison uses his reverse Flash powers to try to stop Hartley before he can escape the containment unit but his powers don't work and he passes out. Cisco runs to the containment unit to try and stop Hartley but it's no use. He pulls the hearing aid out of his ear and uses the supersonic fake science to blow up the containment unit's door. Sure. Whatever.
Caitlin is alone in the lab with Hartley, who knocks her unconscious and begins doing some computery stuff. Dr. Wells calls Barry, who gladly bails of Iris, adding to her bad day.
Cisco wakes up from his concussed sleep and everyone figures out what happened. Dr. Wells takes the blame and says that Hartley won't stop until he makes Dr. Wells pay for his maleficence.
Dr. Wells holds a press conference to explain the particle accelerator explosion and says that he was warned and that he let down the city and his friends. During the press conference, Hartley does some hacker stuff. Dr. Wells is asked if he's rebuilding the particle accelerator by Mason, who is ignored in lieu of Iris who asks the same question, forcing Dr. Wells to give a very unconvincing "No."
Back at STAR Labs, Cisco is trying to catch Hartley and Dr. Wells tells him that he has nothing to prove, that he hired him because he's brilliant and that he has humanity, unlike Hartley, who's just a big ol' sass machine connected to a brain. He explains to Cisco that he's basically the Xander of The Flash's Scooby gang. Obviously, Dr. Wells is Giles, Barry is Buffy, Cisco is Xander, and Caitlin is Willow.
Hartley calls STAR Labs from a bridge and says that he wants to throw down. Barry runs off to the bridge to take on the Piper. Dr. Wells tells Barry he needs to disarm Hartley immediately. Cisco discovers that Hartley stole the info on Barry's molecular scans and that he can tune into Barry's molecular frequency. Barry disarms Hartley – but it was a ruse! Hartley uses his supersonic power to rip Barry apart at a cellular level. Not only is this kind of frightening, but it would probably require a lot of cleanup afterwards. I wouldn't want to be on that chain gang.
Dr. Wells gets on his super computer and uses it to send the loudest frequencies through every satellite radio on the bridge to screw with The Piper and overpower his gloves. They explode in his hands and he falls to the ground, crying and holding his ears.
Hartley wakes up in the containment unit and he has a back-and-forth with Cisco about Dr. Wells' intentions and reveals that he know where Ronnie is. AGAIN WITH RONNIE! Why don't we just rename the show "Ronnie"?
In the epilogue! Dr. Wells is in his secret future room and he's wearing some weird robot future thing that looks like the Iron Man chest piece and he tells his future robot that he can't use his speed powers anymore. He monologues that the end game is coming. So whatever!
NEXT TIME! Ronnie, Ronnie, and more Ronnie.
​