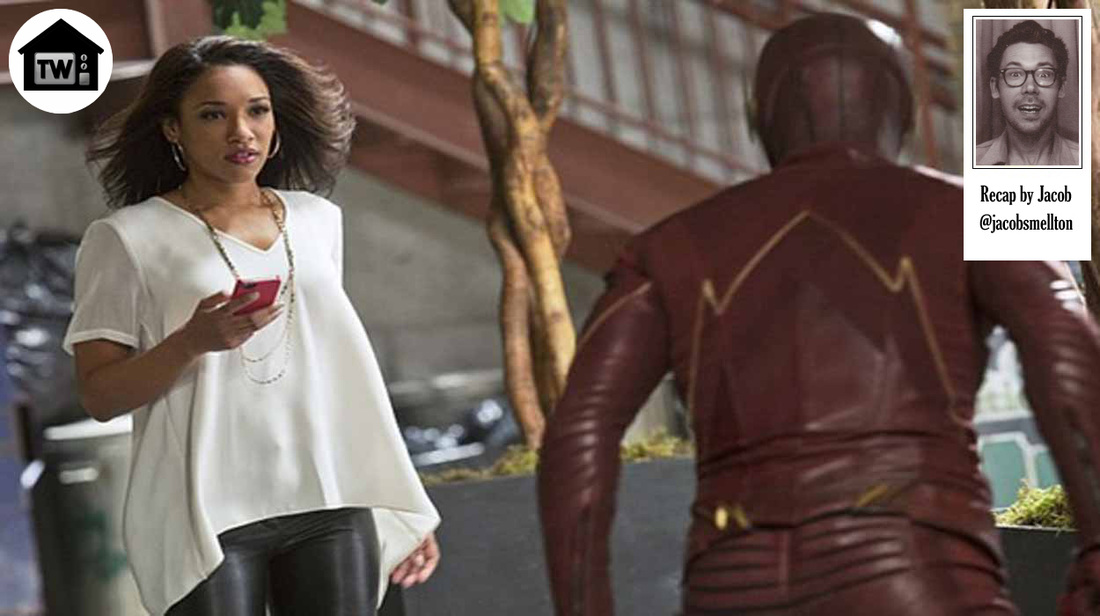 Making a TV show is hard work, people. Not only do you have to live in Los Angeles, where the drinks are expensive and every restaurant is some version of "fusion," but you also have to write entire episodes of television. If you're lucky you get to work on a superhero show that gets canceled after 12 episodes, but if you're put into that unwanted position of working on a show that gets picked up for a full season – FORGET ABOUT IT!
The best that you can hope for is that no one is watching when your episode of whatever superhero show you work on (hypothetically, let's say it's The Flash) barely contains the Flash. Let's go a step further and pretend that there's actually a fairly long karaoke scene in the episode. This week's "Crazy For You" is that episode.

After weeks of training and outsmarting multiple themed baddies, Barry still almost lets a couple die in a car fire because he isn't fast enough. With as much running as he does, Barry should start allowing at least an hour for stretching before and after he does any running/rescuing.

After he barely saves the couple (come on, he was always going to save the couple. I am an adult who cannot suspend his disbelief and knows that The CW is not going to let a man and woman burn alive in a car) Cisco wants to take everyone out for a celebratory drink, but is immediately shut down by everyone else and their plans. Barry is watching a movie with Joe, Caitlin is staying in the lab and researching the FIRESTORM thing (sounds like fun – barf!), and Dr. Wells is probably masturbating to newspaper articles about Barry in his future room.

Cisco may be the character on The Flash who suffers the most from the tabula rasa of episodic television. One week he has daddy issues and wants to impress Dr. Wells, the next week he's the cool nerd who's inventing freeze-resistant shields. This week he's the friendless goof who craves connection at any cost. The thinking seems to be that because Cisco doesn't have as exciting of a backstory as anyone else on the show, he's somehow less. While the explosion of the particle accelerator has tortured everyone else, he's mainly dealt with survivor's remorse.

Not to minimize his decision to lock Ronnie (Caitlin's fiancé) in the accelerator before it exploded, but literally every main character on the show has gone out of their way to say that he did what he had to do and that no one blames him for Ronnie's death. How is he expected to grow as a character if there's nothing to grow from?

The villain of the week plotline is relegated to maybe 10 minutes in this episode. If I could draw a diagram of this episode for you it would be the C plot. Meta-human Shawna Baez has the ability to teleport to any location that she can physically see. I think. She breaks her boyfriend, Clay, out of prison and instead of running away to Vegas to get married, he says he owes a gangster named Marcus a bunch of cash. So they rob a bank truck.

While investigating Clay's breakout at the prison, Barry has a chance to see his dad face to face for the first time in 20 years. It turns out that his dad is a bit of a jailhouse detective (or snitches, as we call them where I come from) and he tells Barry about Clay owing money to Marcus. Similar to Cisco, Barry's father doesn't care about the repercussions of his actions. He just wants to make a connection with his son and feel wanted.

Barry meets Iris at Jitters to talk about seeing his dad, and instead of throwing her coffee in his face for ditching her last week, she complains about her new dream job at the paper. All they want her to write about is The Flash, and she's worried that if she doesn't produce something soon, she's going to go back to slangin' espresso. Instead of appearing to Iris as The Flash and giving her the scoop of the century, Barry tells her that she'll figure something out or find a better story. What better story? You're The Flash?

At this point Cisco loses me, and presumably the rest of the audience. He goes into the pipeline to speak to Hartley (The Pied Piper from the previous episode) and is immediately drawn in to his game of mental chess. Hartley knows what happened to Ronnie, but he won't tell Cisco unless he's freed from the pipeline. Cisco acquiesces and takes him to one of the many other super science labs in town where he's shown the bomb shadow of Martin Stein (a scientist who specialized in quantum splicing and molecular transmography – making two things into one).

He shows Cisco footage of Stein being hit the explosion of the particle accelerator and when viewing the footage frame by frame they see Ronnie's face in the mass of energy. It seems that Ronnie is no longer Ronnie, he is now RONNIESTEIN. After learning this information, Cisco is rendered unconscious by Hartley, who uses his frequency earbud things that emit the "Insect" sound from every early '90s Casio keyboard.

When Barry tries to stop Shawna and Clay from robbing the bank truck, he's unexpectedly taken for a ride with the teleporter and is shot in the spine by Clay. Fortunately for Barry he was able to grab the bullet (I still don't get that scene) so everything is fine. After his near-death experience, he takes the sulking Caitlin out for a drink under the guise of doing research on Shawna and Clay. Apparently their "files" said that they liked to drink in "south side dive bars."

In what may be the nicest dive bar on television, a man is singing "Working for the Weekend" and the crowd loves it. This place may be a total dive, but the people gotta have their karaoke! Barry and Caitlin eschew research altogether and opt to drink their relationship woes away, only Barry can't get drunk so he's really just watching Caitlin get shit faced and say things like, "I would like to open a tab." Somehow this is supposed to be funny. Is it because she's pretty and attractive women don't binge drink? Is it that she's a scientist and scientists aren't known for having more than one cocktail before returning to their solitary life of enzymes and telescopes? The world may never know.

In the time that it takes Barry to go to the bathroom, Caitlin gets on stage and begins to sing that hot new track "Summer Lovin'" from Grease. She gets Barry on stage, who surprises everyone with his passable singing voice. After the train wreck that is Caitlin singing an Olivia Newton John track from over 30 years ago, Barry is the toast of the diviest dive bar that was ever a bar. A woman even approaches him to trade contact information. Has anyone on this show ever spoken to another human being outside a television production? When Barry and the woman (Linda Park) trade numbers, it has all the romance of a T-Mobile commercial.

Shawna and Clay give Marcus his money but he doesn't want them to leave Central City, he thinks they should stick around and help him with more crime. He loves crime! The cops don't think so and they bust Marcus as Shawna escapes with Clay.

The next morning everyone meets at STAR Labs so Cisco can tell them that he did a very bad thing. He makes his "bad widdle boy" face and explains the Hartley situation before seguing into how he locked Ronnie in the pipeline before the accelerator explosion (which I thought everyone knew already), and everyone is totally cool with this news. They aren't enthused about Hartley escaping, "but what's a super hero without a super villain?" seems to be the purveying attitude.

Dr. Wells reminds everyone that they have a teleporter to catch, and he's ignored like a substitute teacher in a classroom full of high school seniors. Barry goes to see his dad in the prison medical facility; it turns out that one of Marcus' heavies knew that Henry had snitched and gave him the requisite amount of stitches. Barry and his father have a conversation that amounts to "I know you're The Flash, but I'm not going to acknowledge that you're The Flash. I just think it's pretty cool."

Barry, being a totally level headed guy, kidnaps the inmate (who bears more than a passing resemblance to Bret Michaels circa 2008) who stabbed his father and has him spill the beans about Marcus' next heist. After the inmate tells him what he wants to know, Barry leaves him outside of the prison to be caught and sentenced to five more years of time.

Barry's concept of right and wrong has skewed immensely since his run-in with Arrow. Before the big crossover Barry seemed to traffic in black in white, but now it seems like the writers are slowly adding shades of gray. There's only so much you can do in a show for children and ladies who like the look of a man in a red leather suit (although if we're being real here, Thawne is the real beefcake of The Flash), and it's cool to see the character growing from the naïve Boy Scout that we were introduced to in the pilot.

Barry races to the heist, taking place in the world's longest underpass, and he and Shawna chase each/teleport around for a while until Dr. Wells tells Barry that she can't teleport if she can't see where she's going. Barry knocks out all the lights in the tunnel and Shawna is trapped in her car. Clay escapes with the heist money, and her broken heart.

After locking her in the pipeline, everyone empathizes with Shawna over the loss of Clay. They all understand what it means to be crazy for someone. Well, everyone except for Cisco because he's a nerd on primetime TV and nerds don't understand love unless it's wearing a slave Leia costume.

NEXT TIME! Ronniestein tries to find a good schmear in Central City, Grood shops his sewer poetry around to a couple of indie publishes, and Barry breaks off a date and feels conflicted about it.

​