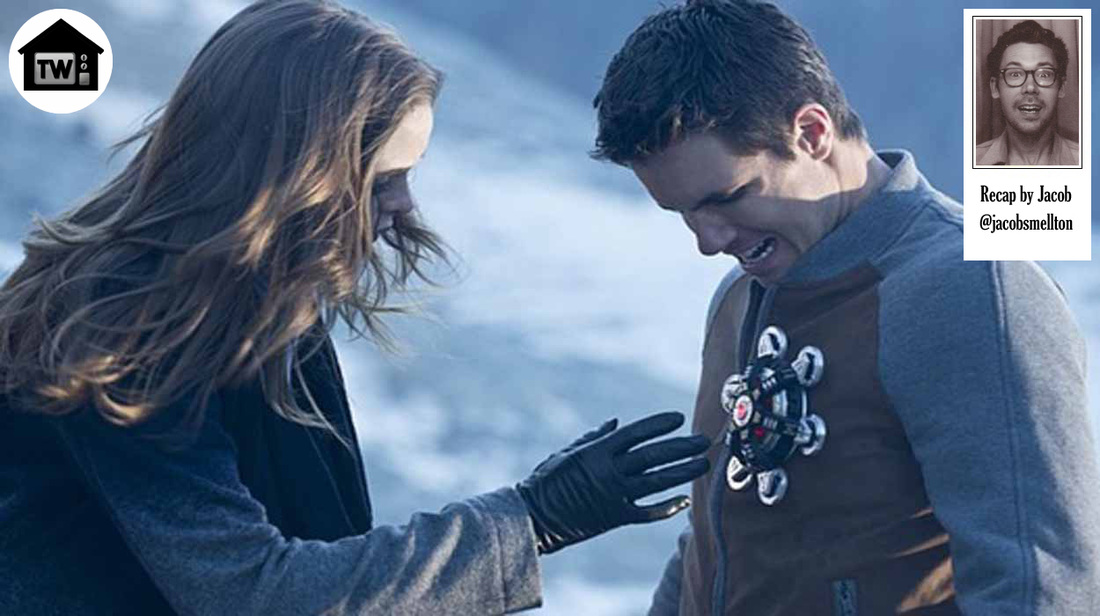 This week Barry finds love, Caitlin reconnects with an old flame, and Cisco makes a discovery that could change everything for the STAR Labs Crew. I'm very sorry about the fire pun in the first sentence.
I guess Barry scored a date with Linda from the last episode because he is freaking out about what to wear, and I don't think he's ever learned how to tuck in his shirt. I get it Barry; I too suffer from high waist syndrome. On the date, Linda takes him to have the "spiciest tacos in Central City," and Cisco interrupts to have Barry stop a robbery at a convenient store. As they bicker about whether or not a "little old lady" runs the store, Barry decides not to stop the robbery? I think that's what happens. You hear that convenient store and bodega owners of the world? If you're looking for a handout from The Flash – IT AIN'T HAPPENIN'!

After coffee, Linda takes a call from work (romaaaantic), and Barry uses his time to save a jumper that the CCPD is trying to coax down from the top of a building. He begs Detective Thawne to let him go back to the top of the building. Oh ho ho, those hilarious people with suicidal tendencies.

In one of the many dark alleys in science town, RONNIESTEIN creeps up on an aging scientist and asks for his help, but then explodes into flames because that's what RONNIESTEIN does.

The next day, Barry tells the gang that he's going on another date and they're worried he's moving too fast. Not "moving too fast" as in going on a second date, but "moving too fast" like he's going to come before she even gets out of her car. I want to be shocked that Cisco has given this a lot of thought, but for some reason I'm not.

Cisco takes off so he and Joe can have their own wacky adventure this week. They're investigating Barry's mother's murder at the old Allen house. Doesn't that sound like fun? To make it even wackier, a HAWT MILF is currently living at the residence and she won't leave the guys alone! She walks around in a nightgown, letting the guys trample through her house while offering them daiquiris (damn these MILFS and their daiquiris!).

After hearing the news that RONNIESTEIN attacked Professor Quale, Dr. Wells decides that they have to bring him in. Wells brings up a photo of Stein so Barry can get a better idea of the man in charge of Ronnie's body and he has a flashback to a commuter meeting that he had with Dr. Stein on the day that the accelerator exploded.

In the flashback, Barry meets Dr. Stein (television's Victor Garber) on a train while reading Dr. Wells' autobiography (or maybe just biography, he was a busy guy). In no uncertain terms, Barry completely misreads the situation, as Dr. Stein is obviously trying to pick Barry up for some quick train action. As you could assume, Barry makes an ass of himself as the two part ways.

The STAR Labs gang (sans Cisco) visits Stein's home and we meet Mrs. Stein, who recounts being followed by a man who looks JUST LIKE RONNIESTEIN! Wells decides that this is the perfect chance to live out his boyhood dream of going on a stakeout, and even though Barry has a date, he agrees to do double duty.

Cisco uses a "super light" to detect "molecular schisms" at the Allen home, but so far he's found nothing but the tens of paintings and photos of blooming flowers that don the walls of the MILF's home. It's a little on the nose, but still a funny character quirk. Cisco deduces that it's been too long to detect anything and that they should give up. But then Joe notices a mirror that was in the house on the night of the murder, he guesses that the MILF "must have bought it at the estate sale." Ummmm Joe, unless she was camping out as soon as she heard about the murder she wouldn't have scored a prime piece of estate sale treasure. You are crazy and don't know how estate sales work.

Cisco runs the super light over the mirror and they find an ass load of silver nitrate, a compound used in photography that was also used to back vintage mirrors. Cisco guesses that if there were two speedsters there on the night in question that their sparks would have generated enough light to dispose images onto the silver nitrate, and that there's a possibility that there's a photograph of the culprit.

On Barry's date, he immediately reveals that he lives at home with Joe. Barry, who has the mind of a 12-year-old in this episode, has planned out the world's longest date: first they're having dinner, then playing mini golf, then they're going to an "underground jazz club," and after that it's froyo for two! What is that, a five-hour second date? Barry you do know that you can space out all of those ideas into at least two dates, maybe three if you get froyo twice. But it seems that all of Barry's planning was for naught, because Linda wants to get down! By "get down," I mean she wants to have sex with Barry.

Dr. Wells is LOVING this stake out. He's jamming on burgers and fries while he and Caitlin talk about love and how his work was what combined Dr. Stein and Ronnie, thus destroying his relationship with Caitlin. And just like clockwork, the fiery mishmash of human bodies appears – better call Barry. OR DON'T! Because he's in the middle of some steamy fireside boning. Immediately after he learns that he can use his super speed to make himself into the most lifelike vibrator known to man, a text comes in from Caitlin about RONNIESTEIN and Barry awkwardly leaves Linda alone in his home to smash everything he owns.

Barry, all juiced up from his aborted bone sesh with Linda, gets into a budget-draining tussle with RONNIESTEIN who carries him into the sky before dropping him on the STAR Labs van. Before RONNIESTEIN can finish Barry off, he sees Caitlin and flies away. Sorry Barry, looks like you'll have to finish yourself off tonight.

Joe sends the MILF to the movies while Cisco does some photo work on the mirror. He uses his fake science photograph machine to extrapolate 3D images from THE BACK OF A MIRROR and the guys see images of Barry's mother surrounded by multiple speedsters, but more importantly, Joe catches the a hint of some blood. He rips up the MILF's new wallpaper and they find a blood splatter that "belongs to whomever killed Barry's mom." How do you know that? Seriously Joe, you're just saying things.

The blood splatter turns out to be a mix of two different types of blood, so Joe asks Cisco to run Dr. Wells' blood against what they found. Cisco flips out, as expected, and leaves Joe by himself with all of his blood splatter evidence and no one to drink it with. That's what he meant by "test it out," right?

Caitlin, Barry, and Professor Stein's wife find RONNIESTEIN under a bridge and his wife convinces him to let the Scooby gang help him out. Back at the lab, RONNIESTEIN is given a bath, a shave, and a cocktail of mood altering drugs so he'll stop speaking like a caveman. Caitlin runs some tests on RONNIESTEIN and discovers that he's running a 108-degree fever.

Ronnie's body is rejecting Dr. Stein's, his temperature is rising, and there's a possibility that he could go nuclear. The only way to stop the chain reaction that could lead to a nuclear explosion is to kill RONNIESTEIN.

Barry and RONNIESTEIN have a chat about love, because why not chat about Barry's dating problems when you're about to explode?

Barry takes RONNIESTEIN's advice and goes to Linda's office with a ghost pepper and threatens to eat it if she doesn't agree to go on another date with him. There's nothing more romantic than threatening to harm yourself, you hear that kids? Before she can say no, HE BITES INTO THE PEPPER! BARRY, YOU DUMMY! She agrees to go on another date, I guess to keep him from killing himself with the pepper, and then she kisses him – which is the last thing you want to do when someone has just shoved the spiciest vegetable known to man into their mouth.

Dr. Wells goes to his future room to get a gun and his time travel microchip in order to convert it into a genetic splicer. It's like my grandpa always said, "You only need to swap out a few parts if you want turn your experimental tachyon propulsion chip into a genetic splicer."

Dr. Wells tells Caitlin that he and Cisco are going to try something out, but RONNIESTEIN has escaped! He's gone to the badlands to put himself a safe distance away from Central City. The badlands? Is Central City in 19th Century Scotland? Wells and Cisco finish their genetic splicer and give it to Barry who runs (with Caitlin) out to the badlands to save RONNIESTEIN. Cisco ducks out of the lab to call Joe and tell him that he ran the blood splatter. One of the samples didn't have a match, but the other sample belonged to Barry … in the future. Unfortunately, "Toccata in D minor" didn't start playing when he relayed that information.

In the badlands, Barry and Caitlin stop RONNIESTEIN before he can kill himself, presumably with Wells' gun, and strap him to the genetic splicer, which doesn't work, maybe? RONNIESTEIN explodes as Barry and Caitlin run to safety. The episode ends with General Kurgen telling his men to bring him Firestorm.

I love that this episode showed how well the STAR Labs crew has meshed since the pilot. Not only are they more comfortable in the world of batshit-crazy super science, but they feel an allegiance to each other. Whether or not that allegiance is misguided (it definitely is) is yet to be seen. The Flash is at its strongest when it's dealing with the consequences with super science. I don't think that the show is strong enough to handle the social life of Barry Allen, but we'll never find out unless they try.

NEXT TIME! More fake army antics, and possibly the return of Ronnie and his beefcake chest. Barry smashes his hand with a hammer so Linda will agree to the fourth date.
​