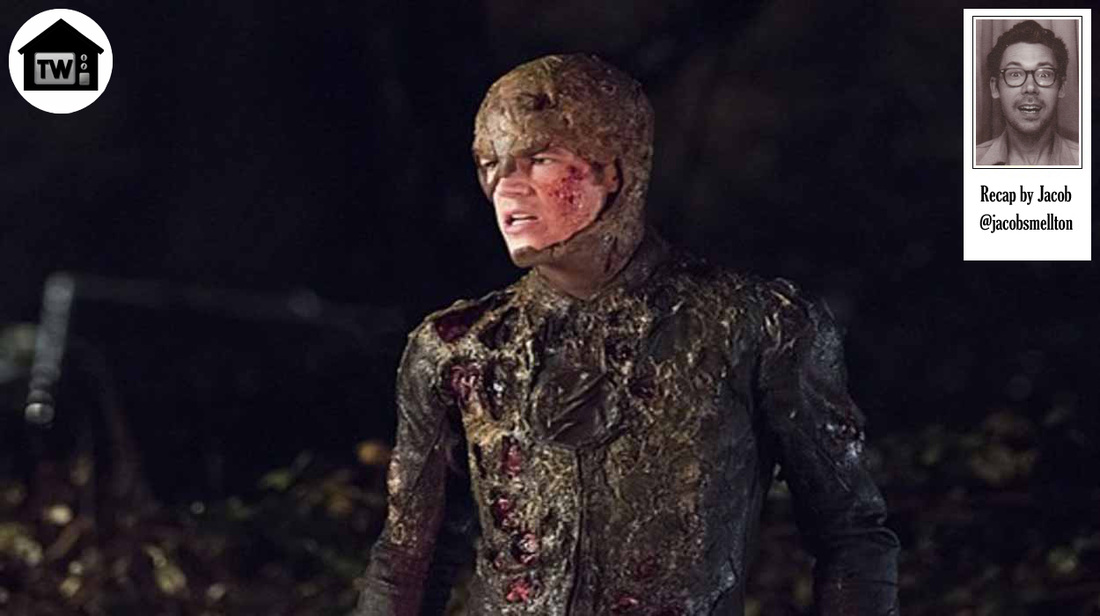 This week's episode of The Flash, "Fallout," might be the best episode of the show so far. Not only does it hit the comic book beats that other shows based on men with washboard stomachs wearing latex suits miss, but it puts all of the central characters together and gives them a purpose. Also, there's a guy that can set himself on fire and fly around and it looks really neat.
"The Fallout" is a continuation of last week's episode that set up the whole RONNIESTEIN thing – basically Ronnie and Dr. Martin Stein are living in the same body and can also set themselves on fire and fly around. By the end of the episode RONNISTEIN had exploded in a nuclear blast and all was lost until it wasn't. We immediately learn that Ronnie and Doctor Stein have separated and everything is fine. Except it's not because it's a TV show.
After the explosion, General Eiling's Army is all over the explosion hole (you're probably laughing because you don't know that's the technical term) – I guess they were tracking any nuclear explosions in the vicinity and they lucked out. Eiling's been trying to find Firestorm (F.I.R.E.S.T.O.R.M.?) and today's his lucky day.
After running a few tests, Caitlin mentions that Ronnie and Stein are both running a fever and this somehow starts a huge argument between the two former body dwellers about how Dr. Stein was in control of Ronnie's body because he has the superior intellect. How did these two ever occupy one body? #OCCUPYRONNIE
Barry brings Dr. Stein home and flagrantly ignores the "please remove your shoes" sign hanging outside his house and tramples all over the carpet in his science trainers. You think just because you've been gone for a year you can track a bunch of mud all over the house?
Joe takes Barry back to the site of his mother's murder and shows him the 3D images of the crime to illustrate the fact that at some point in the future Barry is going to be in the past trying to save his mother's life. After having this realization, Barry and Joe go back to STAR Labs to debate the possibility of time travel and it may be one of my favorite scenes on television this week. I really love it when a show stops everything to debate. Seriously! I love it! Never stop! Why not have Cisco read the entirety of "Primer: The Perils and Paradoxes of Restricted Time Travel Narration" and call it a day? We can get back to all that Firestorm mumbo-jumbo next week. Unless Joe has a question about the predestination paradox. Well, Joe?
Speaking of super annoying philosophy, Iris' boss or partner or whatever he is wants her to investigate STAR Labs because he think Dr. Wells is up to something and that Barry would never have been struck by lightning if Wells had never turned on the accelerator. WE GET IT GUYS, SOMEONE ON THE WRITING STAFF OWNS SLAUGHTERHOUSE-FIVE!
When Barry goes to visit the good doctor and give Caitlin and Ronnie some time alone (for scientific stuff, definitely not for boning), he finds out that Doctor Stein is suuuuuuuper hungry for pizza. Mrs. Stein says that pizza is all her damn husband wants to talk about. She hasn't seen him in a year and now it's "Pizza this! Pizza that!" It's like they're living in a Jonathan Franzen/Domino's tie-in. Barry asks Doctor Stein to walk him through the ins and outs of time travel; something that Stein has just been dyyyyyyyying to talk about (almost as much as pizza).
As much as I'm hemming and hawing about
The Flash
deciding to get all up on time travel philosophy's dick, it's the only show on television since
Fringe
that's told (is telling?) an interesting story about time travel. Hopefully the show will let this play out in an interesting way, which I'm guessing it will, thanks to Harrison constantly checking his fucking future newspaper set to Infinite Crisis (or is it Crisis on Infinite Earths?).
While out at their first dinner in a year, Ronnie tells Caitlin that he wants to leave town. He thinks there's too much crazy go nuts super human stuff happening and he's had his fill. It's about at this point when General Eiling's army shows up to kidnap Ronnie. Somehow Dr. Stein senses that Ronnie is in danger at Jitters and Barry speeds off to save him. He takes out most of the army and instead of grabbing Ronnie and running like Deon Sanders in Superbowl XXX, he pauses, giving General Eiling enough time to hit Barry with a kinetic energy grenade that explodes into a bunch of spikes and generally fucks people. They're saved by Caitlin in the Mystery Machine.
Caitlin runs another test and finds out that Ronnie and Stein are still connected via brainwaves or something like that. I'll take their word for it.
While Caitlin and Ronnie take up temporary residence at Joe's, Wells goes to visit Eiling, who reveals that he knows that Barry is The Flash and that he's chasing after Firestorm in order to harness his energy in order to gain peace through superior firepower. He asks Wells to deliver Stein … or else? So Wells tricks Stein into drinking poisoned Scotch (how could he tell HAHAHAHAHAHAHAHAHAHAHAHAHAHA – suck on that, Scotch heads) and Eiling captures the doctor and takes him into custody.
The STAR Labs crew runs a brain wave test on Ronnie so they can figure out where Stein is and they discover that the two men that make up Firestorm are more connected than anyone realizes. Ronnie cuts the message "WHERE" into his arm and when Stein reads it he taps out his location in Morse code. It's a pretty cool and inventive scene that explores telepathic communication and the over weaponizing of the American military all within the confines of a show about a guy who runs real fast.
Barry, with Ronnie in tow, runs to Eiling's secret bunker and saves Stein, allowing Ronnie and Stein to form Firestorm and completely fuck up Eiling's crew while Barry literally runs in circles. Most of the Firestorm stuff is cool. It's a guy shooting fire at the army, how could it not be? But there's a weird voiceover thing that Stein does when he's combined with Ronnie that's a little too Power Rangers for my taste. To be fair, this is a show for children and not for adults who find that kind of thing very cheesy. It is really stupid, though.
Now that Ronnie and Stein aren't all PTSD when they're combined, they can join together at will (with the help of Wells' fancy Laser Tag belt) and have decided to move to Pittsburgh together. Really? Pittsburgh? What about Coast City? Or Midway City? Or Further Downthere City? No offense to Barry, but every time a different super hero appears on
The Flash
, he comes off looking like a massive dork who is TERRIBLE at his job. With the
Arrow
crossover, he looked like an incompetent wiener and now that we've had a taste of Firestorm, he just doesn't look cool. We want the guy who likes pizza and can fly around on fire!
In the epilogue, Harrison reveals himself to be the Reverse Flash to Eiling and drops him off in the sewer to be beaten to death by Grodd (probably?).
NEXT TIME! The Flash is going to be down for a few weeks and in that time I'm going to think of every weather pun that I can, 'cause we've got a Weather Wizard coming our way!
​