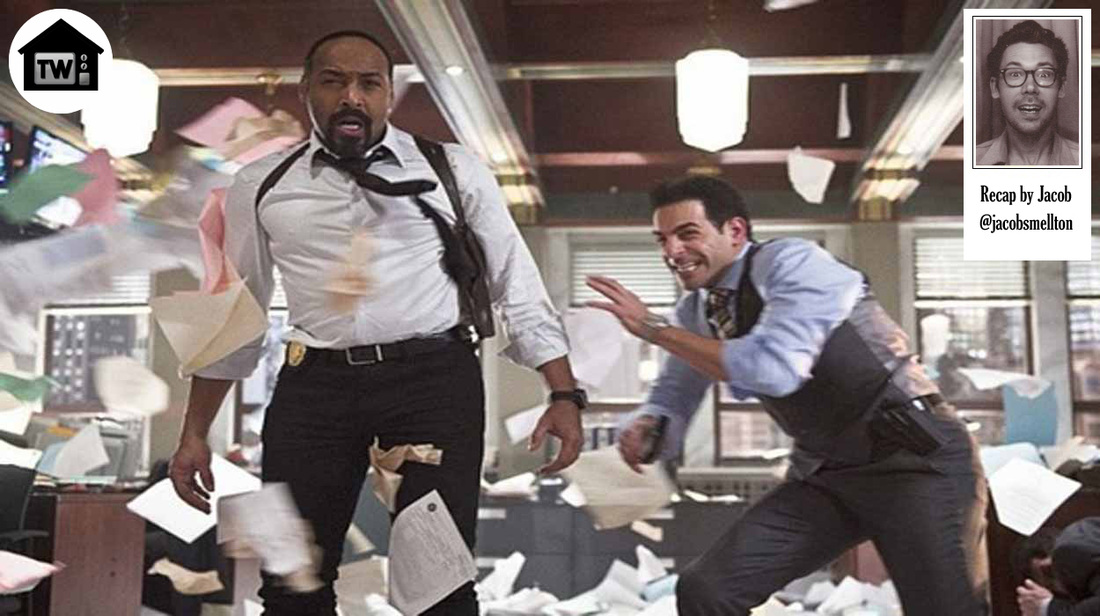 After a somewhat exhausting break, where your intrepid blogger forgot thatThe Flash was coming back so suddenly, Barry Allen is fiiiiinally back to save Central City from a few more weather-related baddies.
Maybe I'm missing something about how the super powers on The Flash came into existence (SPOILER ALERT: I don't understand the super powers on this show) but I thought you had to be doing or touching whatever it is that you now have power over. I'm explaining this poorly (much like the show – ZING), but I just think it's weird that so many meta-humans in Central City have weather-related powers when there was really only one type of weather on the evening of the particle accelerator explosion – lightning weather.

A year has passed since the particle accelerator exploded, causing half of Central City to go all freaky. While some of the super-powered weirdos are locked in an undocumented Guantanamo Bay-style prison below STAR Labs, Barry is out bowling with his girlfriend Linda, Iris, and Detective Thawne. As the evening moves on, Barry and Iris get more cuddly and their dates slowly recede into the shadows.

While Barry canoodles with his foster sister in front of his girlfriend, Dr. Wells and Cisco have some dude time and watch Buster Keaton movies. Sample Dialogue:

Dr. Wells: I haven't seen this one, it was before my time. (Because time traveler, duh.)
Cisco: It's my favorite! Are you my new father?
Dr. Wells: Yes.

And scene!

No one is sure where Caitlin is, but she's probably sticking her hand onto a hot stove just so she can feel something. Luckily a silent alarm at the city morgue breaks up the monotony of the evening so Thawne and Barry take off to see what's up and there's a … second Flash? Or just a manifestation of Barry's guilt about his mother's death. I'm not sure. Whomever/whatever it was it definitely wasn't The Reverse Flash. I can see his frightening yellow outfit from a mile away.

At the crime scene, Thawne finds the coroner's personal dictation system and hits play so Barry and Joe can close their eyes and jam out to the sweet sounds of Mark Mardon (Weather Wizard) beating the coroner to death with hail.

At the STAR Labs debriefing, Barry brings up the second Flash to Dr. Wells (the actual second Flash, or Reverse Flash or what the fuck ever we're calling him right now) and he brushes off Barry's worries as nothing more than a "speed mirage." Sorry Henry, but "speed mirage" is never going to be a thing.

Barry is worried about Joe not being worried about Mark's return. He has a grudge against Joe for killing his brother and Joe is SO CHILL. Barry changes the subject to being in love with Iris and it starts mysteriously raining and uhhhh duh, the Weather Wizard is driving behind them, casually causing the rain storm. When the guys notice, he manifests a lightning bolt that blows up Joe's car like it's the finale of Bad Boys 2. Maybe Joe should start worrying and stop being so chill.

After Joe's car is exploded, he's grounded at the precinct until they solve this darn Weather Wizard case. Which is a bad move on the Captain's part – you never want a Weather Wizard coming for you. Which is exactly what he does. But instead of killing Joe, he breaks the Captain's brain with a block of ice to the spine and everyone says, "Oh well, too bad about the captain, huh? You guys remember how gay he was in a non-cliched way? It was great while it lasted."

Joe decides to go after Weather Wizard on his own and tells Barry to stay with Iris while he undertakes this idiotic suicide mission. It's a pretty bad idea, right? Why would Joe go after a guy with very well structured weather powers when his only power to seems to be wearing different styles of hats depending on his mood?

After a bit of soul searching/deus ex machina, Cisco restarts his investigation into Dr. Wells and he enlists Caitlin to take Dr. Wells out for coffee so he can do some snooping around the lab. But much like Chandler when he takes the doors off of Monica's secret closet, Cisco is caught red-handed by Wells when he finds a hologram of the Reverse Flash giving a monologue. Dr. Wells reveals his super speed and true identity "Eobard Thawne" to Cisco before killing Cisco with ... his speed?

Joe and Thawne have a cute meet-up looking for Weather Wizard and they're both worried about each other. They even have some back-and-forth cop chatter before Joe is pulled out of a window by the wind.

After the commercial break, we find Joe tied to a pier with a SUPER GROSS broken leg and Weather Wizard standing over him monologuing about being a god. The police force moves out en masse to find Joe when the Wiz calls Iris and tells her to come to the waterfront, and if she tells the cops yada yada yada.

When Iris shows up to the waterfront, Weather Wizard starts a tsunami and throws it at the city and in about two minutes Barry makes out with Iris and reveals to her that he's The Flash. Then Barry starts running around the city and FUCKING TIME TRAVELS because he's running so fast. It's very cool. Except then Barry is STUCK IN THE PAST (the past being the beginning of this episode), so just for the score keepers out there, nothing that happened in this episode mattered.

The first episode back isn't a barn burner, but it definitely serves its purpose as a reintroduction to the series for some viewers who may have forgotten about the scarlet speedster in his absence. There's a lot of hit and miss in this episode (most of the missing has to do with the Iris/Barry plotline, but duh, you knew that already) but in the last ten minutes of the episode there are so many insane moments that The Flash proves that when it wants to, it can create an interesting piece of science fiction television that has the ability to build a solid mythos as well as be a piece of content that forces spit take after spit take until you're all spitted out. Gross.

NEXT TIME! Barry uses his extra day to catch up on his DVR before catching the Weather Wizard. Cisco and Dr. Wells watch a silent film and Wells/Thawne/Reverse Flash/Professor Zoom makes A LOT of references to time travel. Caitlin is somehow shoehorned out of the episode.
​