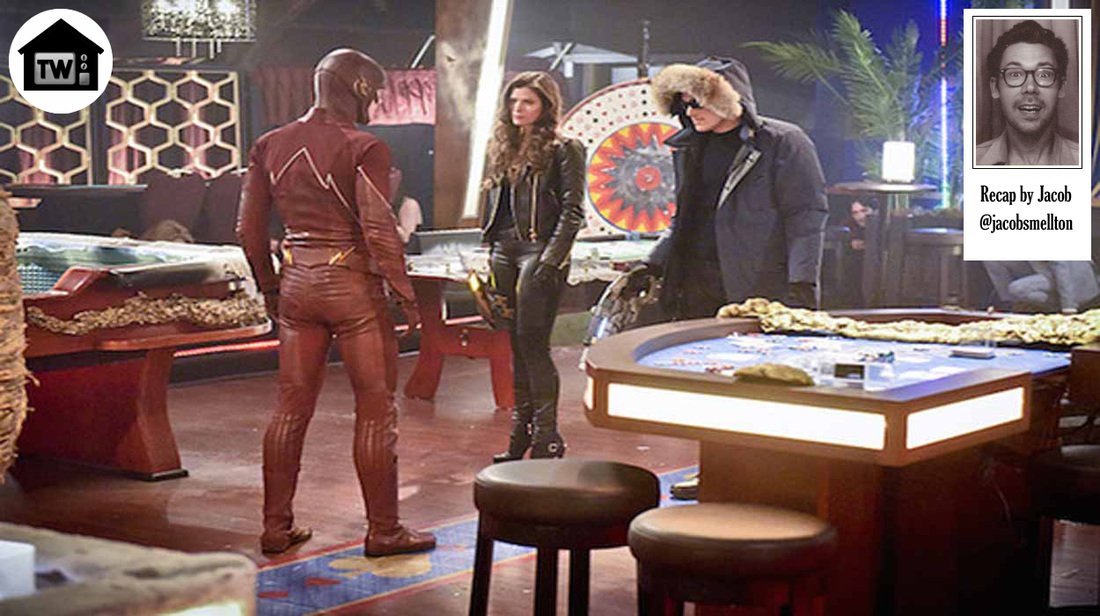 The Flash is back with a trip to last week to see if he can fix all of the terrible stuff from the previous episode: dead Cisco, not very much Caitlin, Dr. Wells exposes himself (not like that, you creeps), and Joe getting mangled. Did I forget anything? Probably, a lot of stuff that didn't matter happened last week, so let's jump right in.
The episode begins right where the last episode left off/began. The production team sure is getting their money's worth for that scene. Barry running through the streets of Central City on the way to the morgue is The Flash's Vasquez Rocks. Barry goes to the morgue, just like last week, and he acts all loopy because he's not sure if he time traveled or if he's in a Groundhog Day situation. Barry, eschewing time travel etiquette, solves the Weather Wizard case in about ten seconds flat.

Back at STAR Labs, he continues acting like a complete time travel novice – he's saying things before other people can say them, answering questions that haven't been asked yet, that old hat. And when Dr. Wells asks him to go through the day as if he hasn't lived it before, Barry agrees and then IMMEDIATELY goes to catch Weather Wizard – which he does in half a scene. Thus rendering last week a complete joke. Thanks Barry, I'm glad my work is a joke to you. Dr. Wells is SOOOO MAD, but his fancy time robot (timebot?) ensures him that everything is cool so Wells decides to chill.

Speaking of chill, Leonard Snart and his fire friend are back this week, and they're taking over the mob. The last time we saw these dorks, their element-themed weapons were confiscated and Snart's cousin or sister or friend or something was rescuing them. As nice as it is to see the Prison Break team back in action, I do have a few questions. Since this episode takes place in lieu of last week's episode, were Snart and fire guy planning on taking over the mob while Barry was fighting Weather Wizard? Or had they decided to give up on their lives of crime but now that the timeline has been altered that's all been rent asunder? Can one timeline coexist (or just exist) inside of another similar but alternate timeline? Why is a children's show making me think about the repercussions of tinkering with time?

Let's take a break from asking unanswerable questions and talk about Cisco's brother's birthday party. Instead of being killed by Dr. Wells (like he was in the original timeline), Cisco is now dealt a fate worse than death when he has to attend his brother's birthday party. At the party, Cisco is berated by his brother for being a dum-dum who works at a super science lab instead of doing whatever it is his brother does, which is be regular handsome guy, I guess. At least Cisco brought Caitlin along so she could see how awful his family is and stop badgering him about attending family functions.

After Barry breaks up with Linda, he then uses his knowledge of the future to ask Iris out so they can tell each other how they feel. Time-traveling Barry is kind of a dick. As Barry is telling Cisco that he's moving forward with Iris (probably!) a very sexy blonde (!) asks Cisco if she can buy him a drink and it turns out that they both have science in common. You guys, I don't think this is going to work out for Cisco. Things neeeeeeever work out for Cisco.

Cisco and the very sexy blonde (!) go back to … someone's place and start taking off their clothes. For sex. When the very sexy blonde (!) reveals that she's a very sexy brunette (!) and also Leonard Snart's sister. When Cisco says that he won't help Snart make cold/heat rays, Snart brings out Cisco's asshole of a brother who is tied up and he makes a speech about family and all of that garbage. What do you think, guys? Will Cisco save his shitty brother by helping out some bad guys? Yes! In the very next scene he makes the guns and his brother is SO RUDE about it. Why'd he save his trashcan of a brother again?

On their date, Barry reveals his love for Iris. But without a massive tsunami headed for the city, things don't go as planned and Iris leaves Barry in Jitters to sip on a teriyaki mocha and think about the intricacies of time travel.

At the Central City Mob Casino, the Cold Crew starts a shootout with whatever the name of the mob family is and Barry runs in to save the day, but the moment Snart brings up that he has Cisco, things go from bad to worse and the Snart family leaves the casino unharmed. WHY DOESN'T BARRY THROW THESE PEOPLE IN THE SECRET PRISON UNDER STAR LABS?! It's maddening, you guys. Let's forget that the Cold Crew are going to be ongoing baddies and the reason he can't hide them in his secret prison is because they have to make another appearance and just think about this. It doesn't add up. This episode is driving me crazy.

After the Cold Crew makes their getaway, Eddie punches Barry in the face about the whole Iris thing and Barry is upset. He needs to talk to someone about the whole timeline thing but Dr. Wells doesn't want to hear about it. The whole timeline could be in trouble! Well guess what, Wells, that timeline's grounded, babay! You're in timeline 2.0! The craaaaazy timeline. Although, I suppose for Wells this is timeline 3.0 (at least).

Barry tells Wells all about what happened last week (sans the Cisco murder) and they have a heart-to-heart about time travel, and when Barry expounds about saving his mother you can almost see Doctor Wells get a murder boner. He actually takes off his glasses and seemingly puts on a different pair of glasses while he says, "If you could travel back centuries, think of the havoc you could cause." We've entered full Threat Level Midnight here, people.

Cisco and his brother have a heart-to-heart over being kidnapped and we find out that his brother is a total dick and he's an idiot. This is proven when he tries to beat up fire guy, it uh … doesn't work out. Snart wants to know who The Flash is, and to get Cisco to tell him this, he gives Cisco's brother frostbite (because he is/was a concert pianist). Obviously, Cisco folds like a napkin. Maybe Wells should have killed Cisco.

In a mirroring of Cisco's murder last week, he and Wells have a heart-to-heart in the basement of STAR Labs, but instead of killing Cisco, Dr. Wells tells him to buck up, and then they take off to catch Le Famile Snart.

Barry catches up with Snart, who makes it his personal mission to say "Barry Allen" as much as humanly possible while they discuss what to do. Barry suggests speeding Snart away to his secret prison. Which, as I said earlier, is an excellent idea. But Snart apparently set up some kind of uplink that will alert the world to Barry's secret identity. Would that be such a bad thing? I understand that his identity could make Iris a target, but do any of his enemies know that he cares about Iris? So what would it matter?

The Flash/Snart tête-à-tête ended, Barry runs into Iris and Eddie at Jitters, which apparently becomes an upscale restaurant by night and Eddie apologizes for all the punching after Caitlin explains that Barry has been suffering from "lightning psychosis." HAHA! Very good, The Flash. Thanks for tying this episode up into a neat little package.

While Caitlin is busy cleaning up Barry's mess, The Reverse Flash/Dr. Zoom/The Man In Yellow (is this becoming a True Detective/Curious George cross over?) kills Mason Briggs after he learns that the guy is digging up dirt about him. And he doesn't just fast him to death, he literally punches him through the chest. Yikes, Dr. Wells, just yikes.

When Barry sees a news report about the reporter's death, he leaves the lab to tell Joe that he's probably right about Dr. Wells.

So let's compare timelines. Barry still got to fight a weather-themed bad guy, Wells still got to punch a guy through his chest, and everything is basically the same except that I have a massive headache. Join me next week when I'll continue counting down to the episode where Dr. Wells kills Barry's mom (presumably the finale) and Snart exposes The Flash (also presumably the finale).

NEXT TIME! Cisco tells a barista at Jitters that Barry is The Flash so he can get a free extra shot. Joe wears a jaunty sailor's hat. Dr. Wells practices shoving his hands through different types of fruit.
​