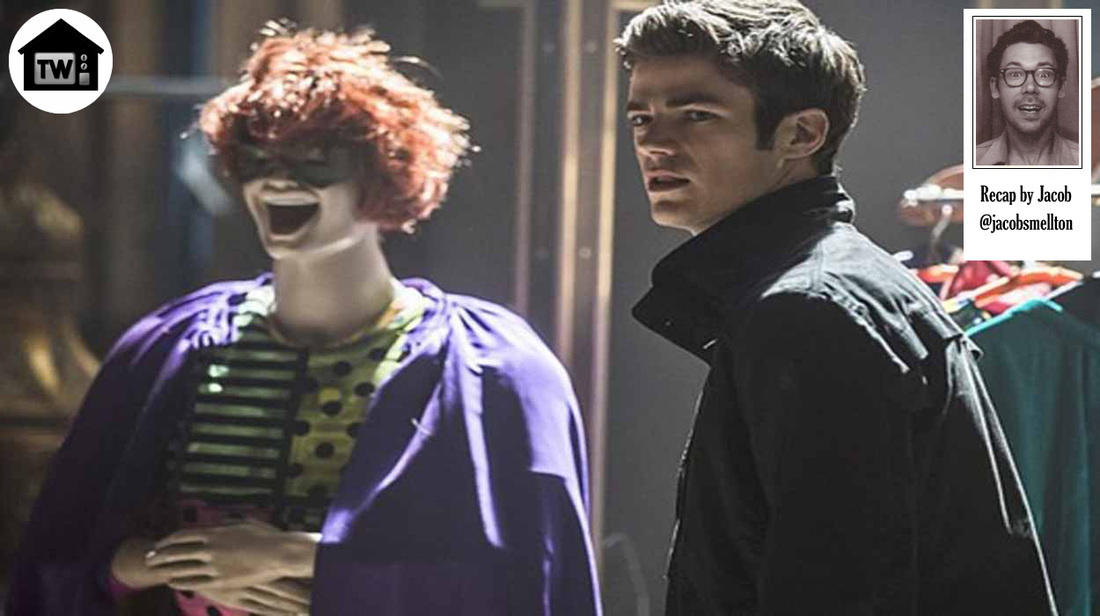 Since we burned you so hard with our amazing April Fools Prank last week, we here at the Woodshed figured that we owed it to you to let you know what Barry Allen was up to last week. If you guessed "Trying to keep up with Mark Hamill," then you'd be right, but if you also guessed "Pouting and revealing to almost all of his friends that he's The Flash," you would also be right.
Right off the bat this starts in a flashback to the night of Barry's mother's murder. It's like the writers are telling us that 60% of the episode is going to take place in the past. Thanks for the heads up?
In the present, Barry and Joe are beginning their Wells investigation, but he's too enigmatic! He only showed up on the scene 15 years ago and they don't know what he wants. Barry has gone so far as to illustrate these points on a giant crazy person bulletin board, complete with photos of Wells and bits of string connecting him to documents. He's hidden the "Wells Board" behind a giant map of Central City in his CSI playroom, but if he thinks it's not going to flutter up in the middle of movie night and expose his investigation, he's living in a dream world.
At a park in the middle of the city (seriously, it's surrounded by skyscrapers, who designed this fucking city?), 99 red balloons … er, parachutes float to the ground and start exploding. This is some next-level
Gotham
shit right here.
After the explosions, a dork in a Nightwing mask calling himself "The Trickster" releases a cellphone video where he says "trick" over and over and over again. Somehow this ties into the original series of The Flash and Luke Skywalker's original neon iteration of The Trickster.
Writer's Note – I wasn't sure if I should refer to Mark Hamill as Luke Skywalker or Guyver. Skywalker obviously has a larger cultural connection, but I think Guyver is funnier.
After Barry makes a sideways comment about the particle accelerator, Wells gets a wistful look in his eye and we're transported back to that fateful night when Barry's mother was murdered. It seems that after the murder, Wells gave chase to Barry but ran out of speed, and his Apple Watch told him that he because of all his recent time-jumping, he can't go back to the future. The Reverse Flash rips off his mask and IT'S NOT HARRISON! "What a twist!" I yell at my laptop. And then my landlord walks over to see if I'm okay and I explain that I was watching a children's show about a guy who runs real fast. Then he raises my rent. ¯\_(ツ)_/¯
Barry and Joe go to visit Trickster 1.0, and in the dim light of Hannibal Lecter's prison cell, they interview Mark Hamill's hairpiece. For all of his scene chewing and INSANE line reading ("I don't know who he is, but if I did I would tell you so you could find him, cut off his head and throw it into his face!" Yes. I am on board with that), Mark Hamill is mesmerizing on screen. His voice carries the weight of a killer confined to a Loki-esque prison cell and he portrays the character with a necessary hint of realism. And not the "gritty" realism that it seems like we're still wading through in the wake of Christopher Nolan's Dark Knight series, but the realism of someone believing what they say.
For instance, it seems like Grant Gustin is constantly saying to himself, "My character's name is Barry Allen. He is also The Flash. The titular character in CW's
The Flash
." Hamill seems to be embodying the character of The Trickster; it's like some small part of him really does want to watch Central City burn. It also helps that Hamill's lines seem to have been written by a writer for the beloved Batman animated series. I don't have any proof of this, but you can hear the difference between his and every other character's dialogue.
Iris is worried about her missing mentor, whose name I can't remember. Bridge? I think his name is Bridge.
Joe and Barry go to The Trickster's old lair and find a door that's set to explode. The copycat Trickster stole all of Trickster 1.0's stuff! Or something? There's 30 minutes left, so I assume there's going to be a twist where the two Tricksters are working together. The episode is titled "Tricksters" after all.
Trickster 2.0 posts a vlog where he acts like a real dork and we can't actually hear what he says over Hamill's scene chewing.
Back at STAR Labs, Barry makes about a thousand shitty remarks to Dr. Wells about the particle accelerator and it is AWKWARD. Then Wells has a flashback to an evening spent geeking out and drinking white wine on the beach with his former wife. They discuss the creation of STAR Labs (which Wells wanted to call TESS – BARF) and as the two dorks get white wine and nerdy, the camera pulls back to reveal Eobard Thawne watching the two lovers on the beach. Creepy.
Flash meets Iris at Jitters and she tells him that she thinks that Bridge is missing; Barry says that he'll help out if he can borrow her laptop so he can watch a vlog by Trickster 2.0. T-2 says there's a bomb somewhere between Something Street and Avenue Something so Barry goes running around the city looking for the bomb. When Wells says it's a trick and that the bomb either doesn't exist or that it's not where they think it is, Barry keeps looking because he's a little Muppet Baby. This is obviously all set up by Trickster 1.0 right? We've only seen 2.0 via smart phone or computer monitor and it would be a waste of Hamill's talents to confine him to a Magneto-cell.
ANYWAY, Barry finds the bomb box and … it's a trick. Duh. Meanwhile, Trickster 2.0 breaks Trickster 1.0 out of prison and takes Barry's dad as a hostage. WOMP WOMP
WOMP
.
Trickster 1.0 (with a snazzy new haircut) is doing some soldering work while 2.0 tells him how great he is, and then there's a
Breaking Bad
reference that proves that Hamill has his own writer. Oh, also, Trickster 1.0 is Trickster 2.0's dad? I don't know if we needed that information. Couldn't they have just been prison pen pals? There's never a call back to their relationship, and the father/son dynamic is never explored further than the unmentioned Flash vs. Trickster father/son teams.
MEANWHILE IN
FLASH
BACK LAND! Wells and Tess (his wife) are driving home when Thawne makes their car flip over … with his mind? Watching this scene actually brought up a lot of questions for me. Has Thawne been living the same 15 years in perpetuity? If not, why was chasing The Flash in the first place? He later mentions that Wells won't invent the particle accelerator until 2020, and that he needs to speed this up by five years. Does that mean that the particle accelerator exploded in 2020 and caused Barry to become The Flash? Or was there a different Flash? Is Thawne from a different timeline altogether (Timeline A) and now that he's in Timeline B he's trying to make B into A? I SHOULDN'T BE THINKING THIS HARD ABOUT A CHILDREN'S SHOW!
At a fancy gala for the mayor, Tricksters 1 & 2 pass out champagne and do dueling impressions of a mustache twirling villain while Hamill wears a third hairpiece. Trickster 1.0 takes to the podium and tells everyone that he's poisoned their champagne and that if they don't transfer all of their money in his secret bad guy account they'll die a classic TV poison death (foaming at the mouth, convulsing, etc.). Iris calls Joe (who's at STAR Labs) and Cisco triangulates her signal. Barry goes to the gala and is strapped to a bomb set to
Speed
rules. If he runs slower than 600 mph, the bomb explodes. Wells tells Barry that if he runs fast enough he can vibrate his body and separate his cells so that he can run through a wall. Barry, a man who has TRAVELED THROUGH TIME, doesn't think that's possible. Wells talks him through it like a guy who has probably done this whole matter transference thing before and it works.
After rescuing his father, Barry reveals that he's The Flash, and it's pretty easy to stomach. I guess after fifteen years in prison, nothing is shocking.
Barry takes his dad to STAR Labs where he gets shown around, and there's a weird moment between Wells and Henry when he thanks the good doctor for helping Barry but he sort of had something to do with his wife's death? Maybe? I DO NOT KNOW WHAT'S GOING ON!
We flash back to the car crash where Thawne pulls Wells from the wreckage and hooks him up to an external hard drive that turns Thawne into Wells? I think? It pulls Wells' face off and puts it on Thawne. That's about as technical as it gets. Although it does raise the question of why Thawne would have his face instead of Wells' when he murdered Barry's mother. Unless he ends up reverting back to his old face in a future episode, which barely makes sense and my head is going to explode. I haven't felt this confused about time travel since I stayed up all night working on my
Primer
diorama.
In the final scene of the episode (that matters) Barry shows Eddie that he's The Flash in order to get him to lie to Iris about Bridge's disappearance – STOP TELLING PEOPLE WHO YOU ARE! By the end of this season, everyone at the Subway across the street from Barry's apartment is going to know who The Flash is.
Stray observations: Mark Hamill really sells The Trickster, and injects some much-needed comedy into an episode that could have felt like a Saturday morning cartoon. Lines like, "That wasn't very sanitary" after Barry inoculates a room full of people using the same needle could have been barftacular, but instead it felt like a smart observation.
If it weren't for the performances of some of the more experienced members of the cast, this show would be fucking clown shoes. Tom Cavanagh and Mark Hamill especially prove when an actor believes what they're saying, it can make an audience suspend their disbelief.
NEXT TIME! Wells can't stop thinking about swapping his face with Hulk Hogan's, "Just to see what it feels like." Caitlin falls in a well, and no one notices until the second season. Joe can't get a popcorn kernel out of his teeth.
​