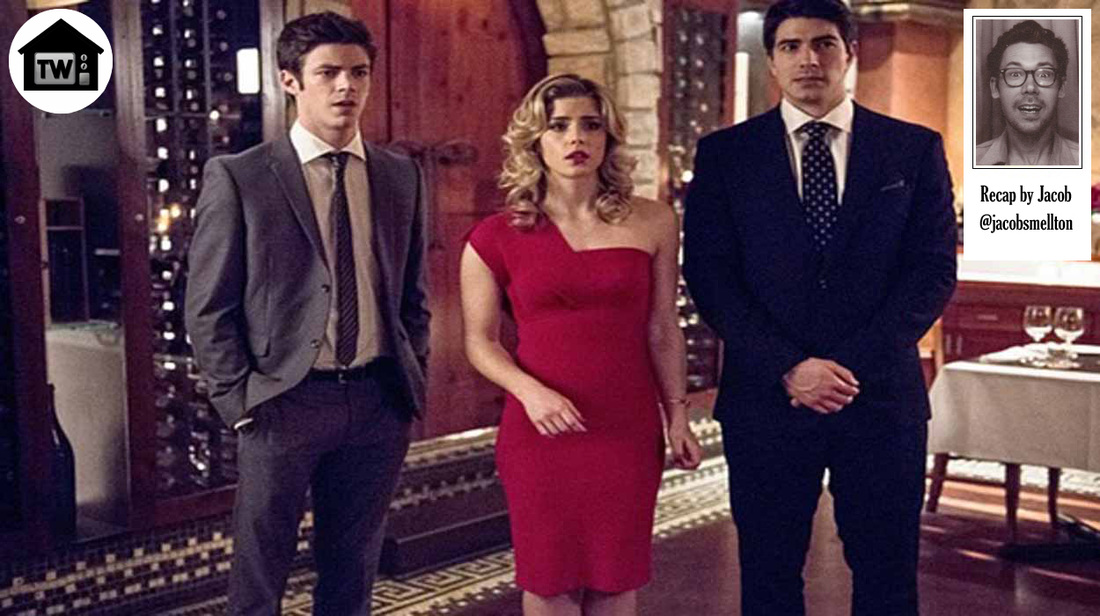 Another week, another passable episode of The Flash. "All Star Team Up" veers away from the time travel-heavy episodes of the last couple of weeks to fight a monster of the week and cross-promote Arrow. Which is fine! I'm a Felicity Smoak fan (Second Hand Smoakers, we call ourselves), and Brandon Routh as The Atom is fine. The entire episode is fine.
Everything begins on a crazy night in Central City, the criminals are out en masse and the new task force of Eddie, Joe, and Barry are catching crooks in a style that can only be described as "Way Out" and/or "Wacky." It's silly and fun, but Eddie seems to be bummed about not being able to catch the bad guys. He probably wishes that he were The Flash instead of dumb ol' Barry.
Meanwhile, Dr. Kang leaves her work at SCIENCE INDUSTRIES and is attacked by bees that come in through her car's ventilation system. It's like the intro to a Goosebumps book about genetically engineered bees or a used car that's haunted by bees, or a woman who can secretly control bees. You get it. We're not even five minutes into the episode and I'm already checking to see how much time is left on the show. There's nothing I like less than a "person controlling insects" story line. I didn't like it when
X-Files
did it, I don't like it now. Upon viewing the body, Joe says, "Daaaaaaamn," and I think it was the most honest moment in television history.
They need to run some kind of sciencey test on the bee stings, but Barry doesn't want to run them at STAR Labs because he's worried that Wells might be onto him (which he probably is). Joe thinks Cisco and Caitlin might know about the whole Wells/Reverse Flash/Professor Zoom thing, but Barry doesn't want to admit that they could be involved and he settles into a gloomy rut that he refuses to leave for the rest of the episode.
Cisco and Caitlin run a bunch of sciencey tests and conclude that there were no dead bees or stingers in the car. So how could it be bees?! The group starts trading bee ideas when FELICITY SMOAK JOINS THE PARTY and my head turns into a steam whistle. She brings the Flash group outside to meet her new boyfriend, Ray, who flies in wearing a non-Iron Man suit (seriously, you can hear the production designer screaming, "It's not an Iron Man suit!").
Superman jokes abound and I throw up in my mouth. Something is wrong with Super-Ironman's suit; it either won't fly, or when it does fly it doesn't fly the way he wants it to. I don't know. Ray and Smoak get into this whole sex joke thing about "it" working or not working and everyone throws up in their mouths.
Iris visits Eddie to find out if someone is working with The Flash to solve crimes in Central City. Eddie starts acting weird and she thinks he's hiding something from her. Which he denies, but he has that kind of face that says "I'm hiding something from you." At this point I start to get a sinking feeling that the rest of this season is going to be a countdown to:
Eddie telling Iris that Barry is The Flash.
Eddie asking Iris to marry him.
A combination of Captain Cold, Fire Guy, Pied Piper, and The Trickster somehow ruining the wedding.
Place your bets now. Or better yet, but an ad on the front page of the site telling everyone what your prediction is.
At Jitters, Barry starts to tell Felicity about the Wells conundrum, but before he can say anything Eddie shows up and IS WEIRD. I'm telling you, he's going to spill the beans within the next three episodes. ANYWAY, Barry, Felicity, Eddie, Ray, and Iris decide to go out to dinner for some stupid reason. Why is Barry going out to dinner with people when he has SO MUCH WORK TO DO!
I understand what it's like to work on a multitude of different projects with little reward other than the feeling of satisfaction. And yeah, it can be nice to take a break and turn off your phone for a couple of hours while you have ceviche and homemade margaritas with your neighbors. But no matter if you're a creative person, a bank manager, or a farmer, that gnawing guilt of "you should be working" is always going to be at the back of your head. I can only imagine that feeling is amplified for someone like The Flash.
Cisco and Ray are standing around and working on the Atom suit when Cisco has a flashback to the alternate timeline where Wells murdered him. Before he can visit a therapist to explore the topic fully, Caitlin alerts TEAM FLASH (!) of a killer bee attack. In a rare miss for Cisco, he fails to say "Protect ya neck."
Barry runs to an office building where he sees a guy that looks like Wario slumped over in his chair, and before you can say, "I hope bees don't explode out of his mouth," bees explode out of his mouth. It's kind of gross. Barry tries to escape, but when Cisco gives him the wrong directions for the fire exit he just ends up getting the shit stung out of him. Joe arrives just in time to see Barry go into cardiac arrest. No matter, The STAR Labs team hits Barry with the defibrillator hidden in his suit (sure, why not?), saving his life.
When Barry rightfully asks what the fuck happened back there, Cisco says the schematics weren't up to date and Barry goes into a paranoid backspin, now believing the entire group is working with Wells and out to kill him.
Against doctor's orders, Barry leaves to have the most awkward dinner ever at a
fancy French restaurant
(ooh la la) that Ray rented out. The entire dinner seems like a nightmare. Imagine being trapped at an empty five-star dining establishment with two women whom you have feelings for and their boyfriends. Also, everyone but one of the women (who's your sister, by the way) knows that you're secretly The Flash. Who says we need
Twin Peaks
to come back? The Flash is here with the weird, baby.
Obviously the date is a disaster. Iris is jealous that Ray and Felicity share everything and Eddie puts his foot in his mouth as the tasting menu is dropped off. Oh by the way, to make things one million times worse, they have to eat a tasting menu, one of the most arduous types of meals in existence – nightmare. Barry has a nervous breakdown at the table and he tells Felicity about the whole Wells thing while Iris and Eddie get into a huge fight. WOMP WOMP WOMP!
At STAR Labs, the three stooges are fighting off a bee attack by spraying fire extinguishers and shooting lasers, when Barry saves Harrison's life by catching the robot bee. They breakdown the bee and discover that it's covered in cameras (duh) and start digging into the murders.
Joe, Barry, and Wells visit Mercury Labs to get info on the scientists who were stung to death by bees. She points them toward Brie Larvan (UUUGH WITH THE NAMES ON THIS SHOW) who is a cutsie nerd woman who, for some unknown reason, developed weaponized mechanical bees.
After dinner, Barry and Iris have a heart to heart about Eddie, and Barry really goes to bat with a big fat lie to keep them together. It's very sweet, but then he quotes Green Day and completely ruins the moment.
Just when the episode starts to get too sentimental, a swarm of mechanical bees begins to fly toward Mercury Labs and there are some bee puns. EVERYONE (Super-Ironman, Cisco, Caitlin) goes to Mercury Labs, except for Barry, who goes to Brie Larvan's hideout to hear some more bee puns and get chased by bees. Smoak finally gets her turn at a keyboard and hacks the bees while Super-Ironman leads the other group of bees (that are immune to the hack?) into the ocean, frying his suit. But it's okay! Because of friendship!
There's a hack-off between Smoak and Larvan that is equally adorable and annoying and everything that I love about terrible TV hacking scenes. No one says the phrase "keyboard cowboys," which is probably for the best because I would have had a heart attack.
As the Super-Ironman half of the team is celebrating, a lone bee flies out of the Ironman suit and goes in for the kill when Cisco (who HATES BEES) jumps in the way, taking the metaphorical bullet. Barry runs over and uses his speed to defibrillate Cisco with his hand, who turns out to be fine because he wakes up and cracks wise.
The Mercury Labs lady meets with Barry at the CCPD to apologize and he asks her what happened to her relationship with Wells. She explains that Wells used to be super nice, and then when Tess died he became a completely different person. What an unnecessary conversation! Barry thinks about Cisco risking his life and realizes that he's a good guy.
In the epilogue, Cisco and Caitlin meet up with Barry and Joe under the auspices of a bitchin' karaoke night, but really, Barry just wanted to show off his Dr. Wells crime board. Caitlin doesn't want to hear any anti-Wells nonsense, but Cisco is pretty much on board. He tells them about his "dreams" of the alternate timeline where Wells reveals himself to be the Reverse Flash.
Stray Observations:
How bad of a name is "All Star Team Up?" Did the writing staff run out of bee puns?
Are they using Iron Man test footage for The Atom scenes toward the end? The portions of the show where Ray is speaking from inside the suit is definitely Iron Man 101, but the shots of The Atom zooming through the city are eerily reminiscent of The Avengers.
The bee puns made this feel like an episode of Scooby Doo. Or, like the writers decided to fill it up with as many terrible jokes as they could. I don't know if I respect their decision or want to hunt them down and make them pay for their crimes … Arrow style.
NEXT TIME! Wells is revealed to be The Reverse Flash when Cisco catches him singing "Dancing in the Street" during a particularly good shower. Joe wears a cowboy hat. After admitting that he's never watched
Friends
, Barry speed watches all 10 seasons in one afternoon.
​