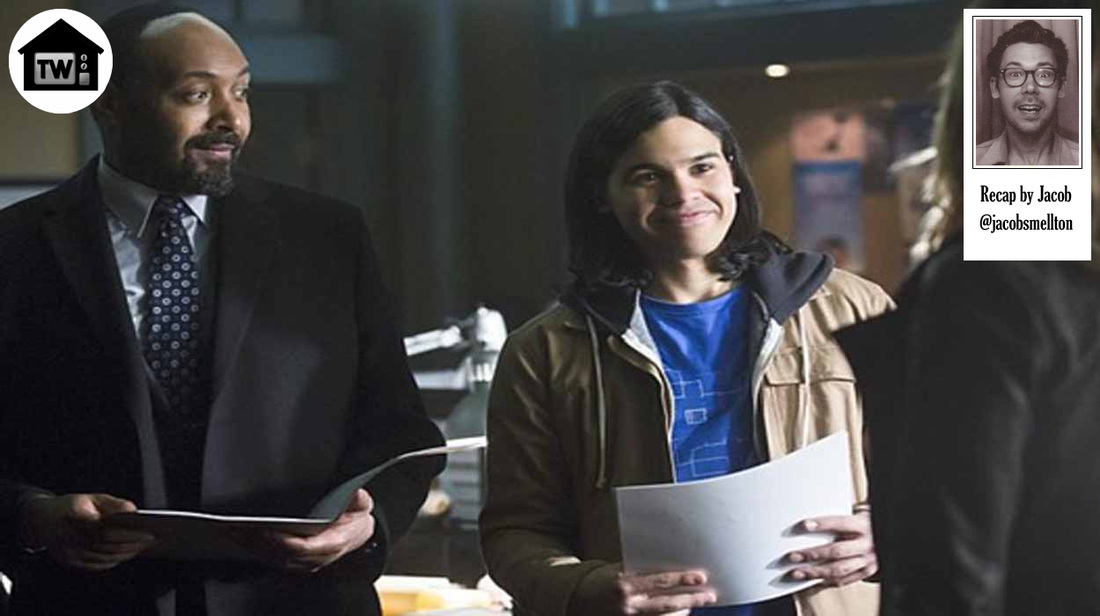 This week The Flash continues its run of fun monster-of-the-week episodes while eking out the Reverse Flash plotline in fits and tantrums. There's some moreArrow crossover, a lot of kissing, and even an attempt at a catchphrase. If "hands off the meta-human" doesn't become a t-shirt, I'll eat my hat.
Before a meeting of the Midnight Society, Barry runs all the way to Coast City and back to get pizza. Now that's a real friend.
Joe and Cisco decide to go to Starling City to investigate Dr. Wells' crash, but Caitlin isn't on board with the plan because she's a stereotypical TV killjoy. She's like the Sheldon of
The Flash
.
Meanwhile at the CCPD, Eddie's interviewing a woman who's been caught stealing (presumably she's five) from a safe deposit box. As they review footage of her theft, she insists it's not her doing the stealing – but the tape doesn't lie. The odd couple of Eddie and Barry think they need to start looking for a meta-human, but before they can discuss the issue further, Iris comes in and she's SO COLD to Eddie. This would have been a perfect scene if the Lieutenant had popped in to say "Trouble in paradise?"
At a jewelry store, someone is trying to sell stolen diamonds! Presumably the stolen diamonds that the woman was taking on the surveillance footage from earlier! Why did I write so many exclamation marks into my notes?!
At STAR Labs, Barry is trying to convince Caitlin that Wells is either the Reverse Flash or working with RF, or at least he's acting weird. Why are they having this conversation when Wells is just wheeling around the lab? If there was ever a conversation for Jitters – this is it.
Eddie catches up to the jewel thief and fuuuucks him up before the mystery meta-human takes off and assumes the body of a cast member of
iZombie
. Now that's some top-notch cross-promotion if I've ever seen it.
After being caught tittering like school girls by Wells, he and the whisper twins start looking into police cases where the perp was caught on camera but insisted that it wasn't actually them. The crimes date back to a month after the particle accelerator exploded and they think it's some guy named Hannibal Bates (!!!). They figure out that they're after a shape-shifting meta-human and a new catchphrase is delivered from on high, "Hands off the meta-human."
Joe and Cisco are getting some information on Wells and they meet Laurel Lance, and Cisco is Mr. Grins all of a sudden. She wants to talk to him about The Flash and Arrow and immediately tells him that she's Black Canary. The heroes in this universe are a bunch of dum-dums. Or maybe they're the smartest people ever. By telling everyone your secret identity, no one can harm your loved ones? That doesn't make any sense. ANYWAY, Canary needs Cisco to modify her sonic device, and I think you know what that means bbs.
;] ;] ;]
At home, Harrison Wells is doing what he always does when he's alone and not consulting his future robot: sipping brandy and being a Bond villain. Caitlin shows up at his door to confront him about all the Reverse Flash nonsense, but before she can meet with him, Barry whisks her away for an argument in the forest.
She thinks Harrison is a good guy; he stood by her side while she was grieving after the particle accelerator exploded and she doesn't want everything she's worked for to be a lie. Are they sure they couldn't have had this conversation at Jitters? Sorry, I'm coming down from a major caffeine high and at this point I think even seeing a fake TV latte will give me a little kick.
Eddie and Barry go to speak to Hannibal Bates' grandmother, and she's Hannibal, right? We can just skip this scene, can't we? After they realize they're being played by Bates, Eddie and Barry have to give chase AT NORMAL SPEED so they don't tip that Barry is the Flash and run the risk of Bates exposing Barry, or using his speed powers to do bad guy stuff. But it turns out Bates doesn't need the Scarlet Speedster's powers to do bad guy stuff because he transforms into Eddie and shoots some cops. This scene is the first time I've liked Eddie all season.
At the station, the DA we've never met watches footage of "Eddie" shooting two cops and is being crazy smarmy about the whole thing. Iris is freaking out, and Barry won't explain the meta-human thing to anyone (which would answer so many questions!). Barry does some CSI and there isn't any gun shooting residue (that's the technical term) on Eddie's hands. Barry steals Eddie from the police station and starts planning to turn him into Bruce Banner or Kung Fu until they can solve the case, but Eddie asks Barry to take him back to his cell and "get him out the right way." Ugh, Eddie you're no fun.
At the site of Harrison's death, Cisco uses a fancy "wave detector" to look for something while Joe and Black Canary's dad have a heart-to-heart about their daughters. Does Joe know that she's Black Canary? He certainly acts like it. Cisco finds tachyon particles at the site, and when they start digging they find a foot! It's Harrison Wells' foot! Joe asks his new cop buddy to keep this on the DL until they can expose the Reverse Flash. Obviously he doesn't use those words because it would cause his head to explode.
There's a knock at Barry's door and it's Eddie! Duh, it's not Eddie, it's Bates and he knocks out Barry before morphing into him. Barry should have seen this coming, right? Like, he should be smarter than we are. Isn't that why people enjoy
Sherlock
?
Caitlin comes over and tells "Barry" that she figured out a way to stop "Everyman." (Bates' villain nickname – did she have time to call Cisco and ask what they should call Bates, or have they all been infected with nameitus?) Somehow she missed the actual Barry lying unconscious on the floor. Caitlin makes a serum that can temporarily stop Bates' abilities and somehow she hasn't figured out that she's not talking to Barry.
"Barry" kisses Caitlin because
The Flash
writers love making their imaginary pawns lock lips when the stakes are high. Iris shows up and Bates pulls off not knowing who any of these people are. While watching the Eddie footage, Harrison electrocutes Everyman with a Taser and before they can put him in their secret prison, Iris insists that they turn him into the police. UGH IRIS COME OOOON! We've grown to love it when villains are thrown into the secret STAR Labs prison without going to trial. We crave their blood. Everyman escapes from Iris and Caitlin while in traffic because duh.
At STAR labs, Harrison has deduced that Barry can actually touch the shape shifter. So he goes off in search of Bates and finds him at an airport masquerading as an old woman, then a guard, and then he turns into all of Barry's friends before actually turning into The Flash, which allows Barry to work out some of his personal anger issues and beat the shit out of himself without any real-world repercussions.
Barry shows The Flash fight footage to the DA and she's so confused! What do police do in a world like this where meta-humans roam free? We're getting into some real Watchmen/Civil War territory, and I think
The Flash
is out of its depth. Just stick to time travel and making your characters kiss and I think you'll be fine.
The charges against Eddie are dropped and he comes clean to Iris about how he's been working with The Flash and she makes a face that says, "I just ate rotten tofu." It is a drag that she's put so much work into writing about The Flash and every one of her friends gets to actually work with him.
In the epilogue, Cisco shows Barry and Caitlin a 3D map of STAR Labs and they find a room that shouldn't exist, presumably Wells' future room or his stash of late '70s to early '90s issues of
Easy Rider
. You wouldn't know it from looking at him, but Wells is an avid biker babe enthusiast. They find the Reverse Flash costume and that newspaper article about The Infinity Crisis. I bet they wish they'd found a stack of biker porn right about now.
Stray Observations:
Why did Barry buy three pizzas for a meeting that lasted less than five minutes? Also, no one has anything to drink at the pizza meeting. I don't want to split hairs here, but just don't buy the pizzas.
Hannibal Bates? Really? Why not name him Victor Dracula or Saddam Bin Laden?
NEXT TIME! Barry and Wells have the first of many showdowns based around speed-reading the entire
Animorphs
series. Cisco reveals that he saved all three pizzas and has been eating one slice a day to stay alive, as he hasn't received a paycheck from STAR Labs in over a year. Joe and Eddie kiss, because we're the writers and we said so.
​