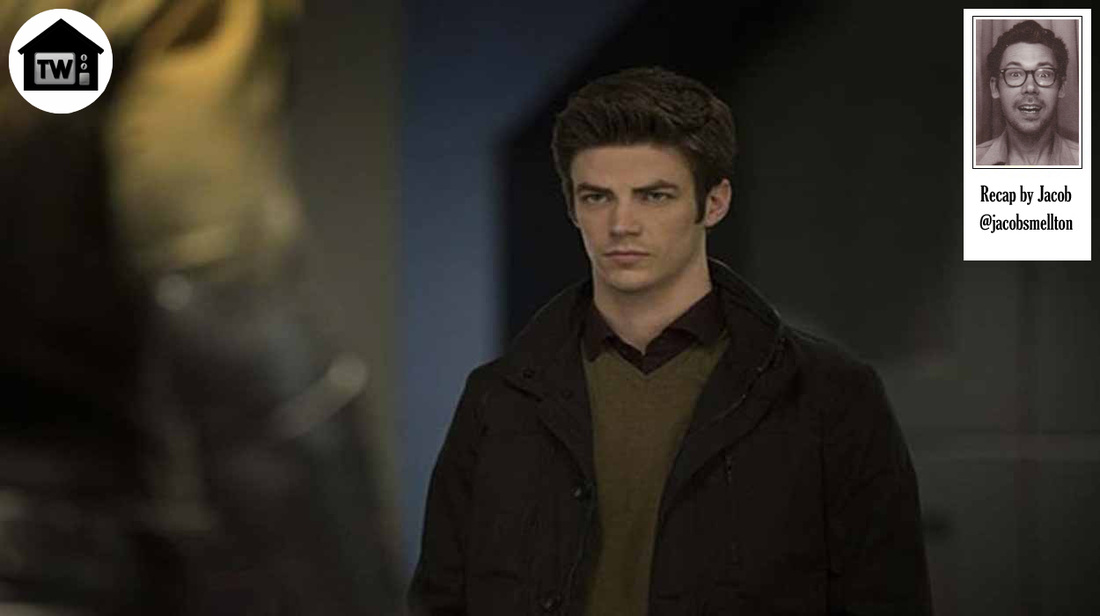 Once again we pick up directly where we left off with The Flash in a serial move that hasn't been attempted since the series finale of Star Trek: Deep Space 9. Brave, or foolish? You be the judge, dear reader.
"The Trap" introduces a new level of time travel story telling (for
The Flash
anyway) that focuses more on possibilities and what ifs than telling a story about the here and now. But I like Barry so I'm going to let it slide. Or at least I'll tell him that as I watch him sleep in a hospital bed …
one year ago.
Barry and the gang have just discovered that Wells/Thawne/Professor Zoom/Television's Ed is definitely The Reverse Flash and are trying to figure out what the newspaper from the Infinite Crisis means. Are they living in a causal nexus? When are Barry and Iris getting married? Was Eddie in the wedding party? Probably not.
Barry is then introduced to the robot in Harrison's room "Gideon" and she (it? Fucking pronouns, man) starts spoiling the future for everyone. She explains that Wells has come to kill him and OH NO (!) he's in the building. Barry finds out that Wells killed his mother because he was mad about something and then Barry finds out that he actually created Gideon (the AI), not Wells. That's a lot of information to pore over in three minutes! It can only mean that we're about to be in the middle of a big ol' talky-talk episode.
At Jitters (FINALLY) Eddie asks Joe for his blessing to propose to Iris. Joe says no. Either because he's seen that paper from the future or he really doesn't like Eddie.
Cisco explains to Eddie that Barry is going to time travel at some point and Barry tells everyone that he did already time travel and oh my God we're going to go around and around like this for the rest of the episode, aren't we? The problem with a lot of shows that introduce time travel into their storyline is that they begin to think they're making
Primer
part 2 – which no one needs.
If you'll remember from previous recaps (I'm assuming you don't watch the show and only read my recaps because you're a bunch of sweeties), due to all the time traveling that may or may not have been happening, Cisco can't stop dreaming about the alternate timeline where he was murdered by Wells/Reverse Flash/Thawne/Yogi Bear's Ranger Smith.
Barry wants to access Cisco's unconscious memories for some reason, probably to save his mom or something. Cisco and Caitlin build a set of Matrix glasses that will allow Cisco to lucid dream and look like a giant goofball. Wells shows up while they're making the glasses and helps them work out the science. WHY WHY WHY are they working on their anti-Wells plan in STAR Labs? I know I complained about this last week but COME ON! Sure, maybe STAR Labs is the only super-science lab within 100 miles with the technology needed to solder dream glasses, but they should be a bit more cautious.
At the CCPD, Barry bumps into literally every non STAR Labs supporting character and they're all abuzz about the captain's wedding. Did you know there are hundreds of flavors of cake filling? Boy, the Captain sure seems stressed! Is Eddie going to be in the wedding party? Speaking of which, Eddie reveals to Barry that he's going to propose to Iris and UH OH (!) she's going to be married to Barry in ten years.
Is it entirely out of the question that Iris would marry Eddie before the timeline corrects itself, causing her to get a divorce? Yes, actually. At one point Joe actually says of why he's denying Eddie's proposal, "She'll marry the wrong guy and won't get a divorce because that's not how she is." Who doesn't like a gal that refuses to admit when she's made a mistake?
Cisco enters his dream via goofy glasses, and in his subconscious everything is corporate blue and requires narration. Seriously, he kills about five minutes of the episode walking through a corridor and telling everyone, "I'm walking through a corridor." Wells (the real Wells, or the fake Wells I guess. The Wells who is not in a dream) calls Barry and tells him there's a fire at the building where Captain Singh's fiancé works, and if he wants to be in that wedding party he better get there on the double.
The sprinklers in the building are broken so Wells instructs Barry to create a vacuum with his speed arms to suck the air out of the room. Barry is obviously torn between the mentor in his ear and the nemesis that he knows killed his mother. The plan works, the fiancé is saved and afterwards, Wells/Thawne/Reverse Flash/The Dad from
How to Eat Fried Worms
gives Barry a pep talk for a reason that I don't understand. Isn't the jig up by now?
For the thousandth time in this episode, Barry and Joe re-explain the first 20 episodes of this season to Eddie, including the terrible plan to re-create the alternate timeline where Wells killed Cisco and admitted that he murdered Barry's mom. Iris and Barry meet at his CSI loft and she shows him her research about the particle explosion and that she's figured out the arc of this season before Barry acts like a spaz and runs off. Classic Barry. I'm glad that we're bringing this character back to his roots.
Wells/Thawne/Reverse Flash/Television's Dan Dorian returns from his lecture and is lead to the bunker to "discover" Cisco working on the thing (I do not know what the giant science wheel thing is called). The scene begins the same way it did a few weeks ago. Wells WALKS into the bunker and tells Cisco how smart he is, and that it's a shame that he'll have to die. But there's an extra bit of monologuing about cops (preach it, brother) and when Wells/Thawne/Reverse Flash/Television's Jeremy Stone pushes Cisco into the giant science thing and steps through his anti-speedster force field, Joe shoots him which makes Barry flip out because he never admitted to killing Barry's mom.
As Barry is whining about how he'll never get his dad out of prison, it's revealed that Hannibal Bates was actually morphed into Wells/Blah/Blah/Blah, and then Wells/Etc/Etc/Etc calls in on the STAR Labs speaker phone and goes FULL SUPER VILLAIN. It was actually a lot of fun to see a character act completely batshit crazy for once.
Barry races to the time vault and sees a bunch of video screens showing everyone's homes and offices. He realizes that Wells set a trap for everyone to make them think they were setting a trap for him. It's a little confusing. Not the plan, but the execution of said plan. Whatever.
Barry thinks that Iris is in danger and goes to her. As Eddie is about to propose to Iris on a bridge (tres romantic, no?) The Reverse Flash shows up and kidnaps Eddie, moments before The Flash shows up and promises Iris that he'll save her not-quite-fiancé. Barry forgets to mask his voice and Iris figures out that Barry is The Flash.
As the epilogue started, my stream cut out so I missed whatever happened with Reverse Flash and Eddie. But seeing as how I mostly fall asleep when Eddie is on screen, this wasn't so bad. This morning I checked Hulu to find that The Reverse Flash revealed himself as Eobard Thawne and that he's been watching Barry since he was a child. Which means that the real Barry is somewhere in the past too, unless he was killed by Reverse Flash on the same night as his mother – none of that is brought up in the epilogue but it's what I started thinking about so deal with it.
Stray Observations:
About that Infinite Crisis Paper – Why is it always on the screen in the future room? I understand that it serves as a way for Wells/Thawne/Television's Jack O'Malley to make sure that the timeline is secure, but does he know that there's ALWAYS another newspaper? And why a newspaper? Will the public be ditching their iPads and going back to having ink-stained fingers as they read on the subway? Should I invest in Newspaper Corp? I have a lot of questions about the future.
Why isn't everyone dreaming about what happened in their missing day? Shouldn't the Captain be having dreams about having his brain broken by Reverse Flash?
Is there a less threatening name than Eobard?
NEXT TIME! Barry decides not to save Eddie and use the ring he dropped to propose to Iris. Eobard and Eddie join forces and get their own CW spinoff "Thawne X 2" where they travel from town to town solving mysterious meta-human crimes and cracking wise. Cisco begins dreaming of another alternate timeline where he's a breakdancing member of the Justice League that everyone hates.

​