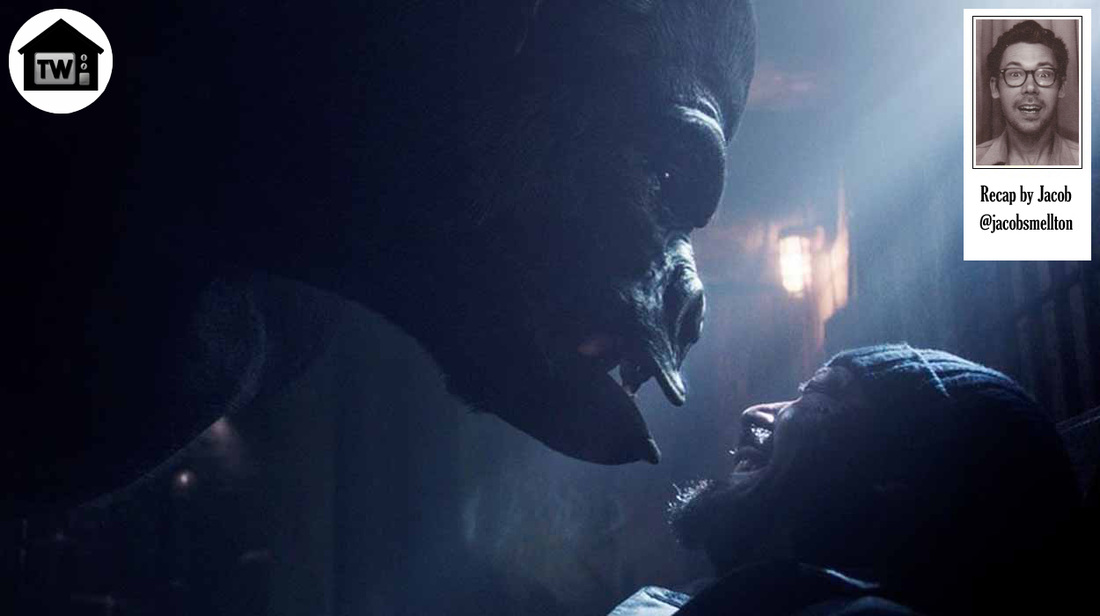 How many episodes of The Flash do we have to watch this season? 400? Is The Flash like one of those charter schools that's in session year round and only takes seasonal breaks for the odd solstice? This week's episode is all about a gorilla, seriously. I mean, it's a specific gorilla that has some significance within the Flash canon, but it is just an episode about trying to catch a gorilla. Put your monster of the week hats on, we're goin' Grodd hunting.
The episode starts with a soliloquy from Iris about how she knows Barry's The Flash and Eddie is still missing! The captain wants Barry and Joe to contact The Flash about helping out with their caseload, which – WHAT? Even though that might be the sanest reaction to a superhero I've heard, it still seems a little needy. Shouldn't the captain wait to call in his favor until, I don't know, a super villain shows up? Iris approaches Barry to tell Barry that Reverse Flash stole Eddie in front of her, and she's playing Barry! You guys, why won't Barry just tell her the truth? Does he have Asperger's? There are about a thousand social cues that he's missing.
At a bank truck or something, a man in a mask wielding a rocket launcher starts blowing things up. Oh, it's the gold reserve. Anyway, Flash shows up and his mind is exploded with some kind of future memory of a Marilyn Manson video. Back at the lab (WHICH LAB IS IT?), Barry and the crew try to figure out how he got whammied and then Iris shows up and acts incredibly indignant about the whole "Barry not telling her he's the Flash" thing.
At the new Flash HQ, the dum-dum twins (Caitlyn and Cisco) listen in on Barry and Iris's conversation concerning Barry's web of super lies. As the story of this last season unspools and Iris realizes that literally everyone knows about Barry's alter ego, she storms out, leaving Barry to sit alone in his Flash costume like a 10-year-old at the world's saddest birthday party.
At Wells/Thawne's secret hiding spot, Eddie is really getting on his son's (?) nerves and now that he's a bad guy, Wells has taken to wearing A LOT of guyliner. Wow. Just a lot of it. Do you think his first stage of the Reverse Flash endgame was buying eyeliner in bulk, or was it the second part of the plan? I have to know about this eyeliner!
Iris is still very upset about Barry being The Flash; also, she's pretty upset at Joe for keeping Barry's feelings hidden from her. She thinks that if she had been dating Barry instead of Eddie that Eddie would still be safe. But that's a pretty big maybe. What if instead of Eddie being kidnapped it was her, or the captain's fiancé? Is she willing to put the captain's fiancé in probably danger? I think not. Also, Iris, chill.
So … the man in the mask is probably going to make another play for the Central City gold bars and The Flash is going to stop him. But first we're treated to one of my favorite scenes in the world, and possibly the most useless 20 seconds committed to film. An ice cream truck containing a
secret SWAT team
circles the neighborhood where the gold truck is located, playing its music and even stopping to tell a mom (or a woman who has kidnapped a group of ethnically diverse children) that by playing music he's signaling that he's out of ice cream. WHAT IN THE EVER LOVING FUCK WAS THAT ABOUT? I might have preferred a 20-second commercial about genital warts over that scene. And not the medicine that cures genital warts, honest to goodness genital warts.
So Scorpion from Mortal Kombat blows up the truck with a landmine and starts unloading a machine gun on the gold truck. Before Joe can shoot him, Barry shows up and shoulder checks him into next week. It turns out that the man in the mask is General Eiling!
Back at STAR Labs … are they seriously at STAR Labs? Doesn't Wells/Thawne/Reverse Flash still have the keys to the lab? Or are they assuming that it doesn't matter where they set up shop, he'll find a way in? And I guess all the stuff is already there so it would be tough to find a new location. That still begs the question of how they pay their bills. ANYWAY, Eiling is in a kind of catatonic state. He isn't responding to the bullet wound in his shoulder and he's officially listed as being on leave for personal reasons.
When they speak to him, all he can say is Frankenstein's monster stuff like "Flash bad and Caitlyn good." It's revealed that Eiling is actually Grodd. Or that Grodd is speaking through Eiling. Grodd was created when Eiling and Wells tried to create soldiers with psychic abilities, but when Wells discovered that Eiling was testing on Grodd (a gorilla) Wells shut down the program and after the particle accelerator exploded, Grodd went missing. Caitlyn thinks that Grodd is controlling Eiling with his psychic powers and Joe thinks that Wells released Grodd at this exact moment to throw the Flash crew off his trail.
On a hunch from Iris, Joe, Barry, and Cisco take to the sewers to see if they can find Grodd. While the boys are in the sewer, the girls have a heart-to-heart about their mutual loves. You know how it is with ladies, they hate sewers and looOOooOooOoOoOOoOove talking about boys.
Down in the sewer, the boyz begin to notice a timeline written out by Grodd that shows his intelligence growing. It's mostly his name written over and over in chalk, but also there's some info about how the Domino's 3-topping $7.99 carry out deal is your best bet for feeding a lonely male for up to three meals (assuming you don't eat the entire pizza in a one-night fit of sadness).
By this point they realize they're being followed by Grodd and that he's not only getting smarter but that he's getting larger. As Grodd approaches, Barry begins to have that freakout again and then the gorilla kidnaps Joe.
While in gorilla captivity (a sentence I never thought I would type), Joe is forced to train his gun on himself as Grodd speaks to him via telepathy and we learn a few things: first of all, Grodd hates bananas, also he doesn't know where Wells is.
Down in the Reverse Flash hole, Eddie and Eobard get into a big ol' baby fight about how Eddie is the worst of the Thawnes. Eddie learns that he doesn't marry Iris and that his career as a detective is pretty much a wash. But doesn't this information have an effect on the future? Or is that what Eobard wants to do? Maybe it only has an effect if he puts the future into motion. UGH MY BRAIN HURTS.
At STAR Labs, Cisco develops a neural blocker that should keep Grodd's thoughts out of Barry's head. Essentially it's a fancy tinfoil hat, and Barry takes off to find Grodd and get him back from Joe. Cisco uses computer magic to lure Grodd far enough away from Barry so he perform the supersonic punch, but Grodd catches Barry and tosses him like a rag doll.
It becomes obvious that Barry isn't a physical match for Grodd, and when his tinfoil hat breaks he's shit out of luck. Grodd starts using his mind powers to break Barry's brain and it mostly works until Iris uses the ~power of love~ to help Barry regain his mental fortitude. As a train passes, Barry tricks Grodd into attacking, thus smashing Grodd into next week. And also presumably destroying the train and killing the driver, but hey, whatever.
After the fight in the sewer, Barry lets Eiling out of the secret prison and he says the BEST LINE in television history, "Now if you'll excuse me, I have a gorilla to hunt."
The Flash crew comes back around to the thought that everything Grodd did was to distract them from whatever Reverse Flash is up to, but instead of figuring out what that is, Barry goes to the roof of Jitters (FINALLY!) to get all expository with Iris.
In the epilogue, Eobard finally finishes creating whatever he was tinkering with. It's a key that opens a giant hallway. I guess we know how Barry's going to be opening a time vortex in a couple of weeks.
"Grodd Lives" actually worked as a blueprint for how
The Flash
can go forward without a Henry Wells figure looming over the episode and guiding our characters through their adventure of the week. I didn't expect the episode to be a giant piece of the larger Barry Allen/Reverse Flash puzzle, but I was pleasantly surprised to see that it served as a manifesto for how Season 2 is going to work and I was genuinely shocked that an episode about a giant telepathic gorilla wasn't the worst thing I've ever seen. It was actually pretty good! I could do without Iris being a whiny baby, but every one of her close friends has been lying to her for months, so her status as a crybaby makes sense.
Stray Observations:
This whole time travel plan seems very poorly thought out, and I'd like to see a chart or at least a bullet point list of the timeline. If the series began with two speedsters traveling to the past, shouldn't we have two speedsters in our timeline? Or did Barry 1 (for lack of a better term) travel back to his present timeline? Is Wells trying to trick Barry into helping him travel to the future, or will they be traveling back to the past to repeat the actions from the first episode? And how does telling Eddie about his future work into his plan? Normally I would be patient and wait for the answers, but when time travel comes into play, I worry that the writers are going to give up on explaining giant Primer-sized plot holes.
NEXT TIME! Cisco and Caitlyn decide to get the locks changed for STAR Labs but have to take part-time jobs at Jitters to pay for the exorbitant fee. Grodd takes up residence on top of Central City's tallest building, and becomes embroiled in a spat with his next door neighbor who won't stop calling him "Mr. Kong." Reverse Flash reveals to Eddie that he's going to stub his toe after breakfast … and it totally happens.

​