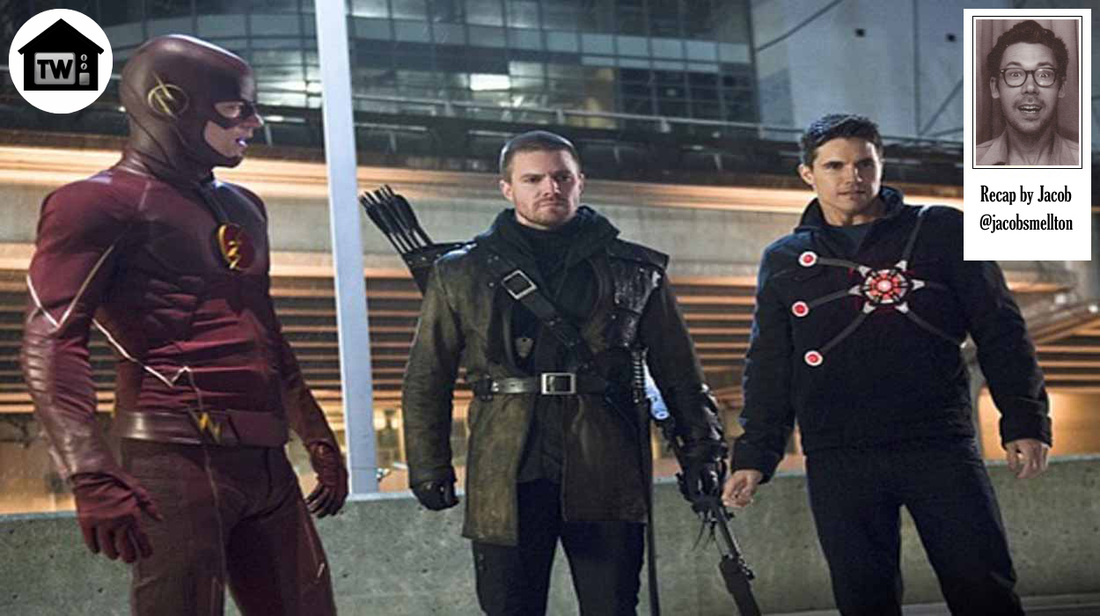 The penultimate episode of The Flash's first season has come and gone, and in its wake it's left a setup for the second season where Barry and his Scooby gang will do their best to catch meta-humans of the week while also trying to foil his ex-mentor. Rogue Air would have worked best as a standalone episode, rather than the truncated medley of hits that it played as.
Cisco, still playing catchup with Wells' traps and snares, realizes that the wheelchair was a misdirect, that not only did he seek sympathy as a man who got himself blowed up, but he also installed a fancy light thingy that he was using as a battery to give himself more speed – to make himself faster than Barry. And the revelations just keep coming!
When the reactor is, uh … reactivated, the gang realizes that Wells has been in STAR Labs the entire time. For some reason no one slapped their heads and went "DUUUUUUUH!" Maybe that's going to show up as a deleted scene. Wells lets Peek-A-Boo out of her cell and she almost gets the drop on Caitlin, but Iris saves the day with her trusty wrench.
Barry gives chase to Reverse Flash, but he's not fast enough, something that will haunt him for at least 30 minutes of this episode. After P-A-B (you can't expect me to keep typing that ridiculous name) is put back in her cell, the group finds Eddie in a Bin Laden-style bunker and Iris finds the engagement ring he was going to give her a couple of weeks ago. Um … don't get your hopes up, wrench girl.
Back in the hospital wing of STAR Labs (at some point in the second season we really need to define the space that exists in the Lab, or at least how they power this massive Frank Gehry-designed mindfuck of a building), we find out that Eddie is physically fine, but depressed as Adam Levine that time that heard that white v-necks were sold out at H&M. Before going home to listen to the saddest John Mayer song he can find, Eddie tells them about a "metallic and futuristic tube," which Cisco finds and somehow realizes that it's what's powering the particle accelerator, and that once it turns on it's going to explode or … something. Something will happen.
The gang decides that the particle accelerator is going to explode and all of a sudden Barry decides that the people that need saving the most are the dickheads that he's been secretly imprisoning for close to a year. Without taking too much time to discuss the implications of holding five or six people hostage (admittedly five or six meta-humans who have tried to kill him on at least one occasion), he and Joe decide that the meta-humans will be transferred to Arrow's secret prison somewhere in the China Sea. Are they just handing out secret prisons? Because I would very much like a secret prison! I don't even have anyone to secretly imprison, but I would figure it the fuck out if you gave me one.
Joe asks his favorite DA about the CCPD helping clear the roads for the rogues' transport and she says no/stop talking to me about this, what you're doing is mega-illegal. So the gang does the only thing (i.e., the dumbest thing) they can do and enlist the help of Captain Cold who is hanging out at the MOST BAD GUY-LOOKING BAR EVER,
Saints and Sinners
. Let's talk about this bar for a minute. It's basically a concrete block painted to look like an adobe hut with a sign outside that's made out of a giant cartoon pitchfork. And it has a bunch of new pinball machines, which you don't really expect in a bad guys' hideout spot. It's a good thing Snart wasn't drinking here when the accelerator exploded or he'd be Pinball Wizard or something awful like that. Anyway, he balks at Barry's terrible plan.
Joe, much like the audience, thinks Barry is an idiot for talking to Snart. And that's when Captain Cold waltzes into STAR Labs and decides that he'll help transport the meta-humans if Barry will destroy all of his criminal records. Which yes, would be bad, but it's not like the police wouldn't remember who he is. A lack of evidence of your past crimes doesn't prevent you from being arrested after committing new ones. I'm completely on board with Captain Cold being the main villain going forward. Not only does Wentworth Miller dig into his ridiculous character, but I like that he's on a level playing field with Barry. The Reverse Flash is great as an arch nemesis, but he always feels too much like a metaphor.
Snart's sister joins the gang, Joe puts on his undercover beanie, and everyone gets to work.
Cisco uses the wheelchair's MacGuffin to create an energy field that effectively turns of the powers of the meta-human baddies that they'll be transporting in a semi-truck en route to an airplane sent by Oliver. As you could see coming from a mile away, the dampening field begins to fluctuate and all hell breaks loose. Before the baddies can kill Barry, Captain Cold and his sis stop everyone from going all murder-happy and ensure that there's going to be something for Barry to do next season.
Captain Cold explains that of course he was going to double-cross Barry, because he's a bad guy, that's what he does. Is it because he's not a meta-human that he's able to see outside of the idiotic comic book machinations that not only Barry can fall into, but also the rest of the rogues gallery? Or was he just written that way? You'll have to excuse me, I watched
In The Mouth of Madness
yesterday and I can't stop making weird deductions based around fictional characters or drawing crosses on my walls.
After totally failing at transporting the meta-humans to another secret prison, the particle accelerator becomes fully active and Wells shows up to do whatever it is he wants to do. Blow it up? Or not? It's probably something along the lines of making Barry go super fast so he can try to save his mom.
Before Wells can trounce Barry, Firestorm and Arrow show up to even out the fight.
Wells is in charge for most of the fight, but when Arrow shoots him with some kind of anti-speed arrow and then another something else kind of arrow, the tables are turned and with Firestorm's help, Barry throws Reverse Flash off a building and smashes him into a random car that's parked outside the lab.
If ever there were a perfect time for that Mortal Kombat "Toasty" sound bite, this would be it.
The episode ends without an epilogue, probably because it's going to dovetail into the final show of the season.
Stray Observations:
"You're going to go in a box, in the ground." – Yeah, we get it, Peek-A-Boo. If you're going to come back to The Flash, you've got to keep it snappy.
The elevators in the CCPD might be the most beautiful elevators on television. It looks like they brought in a designer for the elevator, blew all their money on wallpaper, and decided to leave the rest of the place as is.
How weird does Reverse Flash look when he's not doing that vibratey thing? Super weird, right?
NEXT TIME! Barry chases Wells down the pipeline and slips on a banana peel, sending him so far back into the past that he accidentally erases the concept of the iPad. Oliver is stuck in Central City without anywhere to do pull-ups, so he gets a job at Jitters just so he can do reps with bags of coffee beans. Eddie starts a Jack Johnson cover band.