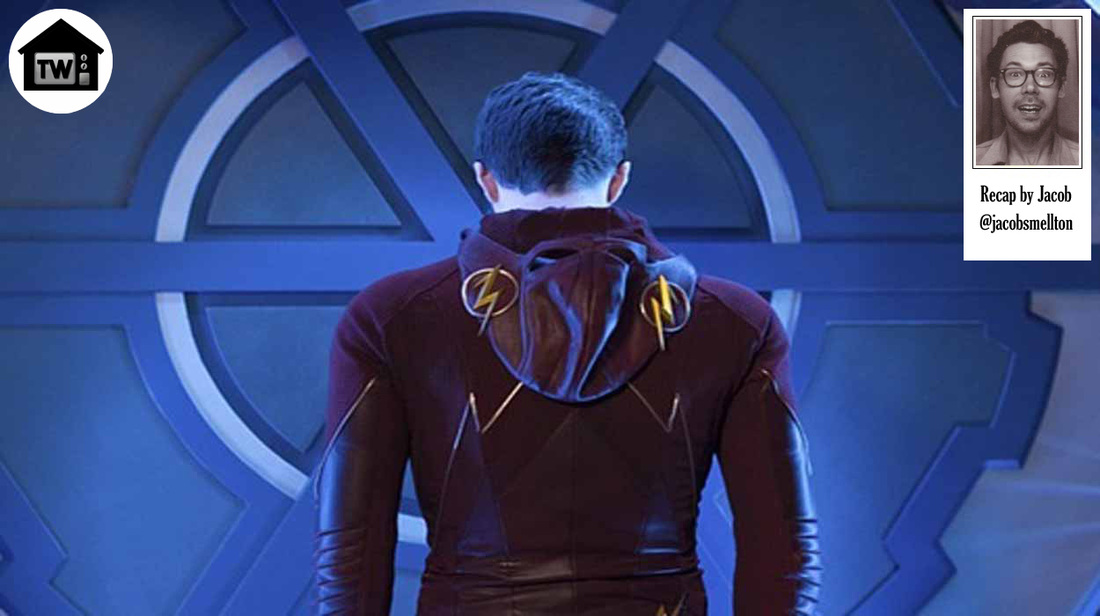 The first season finale of The Flash is finally upon us, and I'm sad to see it go. The final episode spends most of its time pondering the future and wondering what could have been, but by the end it pulls off not only a satisfying, but an emotionally powerful finale that proves that The Flash is not only one of the best superhero television programs of the last decade, but that it's a show that isn't afraid to take chances with the narrative of heroism. ​
Most of "Fast Enough" is spent doing that talky-talk thing that everyone loves about
The Flash
. Oh wait, sorry, I'm just getting a bulletin here. Oh, no one likes all the talky-talk on
The Flash
. Got it.
Barry and Eobard Thawne have a face-to-face meeting where Thawne explains that the reason he went back in time to was kill Barry as a child, thus relieving himself of The Flash for good. Future Barry (Barry 1.0?) saved his childhood self, and you know the rest of the story because it's been replayed about ten thousand times. ANYWAY, Thawne offers Barry a chance to go back and save his mother. All he has to do is run at Mach 2 around the particle accelerator and collide with a science to open a wormhole that will lead him to where- or whenever he wants to go. All Thawne wants in return is a personal time machine so he can go back to his own time through the same vortex. Seems simple enough!
The next thirty minutes of the episode (i.e., my least favorite part of the episode) is spent with Barry asking everyone what they think he should do. Joe thinks Barry should go back and save his mother, even if it means that they'll never be father and son. Cisco thinks it's a bad idea because if Barry never becomes The Flash, then they'll never become friends and he'll never get to give out a bunch of dumb names to super-powered dorks. Dr. Stein thinks he should do it for the sake of science, and Caitlin doesn't care because she and Ronnie are getting married (more on that hot mess later).
After a group meeting, everyone decides that they're happy if Barry is happy and that they won't mind living in an alternate timeline where there are no psychic gorillas living in the sewer.
Barry decides that he needs to think a little harder about his decision (of course you do Barry, the only thing that you can't do faster than everyone else is come to a fucking decision), so he meets with his father, who tells him to definitely not go back in time and un-Flash himself. It's a nice moment for Shipp, who had to spend most of his time in the first season sitting in a cell and saying things like, "Gosh Barry, you're so grown up" and garbage like that. Regardless of his father's wishes, Barry continues to ask his friends about what they think he should do.
Meanwhile, Barry meets Iris on the roof of Jitters – a business where neither of them are employed but a place where they feel the constant need to climb ALL OVER, they discuss the possibilities of an alternate timeline, and if their growing up together had something to do with their heightened friendship. She tells Barry to do his time travel thing and see what happens. I can forgive a lot of the garbage that
The Flash
deems appropriate to dump on viewers because it's a fun show that's trying to make Silver Age Flash palatable for modern viewers. This show is one of the few that doesn't mind giving its characters goofy names or having them shoot giant lasers for giant lasers' sake.
The Flash
is about as far away from the comic book movies and programs that take themselves too seriously and it's so much better for doing that.
If you've read any of my
Gotham
recaps, you'll know that the seriousness that sits at the core of that show is what drives me to say horrible things about it on a weekly basis (case in point: the first season of
Gotham
has been over for two weeks and I'm still complaining about it in a recap for
The Flash
). My big problem with
The Flash
is the character of Iris (and the overall treatment of women on
The Flash
). What is happening with her character? She has less of a reason to be on the show than Caitlin (who basically does nothing but is sometimes necessary), and she seems to only exist to make Barry and Eddie want to be with her. I don't know how to solve the Iris problem, but if Hollywood wants to give me a weekly stipend to work on ideas I will be happy to. Until that happens (I'm expecting my first payment at any moment), all I can do is move on and roll my eyes.
Barry finally makes up his mind and has ANOTHER long conversation with Eobard about time travel. Did anyone else notice that Tom Cavanagh couldn't stop burping while he was talking to Barry about Mach 2? Was that a character choice or did TV's Ed have too much soda?
When Cisco meets with Thawne to get schematics for the time machine, they get into a real fuck boy fight about the time that Thawne killed Cisco in an alternate timeline. Thawne is pumped that Cisco is able to remember alternate timelines and he thinks it has something to do with the particle accelerator. Thawne makes some strange speech about Cisco going off on a new journey before Cisco huffs away. What a useless power it must be to be able to remember things that didn't happen. I know that he's technically Vibe, but is The Flash telegraphing Cisco's transformation into Hindsight Lad? How amazing and terrible would that be? And I know, Hindsight is a Marvel property, but shut up.
In a brief intermission from Barry asking a small group of people the same question over and over again, Dr. Stein tells Eddie that he needs to stop moping around about not being a superhero or a science whiz. And he finally knocks some sense into Eddie when he asks him why he believed Thawne when he told him that Eddie serves no purpose. You'd think as a cop he would realize that he shouldn't believe a bad guy, specifically a bad guy who has kidnapped you and keeps his outfit inside of a ring.
In the ramp up to Barry's attempt at time travel, Thawne tells everyone that Barry has one minute and 52 seconds to save himself and his mom before returning to the altered timeline before a singularity opens up and destroys the planet. Joe no longer thinks this plan is a good idea.
After his pep talk from Stein, Eddie goes to see Iris at
Picture News
and tells her all about all the coincidences it took for the two of them to get together and that he doesn't care about Flashes or even Reverse Flashes, he just wants to hang out with her. They immediately attend Ronnie and Caitlyn's wedding on the lawn of STAR Labs. Which I guess seems sweet, but it also has a very shotgun wedding feel. Like, "Oh, the world's about to end or maybe one of us is going to be erased in an alternate timeline so we better get married in some very soft light while Crowded House plays."
Oh by the way, at the science gun wedding, Crowded House plays their hit, "Don't Dream It's Over," which seems like the most depressing song to play while you walk down the aisle. Personally, if I'm walking down the aisle to an '80s hit, it's "Everybody Wants to Rule the World" or nothin' BABY!
As Barry suits up for his run, he gives everyone a big
Wizard of Oz
goodbye (I'll miss you most of all, Scare Joe). Barry hits the particle and opens the wormhole to his past where he appears in his childhood bedroom. But before he can rescue his mom, Future Barry tells him not to intervene, and instead of saving his mother he uses his time to comfort her in her final moments.
After spending a season wanting nothing more than to bring his mother back to life, it's hard to watch Barry not only tell himself to not save her, but to realize it's the right thing to do. Barry may be one of the few television characters who have actually grown this year. It's strange that we live in a time where the storytelling norm seems to be the subversion of all the rules of storytelling, and yet the most effective show is the one that follows them to a T.
Before Thawne can go back to the future, a Golden Age Flash helmet flies through the time vortex, giving us a sneak peek into Earth 2 (which is cool, but we don't have the space to get into that here). Eobard (fully dressed as Reverse Flash) gets in his wacky time machine but before he can go back to his own time, BARRY FUCKING ALLEN flies through the wormhole and punches the time machine into a million pieces. Barry and Thawne start speed fighting their way around the particle accelerator as Ronnie and Caitlin try to shut it off before a giant black hole forms and engulfs the city/planet.
Reverse Flash has Barry cornered, but before he can crush his heart with his creepy speed hand, Eddie shoots himself in the heart, thereby stopping Wells from existing. It's the most obvious thing that could have happened, and yet it feels like no one thought this was going to happen. In a very cool sequence, Reverse Flash is erased from existence and Eddie dies on the floor particle accelerator. And if that's not crazy enough for you, the wormhole reopens and begins to swallow everything (beginning with Eddie's body, which makes me think we'll be seeing more of him). Barry does what he does best and runs at the screen as the episode comes to an end.
Stray Observations:
"So long, and thanks for all the fish." Really Cisco? Really?
If Eobard Thawne never existed, does that mean that he never killed Dr. Wells, thus the particle accelerator was never built? Is that why the singularity has opened? Is it sucking up ALL THE PLOT HOLES?
Martin Stein being a rabbi may be the weirdest thing to happen in a show where a psychic gorilla is a viable character.
A season bookended with disasters has given me hope for modern comic book adaptations. At the beginning of this series I was nervous about whether or not the show would be interesting, and I wasn't sure if there was enough story to mine for a series, let alone one season. But in 23 episodes,
The Flash
has already established a world that feels lived in, yet new. As someone who grew up dreaming of giant robots and time travel, Barry Allen and his crew of mega-dorks have revitalized superhero storytelling and made it OK to be a little silly. See you next season.