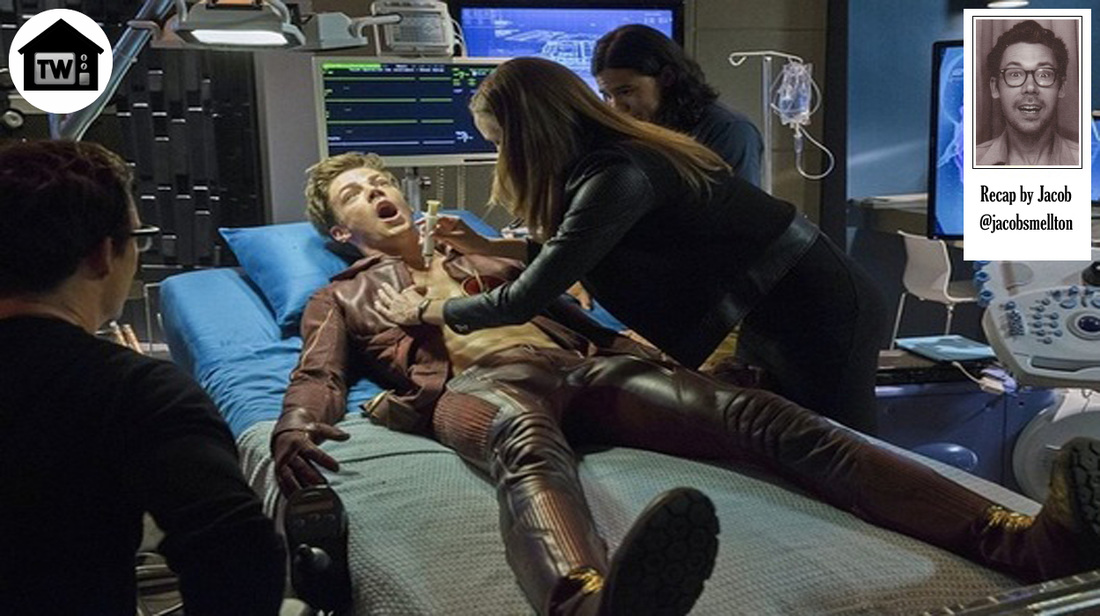 The third episode of The Flash opens with the pithy examination that we (a kid in gym, the fastest man alive, the president, errebody) are running from something. And just like that, a fun show about a dork in a red suit who fights other dorks in less red suits became preachy. If I want to listen to a philosophical monologue on the terror of everyday survival, I'll put on Bill Clinton's TED Talk.
Barry and his sister/the love of his life leave a hot new zombie film, Blue Devil 2– possibly the worst-titled zombie film since Night of the Living Deac. (To be fair, it was a misprint.) Barry runs from the well-treaded territory of discussing undead fiction to help the police arrest a man firing a gun wildly from inside a car, or as the Philadelphia Eagles' Jason Peters refers to it, Tuesday night. Barry takes care of the gunman and makes it back to his non-date in time to make puppy dog eyes at Iris.

As Barry and Iris continue their non-date, a group of non-descript mob guys have a meeting in a non-descript Italian restaurant. What is it with DC Comics mobsters and restaurants? I guess the building provides an excellent front for money laundering, but having an actual establishment seems to increase the risk of arrest exponentially (and think of all the negative Yelp reviews). As the meeting begins, a mysterious noxious gas floats through the restaurant and kills the mob boss at the head of the table. I wish I could give you a name but he's only referred to as "Uncle!" by a character whom I presume to be his nephew. In the interest of not wanting to look the dolt, I'll reserve my judgment on their relationship until the episode plays out.

Barry is upset because he can't tell everyone he's The Flash and get all those sweet Star Wars medals, but Joe convinces him to focus on more important matters – The Murder Board. Unfortunately, every time we get a good look at the murder board, another detective shows up with an actual case. Can't Barry win the lottery already so he can focus on solving his mother's murder? Is that in DC Canon?

Joe and Barry bypass the regular detective work and go straight to STAR Labs where the nerds are in full Big Bang Theory mode. The discussion of a meta-human prison pops up and it turns out that the now-exploded particle accelerator (from episode 1) can act as a temporary prison for supervillains.

In a flashback to the fateful night of The Flashening, we see that Doctor Wells knew about the storm that was due to destroy the accelerator and that Caitlin's fiancé (who is dead but probably not dead – he's probably a ghost guy or something) was planning their honeymoon. She wanted to go to Tahiti and binge watch Orange Is the New Black while drinking mai tais, and he wanted to go to Italy so they could eat pizza. It's a shame they were never able to marry each other and spare the rest of the human race an inevitable death by boredom.

Before turning on the particle accelerator, Dr. Wells says something ominous (even in a flashback? I can't with this guy) and then Caitlin's fiancé died. He is also probably another Flash?

Joe watches tapes from the Allen murder and happens to catch Detective Thawne trying to get all kissy with Iris. WOMP WOMP WOOOOOMP. Thawne wants to tell Joe about the relationship but Iris thinks it's a bad time.

In the particle accelerator, Dr. Wells and Cisco decide to use the copper tubing (or at least the copper that wasn't stolen by the Riggins boys) to create an electromagnetic thingamajig that stops meta-human powers (or something like that). In a flashback we learn that Cisco was the person who locked Caitlin's fiancé, Ronnie, in the particle accelerator. It was very Wrath of Kahn, but without the earned resonance.

At the Central City Mall, a Max Schreck lookalike corners a woman in an elevator and gasses her to death. Barry hears the report over a police scanner and Flashes away in search of gassy vampire men and, presumably, a fresh pair of kicks. He finds the Nosferatu lookalike who knocks the wind out of Barry before trying to choke him to death via lung invasion. Barry runs back to STAR Labs where the gas is extracted from his lungs and plugged into some kind of science machine that figures out who people are via random strands of DNA.

Back at the Central City Police Station, Joe figures out who The Mist (the name Cisco ceremoniously gives to faux-Shreck) is after, but rather than solve the case, Barry turns into a Muppet Baby and whinges about his dad. We all know it's bad that Mr. Allen is in prison, but there's an actual mystery to solve in the here and now! Get your head in the game, Barry!

Barry and Caitlin share dead people stories (as in, "My mom is dead," or "Ronnie, my ex-fiancé, not Ronnie fromRun Ronnie Run is dead") and together they face their fear of death ... sort of. On their walk down to the particle accelerator, we're inundated with another flashback and see how Ronnie was killed. Again, very Wrath of Kahn. After a moment of shared grief, they get back to superheroing.

It turns out that the gas that The Mist, or Kyle Nimbus, is made of contains a sedative that is given to death row inmates. I didn't expect Central City to take part in capital punishment, but now I'm very worried about Papa Allen! Nimbus is after Joe! Joe is at Iron Heights Prison to visit Barry's dad! Joe apologizes for putting Mr. Allen into prison and explains that he's reopening the case, but their heartfelt moment is brought to an abrupt end by Nimbus, who War Machines Joe and escapes to a wet county road.

The final boss fight between Barry and Nimbus is kind of cool. It's CW cool. For a show that's made for a nickel, the chase scene between a noxious gas and a red lighting guy wasn't bad. It helps that the setting was a wet road straight out of Coyote Ugly. Unfortunately after all the gassy/runny action, Barry defeats Nimbus by pushing him down like a schoolyard bully.

Joe survives the gas attack and solves the mystery of Thawne and Iris dating – it's all very cute until Joe reminds her that Thawne is a vanilla supporting character that no one has any strong feelings about and that she could get hurt when he does something bland.

At STAR Labs, we get our first taste of the meta-human super prison and it is straight up the containment unit from Ghostbusters. Only instead of being a big red box, it's made of clear glass, I guess so we can see how angry the bad guys are. Caitlin acknowledges the awful idea of having a work space above a super prison and Dr. Wells brushes it off, more than likely because he's from the future and knows that the prison will explode and bad guys are going to go EVERYWHERE at the end of the season. Right? That's the only logical end point of the season. It's either that or the Infinity Crisis, which seems like a waste of a buildup if that's where the show went after one season.

AAAAAANYWAY The Flash ends with yet another Dr. Wells evil guy epilogue where he sits in his chair, drinks scotch, and stares at the Flash suit as he flashes backs to the night Ronnie died. While everyone else was either dying, or trying not to accidentally kill everyone with super science, Dr. Wells was in his time-traveling creep room WATCHING BARRY GET STRUCK BY LIGHTNING. If I had a time-traveling creep room that contained a monitor that could watch presumably anything, I would definitely not watch Barry Allen get struck by lighting. I've seen it happen multiple times and I can say, without hesitation – no thanks.

NEXT TIME! Will Barry learn another life lesson that has to do with running very fast? Will he and Dr. Wells start a Flash Fetishist group? Those answers and more in one week.
​