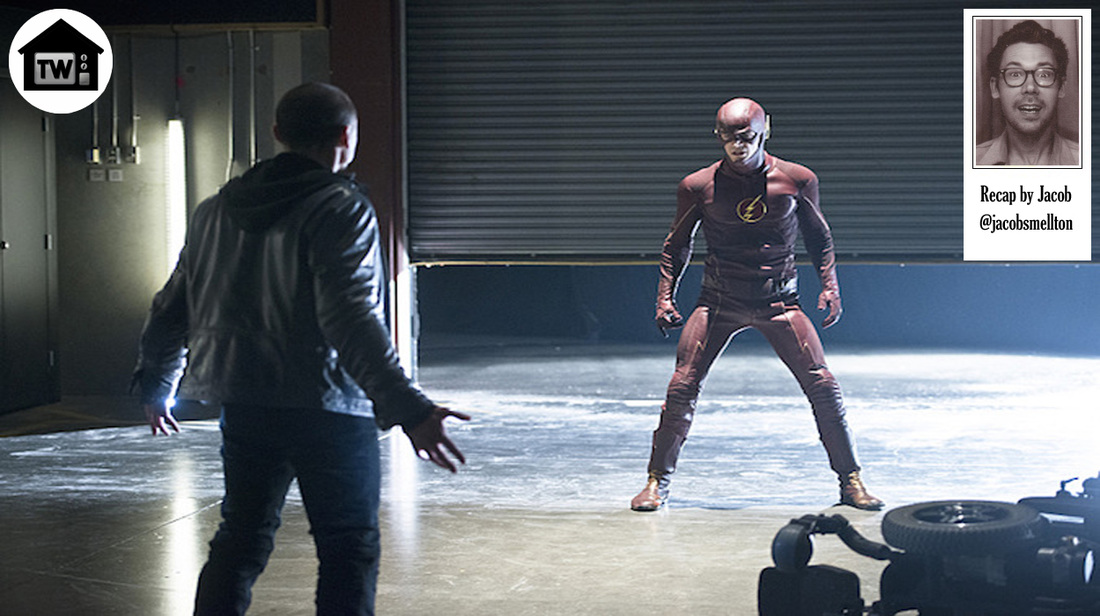 This week The Flash delivers the much-maligned TV trope of superhero with no powers. If I wanted to watch a show about a superhero that couldn't do anything, I would watch reruns of The Greatest American Hero. Now that was a quality television program.
Farooq, a young daredevil, climbs a giant electricity conduit. There has to be a better word for whatever that thing is. Lightning tower? Edison redwood? Electro castle?

So Farooq climbs the electro castle and his friend with a Basquiat haircut insists, "When I said we should watch the particle accelerator, I meant that we should get naked and howl at the moon." First of all, you sound like a lot of fun, what with all the watching a machine turn on. "Hey guys, wanna come over and watch me turn on the pilot light in my oven? Also, get naked and howl at the moon?" No sir, you did not mean that. Take it back!

Anyway so the particle accelerator explodes like it does in every flashback and Farooq is electrocuted by the electro castle thing and now we know how this week's villain got his powers. PHEW!

Dr. Wells goes to his future room to record a voiceover about Barry using his powers in everyday life. He makes coffee and brushes his teeth at incredible speed! He disarms petty criminals just like Bugs Bunny would if he were a superhero!

Barry runs into STAR Labs and everyone is already EXHAUSTED with his antics. Dr. Wells wants Barry to start showing up on time so he can "kick it up a notch." (BAM! etc.) Instead of practicing his super running powers, Barry goes to the scene of a homicide where a person has been burned to death, and if it weren't already suspicious enough, the area of the murder is full of combustibles that remained fully intact.

"Dr. Watson, there's a mystery afoot." – Detective Joe

Back at STAR Labs, Cisco runs some mumbo-jumbo facial recognition software and they discover that the charred hotdog of a body worked at the electricity plant and that his ID badge has just been used to gain entry to the MacGuffin. Barry flashes to the power plant and finds a meta human soaking up a bunch of electro energy. It's Farooq, and he does not look good. He catches Barry with a lighting bolt and it seems to steal some of his energy. And by some, I mean a lot. Like a lot a lot. With his speed sapped by Farooq, Barry is forced to take an Uber back to the lab, where the team makes fun of him mercilessly until he goes home.

Barry cries to Joe about once again being slow, and on his way out of the CCPD he runs into two officers escorting a character actor wearing jeweler's glasses raving about "timepieces." Okay grandpa, in the 21st century we call them clocks and don't you forget it. Normally I'd gloss over a scene like this, but it seems very important, what with all the timey-wimey nonsense that's going on with this series.

ANYWAY back in Dr. Wells' future room he looks into the future to see that there is ZERO mention of The Flash or Barry Allen, so it seems that his speed is gone forever.

Barry reveals to Caitlin that he feels like the best version of himself when he's running a million miles an hour and they almost kiss because GEEZE LOUISE BARRY CAN YOU NOT HAVE FEMALE FRIENDS? Seriously, try to form one long-lasting relationship not based on sex. Have you learned nothing from the last two seasons of The New Girl?

Luckily before we have to deal with too much sexual tension, Farooq shows up, is fiendin' for some juice, and wants to get it from Dr. Wells. Not like that. Farooq lightning bolts his way into STAR Labs, and in doing so, he sort of knocks out power for the entire city. He doesn't really knock it out as much as he makes everything very flickery and cinematic. And by cinematic, I mean he makes it look like an arcade game from 1998.

So the timepiece guy is named William Tockman (ugh), otherwise known as Clock King, and he uses the flicker lighting of the CCPD as cover to take Iris hostage. With Farooq lightning his way through STAR Labs and Tockman holding Iris hostage, it's a less-than-ideal situation for everyone in Central City. Dr. Wells has the idea that Barry still has his Flash DNA but he needs a blast of electricity to jump start his powers. Barry balks and goes to talk to Farooq, man to electro fiend. His one-on-one with Farooq goes about as well as any one-on-one with a crazed addict can go, and Barry is once again thrown across a metal room by a lightning bolt.

Tockman requests a helicopter, some vegetarian food, and a laptop or he's going to shoot someone. Thawne sneaks up on Tockman and fires on him at point blank range but WOMP WOMP WOOOOOMP he's wearing a bulletproof vest. Tockman shoots Thawne in the shoulder and the stalemate continues.

The Tockman storyline is about five minutes long but it's split into little snippets in order to build A LOT of tension and parse out a bit of info about the character. He was in the military! He quotes a lot of classic philosophers! He's a vegetarian! He really wants a helicopter!

Dr. Wells goes to visit Super Douche (the metal bully from last week) in his secret jail and he offers the douche his freedom if he kills Farooq. I don't know what to think of this Dr. Wells fellow – one the on hand he's super evil and lying to everyone about his intentions, and on the other hand he has zero qualms about murdering another human being. JK JK, he's a no goodnik if ever there were one.

So Dr. Wells lets out Super Douche and he goes after Farooq and they have a very cost-effective super villain battle. Cisco powers his treadmill with a super charge and Caitlin reluctantly turns it on so Barry can get struck by lightning (again) and I guess it doesn't work because he doesn't run around going "WOWEE I'M FAST AGAIN MA!" Or whatever he would have said.

Farooq kills Super Douche (I guess?) and continues to chase Barry around the lab while Caitlin runs a test on Barry's blood and Dr. Wells works out another plan to restore Barry's abilities. Wells reveals that he released Super Douche and challenges Barry's ideals. Before we can think too much about it, Barry's cells begin to regenerate but he still can't run fast. The STAR Lab team insists that it's psychosomatic and that all Barry needs to do is believe in himself.

This is when the episode goes full Tinkerbell and we're asked to clap at the screen if we believe in The Flash. Dr. Wells gives one heck of a Coach Taylor speech, revitalizing Barry in the process and giving him the mental fortitude to go out there and win the big game and accidentally kill Farooq. With his power restored, he goes to the B-story where he finds that Iris, Thawne, and the rest of the hostages are fine.

Dr. Wells records another captain's log in his secret future room and decides that the way to get Barry to push the boundaries of his powers is to invest in the whole superhero thing. His devious plan to care about humanity works and Barry shows up bright and early to begin testing his recharged super speed.

NEXT TIME! It's the big Arrow/Flash crossover that I thought we were recapping this week. Are there epilogues on Arrow? Are they basically the same thing as what we see on The Flash but with a different character in a wheelchair? I guess I'll find out.
​