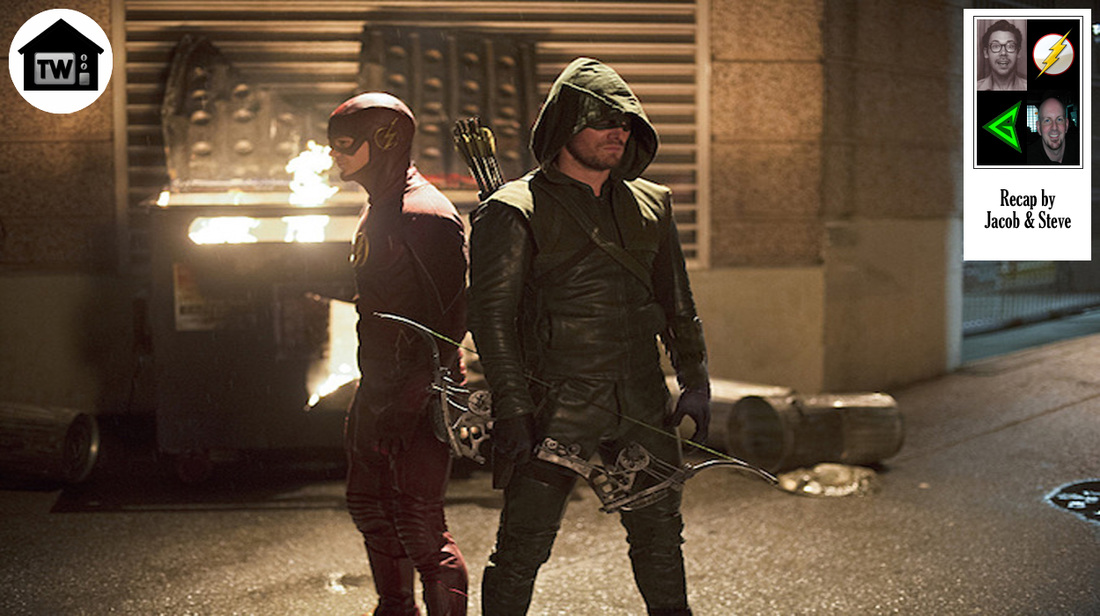 Remember when you were knee high to a grasshopper and would sit around with your friends talking about how cool it would be if The Doctor showed up onStar Trek, or what would happen if Heinlein's Starship Troopers went to war with House Harkonnen? No? Well how about Green Arrow and The Flash? If you've been salivating at the thought of these two DC hunks (one and a half hunks?) teaming up then WHY AREN'T YOU WATCHING THE CW? Before I go any further I should disclose that Steve and I are both going to be writing about the crossover, and not to pull back the curtain on our grand experiment like so much Shia LaBeouf, but we're kind of excited! Anything can happen when you get a couple of beefcake super heroes together!

My name is Jacob Shelton, and I am the fastest Flash recapper alive.

My name is Steve Boudreault, and I have crossed over with only one mission – to save my recap.

I haven't been watching Arrow so I have NO IDEA who anyone on Arrow is other than sexy science babe Felicity Smoak (if only she would take off her damn unsexy glasses) – I'm not even sure who Arrow is.

Arrow is the guy who's going to kick Flash's ass.

All right, so Barry starts the day off by running around Central City helping couples? Or something? He paints a building for some reason. The guy who was supposed to paint that building probably got fired for letting Barry do his work, or at the very least his boss expects him to paint entire buildings in less than five minutes. Thanks a lot, Barry. While he's busy ruining lives, a meta-human walks into a bank and uses his super powers/red eyes to make everyone start beating each other up while he robs the vault. If I had a checking account, I'd be really worried about something like this really happening.

After the robbery, Barry comes back to the bank, sans outfit, and throws out the assumption that everyone in the bank was whammied. More importantly, Thawne tries to get the CCPD Captain to put together a Flash task force, but he's more concerned about his burger than some red lightning bolt. Hear hear!

The STAR Labs team does the fastest forensic work in the history of shows (we do have to get to the Arrow portion of the show after all) and discovers that this week's baddie can control the part of the brain that keeps you from acting out every random thought. I hope he doesn't put me in a whammy, I really don't need to eat any more chips and salsa than I already do.

Barry (as The Flash) goes to meet with Iris and he acts like a total goober. He gets the word from his team that a tracer is found in the fat sack of money that ol' red eyes stole and the police track him to a spooky warehouse. ​

Joe orders Hungry Eyes to turn around, but he goes all Darth Maul again and suddenly it's SWAT versus SWAT! Flash arrives in time to save the cops but not to sing "Bette Davis Eyes" to the meta-bad of the week, but no worries – Arrow's here to save the day! He drops Crazy Eyes with two well-placed shoulder arrows, zings Flash about his mask, and parkours the hell out of there. Take that, Scarlet Speedster!

Random abandoned factory. Felicity (Smokin') Smoak and Digg espouse the merits of Big Belly Burger, which may or may not be real, when Flash and Arrow arrive. Digg is duly impressed by Flash's flash, so much so that his fries go a-flyin', and Barry wants to know what they're doing in his neck of the woods. Turns out they're working the Captain Boomerang case, and fortunately they don't yet know that Captain Boomerang is Captain Boomerang, so we don't have to hear them say it. Felicity says it was the iron oxide levels on the boomerang that led them to Central City, because as we all know, Central City has the highest iron oxide levels in the country.

Barry suggests they team up to find Boomerang Man (I didn't think there could be a sillier name than Captain Boomerang, but there you have it) and Super Rage-a-holic (that's not bad, actually). Ollie, ever the stick up his ass, doesn't want to work with team Flash because too many people already know his secret identity. Can't argue with him there, he might as well have his own billboard in Starling City. "Wondering who the Arrow is? It's me, Oliver Queen!" Felicity says she can work with the STAR Labs gang, since they know her already, and Barry zips her away. Oh man, super speed is totally the way to get the girls.

Barry brings Felicity to STAR Labs and immediately removes her shirt (you're welcome, fanboys). Cisco runs a test on the boomerang while Barry gets admonished for being friends with Oliver, essentially no one is happy that Arrow is here. Not Joe, not Dr. Wells, and NOT ME! Granted I'm only upset about this whole Arrow guy because I have no idea who he is. I don't know if you guys know this about me, but I'm three years old. Where's my mommy?

Warehouse. Digg is wondering if Barry speed-poops as Arrow makes his way into a back office and draws an arrow on some poor shmuck who doesn't even get a line and demands the name of the guy who rents the storage unit. Seems Arrow left the voice changer back in Starling. Or maybe they blew the budget on boomerang effects this week.


ANYWAY, Barry meets up Oliver and Felicity at Jitters where he finds out that ol' red eyes' real name is Roy G. Bivolo. Fuck you. That is not his name. That is a writer typing Roy G. Bivolo into Final Draft and forgetting to change it.

Iris gives Ollie his coffee black, hoping that he likes his coffee like he likes his women. ​

Is Oliver famous? Does everyone know that he's Arrow? Is he like DC's Tony Stark? I really should have done some research about this Arrow fellow during my downtime this morning/all day. ​

Felicity hocks (hawks?) on Ollie until he agrees to help Barry catch the Eye Hole, and we have Ollie and Barry do the "partners" handshake, which is in no way a superhero cliché.

This is the first time I've watched this show with commercials – how bad does that Librarians show look? Do you think Noah Wylie went through 8 divorces or does he just looOOoOoOOoOoOoOooove being a mystical librarian? After 14 years of running around a hospital, I guess you'd want to swing a mystical sword around. ​

Abandoned warehouse. Barry zips in and Ollie chastises him for being late. He has a point, there's really no reason for Barry to be late. Barry wonders how they're going to catch Mad-Eyes out here, and Ollie says they're there to train. Okay, two things – didn't Arrow drop the bad guy in a room full of cops? And he escaped? And second, yeah, why are you training now, when there's a bad guy loose in the city? I guess since it's Central City and not Starling, Ollie's not too worried.

Ollie gives Barry grief about giving his enemies silly code names and for rushing in where angels fear to tread. Well, I mean, he is The Flash. Rushing in is kind of his thing. As part of the training, Ollie wants Barry to run at him and Ollie's going to hit him with an arrow. Well, that sounds like a really good training regimen and should truly help – wait, what? Barry agrees to do the stunt, and catches Ollie's arrow before it hits him. But Ollie has hidden two crossbows in the weeds and Barry doesn't escape those. So, just throwing it out there, Ollie told Barry he'd get hit by an arrow, but he lied. Barry got hit by two arrows. Semantics.

Cisco traces the Brain Changer (hey Cisco, I can give villains shitty names too) to an empty office where Barry gets whammied.

He returns to STAR Labs and everything seems to be fine, but rather than the wholesome sweetheart dum-dum Barry that we're all used to, in his place is a sort of rude Barry who brings up dead fiancés. He's like me at a party when I find out there's no queso. He takes off to train with Oliver and the evil Barry comes out! He thinks Oliver is jealous of his super speed, and even more jealous that he'll never be able to paint a building in less than ten seconds! Maybe The Brain Changer's brain powers worked. Barry continues to yell at everyone around town because he's got A LOT of pent up aggression in that squirmy body of his.

Joe tattles on Barry to the STAR Labs crew and they decide to look beyond the whole "we don't like Arrow thing" and just get him to beat up Barry. Why does everyone know who Oliver is? Is he a shipping merchant or something?

Iris tells Detective Thawne that she's been having clandestine meetings with The Flash, to which he responds about as well as someone who's putting together an anti-Flash task force. Before he can get into a relationship-ending argument, Barry goes full evil Flash and pulls Thawne out of a moving car and throws him into the street. This isn't helping Barry's case with Iris one bit. ​

Well, I guess Arrow's going to have to save the day. Again. Arrow fires a lasso arrow around Flash and says "Run!" Wait, you want The Flash to run? That's a bad idea. Flash takes off and drags Arrow by the lasso rope, which should kill him, or at least dislocate his shoulder, but he's fine. At STAR Labs, Digg and Vibe (now there's a '70s super hero team if I've ever heard one) are taking bets on who will defeat whom. If it were Superman versus Flash, I'd get in on that action. But this? Feh. Arrow uses some exploding arrows, which knock Flash over, which makes no sense since he should have been able to zip away at the instant of explosion, but whatever. Arrow hits him with yet another arrow and describes in detail how much horse tranquilizer he used so Flash knows exactly what to do about it (vibrate real fast). Slick.

Flash starts running in circles around Arrow to … um … muss up his hair? Arrow channels his inner Michael Keaton Batman and grapples up to a high building. Flash meets him there and knocks him down, but no worries – Arrow grapples again. How many grapple arrows did we bring? Flash finally gets smart and starts a zippy fight sequence, which makes Arrow look awfully silly. Then he throws zippy punches, which again, should kill Arrow, but he's fine.

Arrow manages to get an arrow through Flash's leg, which drops him for a moment, and then somehow he's able to stop a Flash punch, get in one of his own, and hold on to Flash until Digg and Dr. Wells arrive with a funky van that uses disco lights to reset Barry's raging red eyes. Or maybe it squirts him with Visine, I don't know. Either way, the fight ends in a draw. I guess.

How good would The Flash be if it were just Joe, Felicity, and Dr. Wells driving around in a van solving mysteries? Anyone that says they wouldn't watch that show has had their brain washed by a meta-human. Speaking of which, I can't wait to see how these two super friends defeat Roy G. Bivolo (ugh). ​

STAR Labs. Um … so Dry Eyes is in custody? He was the big bad of this episode and we don't even see how they collared him? Dude. Weak.

Oh no. The Flash ran out of budget didn't they? I guess I'll have to write some Arrow/Flash fan fiction and post it in the Special Features section. Keep an eye out for that!

Ollie mentions that he has a prison too. Oh, Ollie, this isn't a prison contest. Besides, your prison only has one prisoner. Ollie asks everyone at STAR Labs to keep his identity a secret. You know, from the two people who don't yet know. Everyone makes all nicey-nice, but Ollie observes that there's something "off" about Dr. Wells. You mean besides the fact that he can walk without his wheelchair and he has a Room of the Future?

Jitters. Ollie and Barry have a nice little wrap-up about their adventures, and Ollie tells Barry to give up on Iris, because guys like them never get the girl. Okay, if that's the case, take super hero off my list of potential vocations. ​

Then Oliver runs into … someone? I have a feeling that everyone that watches Arrow screamed at their televisions when the mysterious brunette appeared, but I just said, "Huh?"

Okay, for all you "yes I watch Flash but no I don't watch Arrow" types, Ollie once got a girl pregnant and his mom paid her a fortune for her to tell Ollie she lost the baby and move to Central City. But the phone call she has after Ollie leaves tells us that she did have the baby. Oh my. This is awkward. FYI, in the comics, Ollie's son Connor grows up to become the Green Arrow. So I guess if Steve Amell gets tired of playing Arrow, they've got a replacement lined up. Advance planning!

Under a bridge. A bum is sitting in the street with the shakes, and a couple of punks decide to fuck with him. The bum stands up … and that's no bum! It's Ronnie, Caitlin's dead fiancé! And he's not Ronnie anymore! That motherfucker's Firestorm! Business is about to pick up!

NEXT TIME! Barry goes to Arrowville to help Oliver catch Mr. Boomerang! Felicity wears a dress and heels while doing science! Oliver and Barry work out together, causing heads to explode!