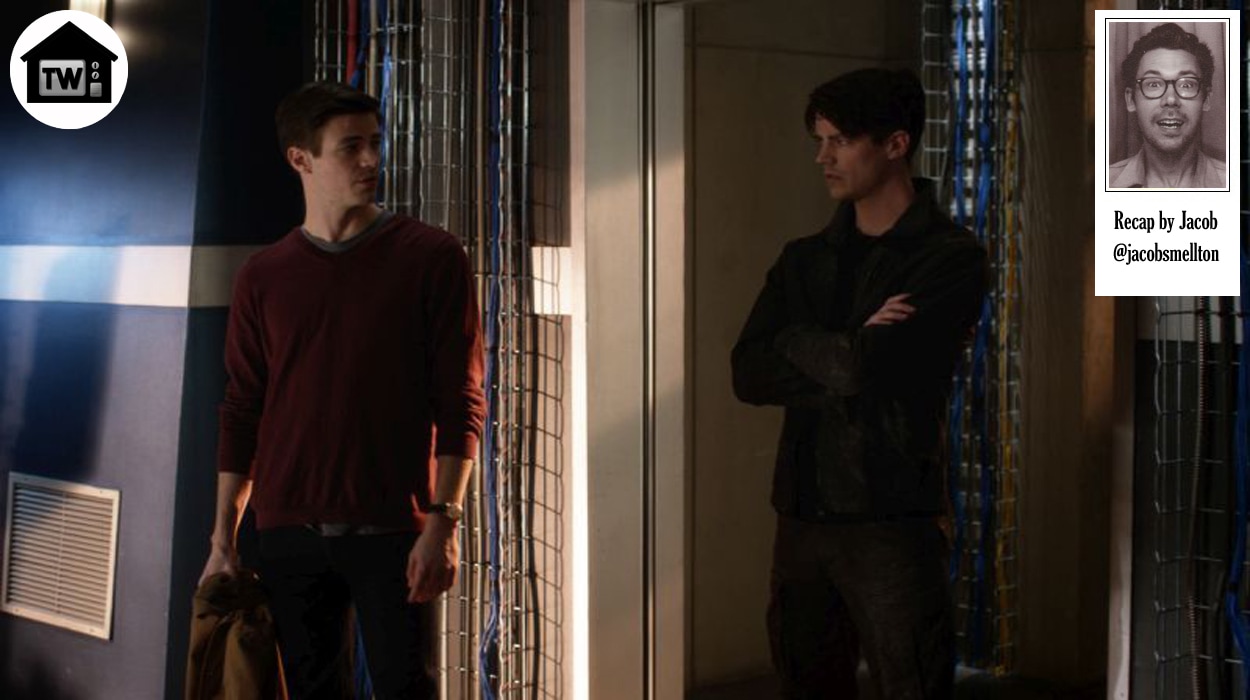 When we last saw Barry Allen he was holding the love of his life in his arms, a time gun had failed to work, and BFFs Cisco and Caitlin were throwing super powers at each other. What could possibly happen in the final episode of the season? Literally everything. Have fun making sense of this.
The episode picks up right where it left off and everyone is very sad. Joe is sad! H.R. is sad! Lady scientist is sad! And Barry is especially sad, well, until he discovers that Iris isn't actually dead, and that it was actually H.R. using the scientific version of Polyjuice Potion that was killed by Metal Space Flash. You see, he used that piece of Metal Space Flash to find were Iris was being kept, rescued her, got caught, and used Polyjuice Potion on them to play swapsies. He tells lady scientist that he had to do it because he "couldn't be a coward," then he gives Barry a secret message for Cisco and Obi-Wan Kenobis out of the universe. There's no time to celebrate because Ya Boy Metal Space Flash steals the time thing and wants Cisco to do something with it. Or maybe not? When he finds out that H.R. is dead and not Iris he has a change of plans but that doesn't matter because the audience didn't know the plan in the first place. I'm pretty sure that the actors are making up this episode as they go along.

Team Flash realizes that Metal Space Flash is going to disappear from the timeline in a few hours — maybe — once the timeline paradox catches up with him. Maybe he has a plan for this whole thing. He does, in fact, have a very dumb plan. He wants Cisco to modify the speed bazooka into a fake science thing that splices all of time together, putting him in all timelines at all times. That seems like a disaster for getting things done, but it sounds like something that a supervillain would want to do.

Back at STAR Labs, Barry is sitting in front of Zoom's suit and talking about being a hero with Iris. I'm glad the show hasn't lost a step when it comes to weird, meaningless scenes. Barry and Goth Barry meet up in an abandoned parking lot and Barry offers to help Goth Barry with whatever he wants. In this scene, Barry tells Goth Barry about his favorite memory, a day when he begged his parents to take him to a science fair in Mid-City (or whatever dumb name that place has) and they got a flat tire and had to be towed to some one-horse town that had a diner where you could get French fries and gravy with ice cream and where there was a FUCKING NIGHTLY FIREWORKS SHOW! What town is this? Is there a third U.S. location for Disneyland? Barry just made that memory up, didn't he?

The memory chat must work because he convinces Goth Barry to go back to STAR Labs with him, and obviously people are on edge. Except Iris, she's pretty cool about the whole thing. Goth Barry won't tell them the location of Cisco and Caitlin, but Lady Scientist isn't on board with this at all. So the gang does what any sane person would do, they get Harrison 2.0 to convince her to work with Goth Barry. It's a bold move to get the doppelganger of a woman's dead lover to convince her to do some work, but it works. Before Lady Scientist can actually help Goth Barry, he freaks out and decides that he can't work with Team Flash to make things better because he's a bad boy. He promises to bring Cisco and Caitlin home and takes off, but then there's a timesplosion in STAR Labs and that can't be good.

Meanwhile, Cisco has fixed the time thing, and I guess Goth Barry thinks he killed Team Flash? He says something about getting rid of a problem. I don't know. Anyway, before Caitlin can kill Cisco, Gypsy vibes through the universe and saves our boy and his precious vibe hands.

That's when things go off the fucking rails. Metal Space Flash opens an interdimensional portal so he can spread himself throughout the multiverse, Black Flash pops out and Caitlin freezes him to death, and then shoots Metal Space Flash with the science cannon. But of course things don't go as they planned for Metal Space Flash, because instead of being splintered throughout time and space, he gets punched in the noggin by Jay Garrick. Talk about things not going to plan. According to Cisco, he did some science and scienced the science. All of the Flashes begin chasing each other as Gypsy and Cisco chase down Caitlin. Cisco gives Caitlin the cure for being an ice queen — oh by the way, in this mess of an episode, Draco somehow invented a cure for Caitlin's metahuman problem — and is immediately run down by Metal Space Flash.

Before Super Shredder can kill Cisco, Caitlin saves the day and it's a very nice arc. When that doesn't work, Metal Sapce Flash says he's going to kill everyone in his last few moments so Barry phases into the Metal Space Flash suit, and pushes Goth Barry out. The suit gets exploded and things are fine. Except they're not because like any good horror villain, Goth Barry makes one last attempt at killing everyone — for about the fifth time in this episode — and is shot in the back by Iris, who has probably wanted to do that to Barry for a long time.

Now that the national crisis of Metal Space Flash has ended, we can finally attend H.R.'s funeral and find out that he wanted Cisco to know that he gave him the strength to be him. But didn't the Tin Man know that he had a heart all along? There's no time to think about our dead friends because Killer Frost shows up to give Draco his MacGuffin serum back. She wants to keep her meta powers, and in doing so she goes off on an Incredible Hulk-style road trip. When all is said and done, Barry and Iris return to their giant apartment and go through wedding stuff.

But before things can get too sappy, there's a timequake, or a time storm or something that destroys everything. It turns out that when the time prison was emptied, it started leaking speed power out into the world and that something has to fill it with a speed person. Barry decides that it's got to be him. Then his mom comes out of a time portal and is like, come on dum-dum. Barry walks into the speedforce and everything is fixed. I guess it's a good thing that Barry and Iris didn't set a date.

Stray Observations:

There's a moment where Goth Barry is talking about how he remembers everything in STAR Labs, and one of the places is where they built the something or other, but that Barry hasn't gotten there yet. Technically, neither has he. The future that Goth Barry remembers is a darker timeline with H.R. romance novels and a STAR Labs that's out of operation. It sounds cool to have Goth Barry say stuff like that, but it doesn't mean anything.
This was a very hit-or-miss season, but the one thing that paid off really well was Cisco having a chance to play father figure to a Harrison Wells after two seasons of making moon eyes at his mentor and the mentor's doppelganger. And I guess it was nice that the three-act structure of this first three years began and ended with Barry and his mother. For all its missteps in the third season, the finale felt the most like a comic book, especially that shot of Barry walking into a time tunnel with his ghost mom. It wasn't perfect, but nothing is.

Next Time! Wally, somehow still with his powers, decides to go even faster by wearing roller blades! Harrison gets even raspier when he speaks after he accidentally eats a ghost pepper! And Cisco realizes that he can use his powers to scratch those hard-to-reach places!

​