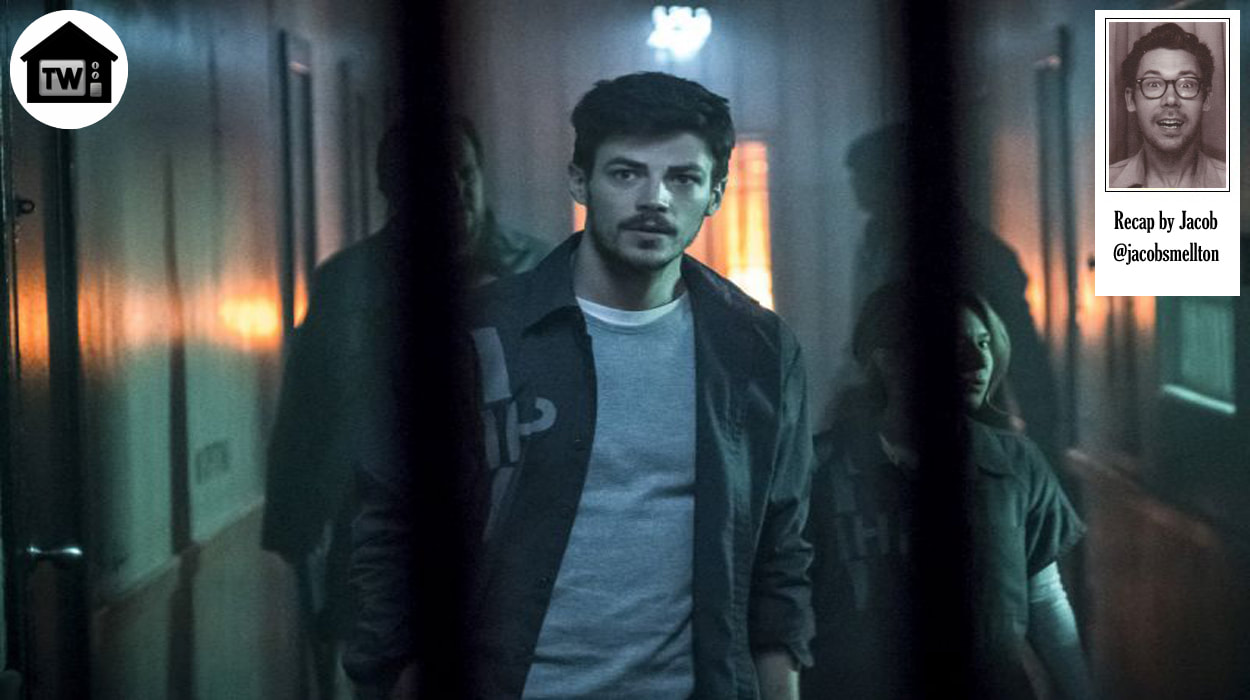 Barry's still in prison, but not for long, because there's no way he's letting himself or any of his new meta cellmates get sold at auction. Oh, and Dibny develops some disturbing new powers thanks to a character we'll never meet again.

Amunet is doing some window shopping in the prison under the prison. She wants a meta, and apparently speedsters are the most popular amongst baddies who are into the whole people-owning thing. If Barry's sold into slavery, is that really so bad?

Dibny goes to his office for the first time in weeks and runs into an old friend, who's either Scottish or approximating a Scottish accent. The friend offers him a job that I don't understand. Dibny says no thanks and the Scottish guy gives the audience some exposition about Dibny being a let down. Thanks, Scottish guy!

Iris and Cecile figure out that Barry's being sold to Amunet at the stroke of midnight and now that the episode has a clock on it, let's get to work! And by get to work, I mean let's discover a new power of Ralph's. He can shapeshift into other people by complaining about them. Wouldn't this whiny Stretch Armstrong have figured this out by now? I feel like he complains a lot.

Outside of Team Flash, everyone else seems to be having a rough go of it, even the previously-three-steps-ahead-of-everyone Thinker. He finds the new wrinkle in the story perplexing and his wife isn't happy about it. Was it a good idea to kill off such a good actor in favor of moving the character over to what is ostensibly a cardboard cutout of a man? The Thinker isn't sure what to do about the meta auction, which brings to question how he knew to install a camera in Barry's cell. Let's not think about that because the writers for this show definitely didn't think about it.

Barry has a plan for escaping and it apparently involves shoving a bunch of hair down a toilet and making someone from the prison snake it out. He steals some batteries and I guess he was just trying to power his boom box. Barry builds a water acid thing and uses it to overload the prison's circuitry. He breaks everyone out of their cells and they travel through some very well-lit sewers and talk about what they're going to do when they get to the outside world. It's mostly crime. Barry shows off his previously unknown power for shapeshifting into a slice of white bread by telling them to give up crime.

Back at The Thinker's lab, he and his wife are going through a rough patch. She's finishing his thinking chair but she's also playing a melody in her head that blocks his thoughts. Ugh, women be playin' melodies in their heads so you can't read their thoughts.

Dibny is learning how to be Wolfe at a local dive bar and things are going well. He smashes a beer on accident, falls on his face, and starts doing that thing that Dark Man does when he melts after a couple of hours. Regardless of all these hurdles, he gets to meet with Amunet at a boxing ring that's lit by the same guy who did Batman Forever. Amunet notices that something's weird but Dibny plays it straight until he starts doing that Dark Man thing. Ralph literally falls apart because this show is nothing but subtle. Dibny morphs back into himself and runs away before Amunet can capture him. This major whiffing of the plan tips off Wolfe to that whole thing about the metas escaping from their purple cells and the chase is on! And what about the deal? Is that still happening or has the clock on the episode been pushed back?

Team Flash decides to break into the prison, but Ralph doesn't want to go along with them because he's lost his nerve.

They may not have to break into anything because Barry and the rest of the metas are almost out of prison. While the hacker from earlier in the season works on some kind of fancy lock, Barry has a heart-to-heart with Jinx. How has she not figured out that he's The Flash?

Speaking of heart-to-hearts, Caitlin goes to see Dibny but Killer Frost ends up giving the heart-to-heart, and that's the most Caitlin's had to do in weeks.

The metas get out of the prison and Barry's immediately hit with a power dampener so he can't be a speedster. The rest of the metas activate their powers, but before they can kill Mr. Wolfe, he sells Barry out for being The Flash. It's my favorite character moment on this show ever. Before the metas can kill Barry, Jinx uses her powers to give everyone bad luck. Then Amunet shows up and the same thing happens Then The Thinker shows up and zaps everyone's brains so they're all DeVoe? No, wait, he kills everyone and then puts his mind into Jinx. Or something. He then crushes Warden Wolfe's head before zapping out of existence.

Why is it that the one character note that everyone has when they turn into DeVoe is that they say "Mr. Allen?" Couldn't he have a speech impediment or something? We get it, he's proper, but this whole thing feels lazy. After DeVoe leaves everyone but Barry dead, Cisco and Killer Frost show up to free Barry, but he refuses to leave. I haven't seen something spin its wheels this hard since my Kia hit that patch of ice.

In a C-story that I forgot about, Cecile gets yelled at by a judge in my new favorite show, "Angry Judge." She doesn't have any new evidence in Barry's case, but before Angry Judge can close the case, Dibny comes in, under the guise of Clifford DeVoe, and claims that he was never dead, thus Barry shouldn't be in prison for murder. So that's that, the show is back on track for everyone to talk about Grandma Esther's whatever. Apparently Barry's going to hold onto that weird rat mustache. Now that the group's back together they can get back to figuring things out by saying stuff like, "I got it," and then explaining stuff like DeVoe only wanting to go after bus metas like Dibny.

Meanwhile, at The Thinker's lab, JinxVoe pours some Champagne for her and her wife. Apparently the plan's not working out, so no Champagne for Mrs. DeVoe. Well, no Champagne without a drop of those blue tear drugs from earlier in the season, remember you idiots? JinxVoe and her wife do a little dance and the episode stalls out into the credits.

Stray Observations:
Was Barry's time in prison a necessary plot for character growth? Or was it just a writing experiment in shaking things up that became very stale and set the show back? During Barry's prison vacation, we did get to see how well Team Flash works together sans Barry, but we also had to watch WCW's Bill Goldberg act. I guess you have to take the sunshine with the rain.
Does Dibny's new power, or new extension of his power, creep anyone else out? I know he's a very good boy now, but do you really think that's going to stop him from getting back into his favorite strip club? And will it be the way that he's written off the show at the end of the season?
Did DeVoe really kill off five characters? Does The Flash have the kind of a Rogue's Gallery that can take that kind of a hit? Imagine the stories that could have been told with Hacker Man and Shrink Guy and Woman Who Steals Artifacts Using the Same Eagle Sound Effect. R.I.P.
Next time! Barry shaves his prison facial hair into a badass goatee! Wells returns from Earth-2 with creatloaf, a cross between croissants and meatloaf, and they catch on big! And Dibny pretends to be Iris's long-lost twin sister and hilarity ensues!