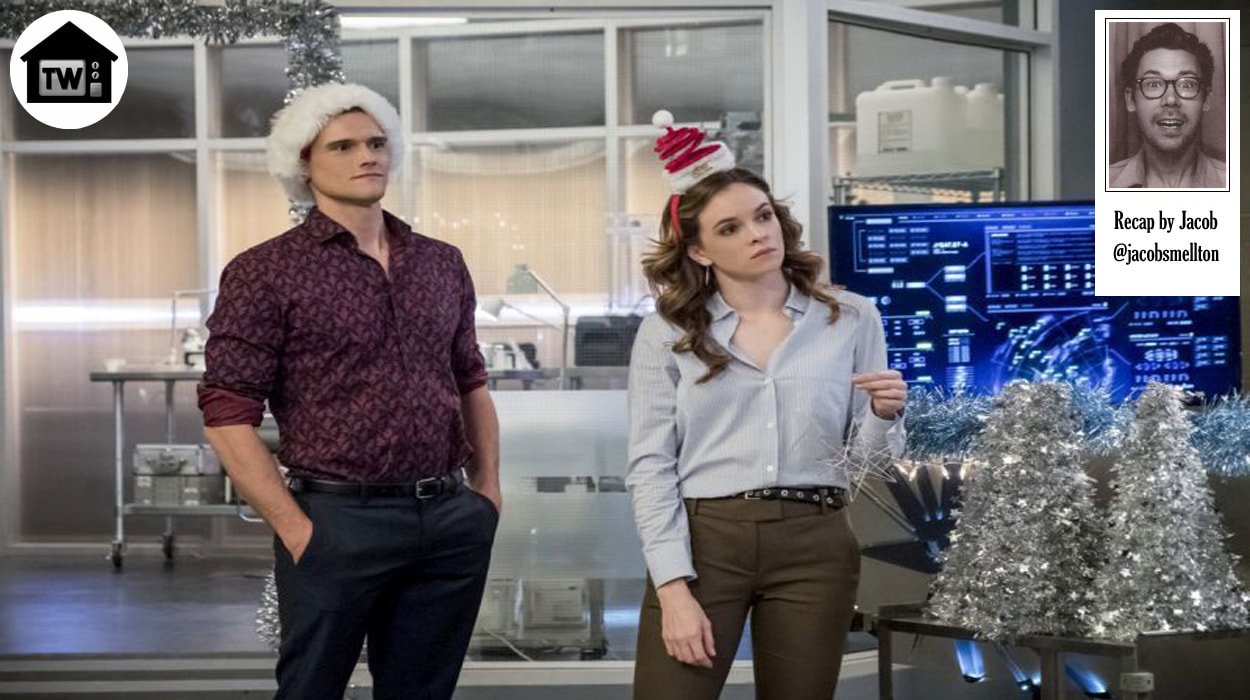 This week Barry gets stuck in a box that he can't get out of, and if Cisco doesn't make a "glass case of emotion" joke I'm going to scream.

It's Christmas in STAR Labs and Cisco and Harry are decorating the classic blue tree! They're arguing about tinsel! Wearing goofy hats! And trying not to invite Dibny to a party. Then it comes out that the guys hang out with Killer Frost when Caitlin isn't around. There's probably a German word for being left out when you're the center of attention. Something like Alleingruppe.

Barry and Iris are opening their wedding gifts and something is wrong, you guys. Barry's not using his powers and someone sent them a single knife. Surely neither of those things is going to come back.

Okay, so this is embarrassing. I just figured out that this episode takes place on Christmas Day. Otherwise known as the very special birthday belonging to Clifford DeVoe and a very specific writer – ME, YOU IDIOTS! DeVoe's body is deteriorating faster than he thought it would and it seems like he has a plan to get a new body or something. Marlize seems worried about whatever their creepy plan is so it's probably something dumb.

Harrison catches up to Caitlin at JITTERS (!!!!!) where there's not only a Killer Frost drink, but a moping Caitlin to go along with it. Why are the coffee shops of Central City open on Christmas? Jitters better have great benefits or I'm calling ACLU's coffee division. Which I'm also creating. Anyway, Caitlin's bummed that her evil doppelganger is cool but Wells assures her that she's also fine, just in time for Amunet to bust into Jitters and start wrecking shop and tamp down Caitlin's powers with a power bracelet while The Thinker kidnaps Barry.

Back at STAR Labs, the gang kicks into research mode. Cisco can't vibe Barry, he's somewhere that's un-vibe-able. The un-vibe-able prison looks kind of like what I imagine the inside of a paused game of Tetris would look like. Caitlin is brought to an abandoned hospital or something that Amunet's taken over. She shot a meta in the head while trying to kidnap him and needs Caitlin to save his life. Despite the equipment being ancient and unsterile, Caitlin takes the job because if the meta dies, she dies. Classic bad guy stuff, you know? The meta, Dominic, wakes up and commiserates with Caitlin about being kidnapped by Amunet and having powers. Dominic became telepathic after riding that damn bus and now he's on The Flash. He's moving up in the world! As soon as Cisco gives him a pithy nickname like, oh, I don't know, Brainstorm or maybe Branstorm or Smart Thunder, he'll be all set.

The Thinker makes his grand entrance into Tetris world and explains that he'd like to teach Barry Allen a lesson – which is kind of bad guy 101 (not to stick with the education terms). Rather than go the full Bond villain route and spill his beans, he makes Barry watch TV – YEAH! Suddenly DeVoe is the coolest teacher in Central City. He makes Barry watch as he has a grimace-off with Joe, who's just shown up to the house. It turns out that Wells is also there and he has some kind of tech gun. DeVoe taunts the two daddies and then allows them to search for Barry through the house. Meanwhile Barry tries to speed his way out of the Tetris room. DeVoe's wife tells him that he's not going to get out via speed. They have a terse stand-off about marriage, which leaves Barry standing in the Tetris cell fingering his wedding ring. It seems like a waste of time to let Barry stay awake while Mrs. DeVoe does whatever it is that she needs to do, but I guess if you're not going to have fun and taunt the hero, what point is there in being a super villain?

The two separate baddie strategies on display offer an insight into how limited most evil plans are. On the one hand you have The Thinker, who's using his infinite wisdom to lock Barry up and have his wife perform some kind of medical procedure while he gloats. And on the other there's Amunet, who's a basic crime boss-styled villain that's locked Caitlin up so she'll perform some kind of medical procedure while she gloats. Is there anything new under the Earth-1 sun?

Cisco can't find Barry or Caitlin, and everyone is blaming Dibny. Iris breaks up their fight and they go their separate ways. Wells explains to Iris that she's the new team leader and that she needs to make a decision about who they're going to search for. Is there much of a choice here for Iris? Caitlin is just her work acquaintance but Barry is her husband, he's also the fucking Flash. Anyway, Caitlin doesn't really need Iris' help because she's orchestrating a breakout with Dominic. Or she is until Amunet catches them in whatever Resident Evil hallway they've found themselves. Amunet gives Caitlin a Bond villain speech about her life prior to having metal-flinging powers. In telling Caitlin that she was a flight attendant who hated being a flight attendant, she speaks to the very core of Snow's issue this season – Caitlin has always been a superhero with or without powers. She's a fucking doctor who works in rocket science. She doesn't need ice powers to be cool. However none of her friends realize that because they're also metahumans or scientists or both. This single sign of humanity from Amunet turns Caitlin around and she seems ready to save her new telepathic friend.

Shortly after their squabble, Dibney and Cisco make up and it turns out that Caitlin isn't the only person trying to figure out who she is in this episode. Iris decides to find Caitlin, who it turns out is in the middle of her procedure. In between her conversation with Amunet and now, she found some very fancy equipment in the basement. Who let her go in the basement? Caitlin pulls out the shard, Dominic goes into shock, and then everyone gets knocked the eff out. Dominic and Caitlin escape the hospital and as Amunet gives chase, Cisco and Dibny arrive to get the gang out of there.

In Barry's storyline, he's somehow gotten out of the prison by "standing still really fast." There's a weird fight over Central City that ends with Barry using that damn flotation mode and with The Thinker sinking into the river. In the wrap-up, more questions about the timeline are introduced: Is it actually Christmas day? Joe still wants to have a Christmas party so everyone can decorate the house. Maybe it's Christmas Eve. Anyway, when Team Flash gets to the party, they find that the house has already been decorated by Dibny. Cisco gets a sexy hologram cube from Gypsy and then Dominic shows up to party. Then Barry goes back to his apartment after he gets a break-in alert. Bad news, you guys, Dominic is actually DeVoe. There's a whole Usual Suspects post script where it's explained that The Thinker was the buyer who purchased Dominic. DeVoe transferred his mind into Dominic's body and unfortunately the actor playing Dominic isn't as good as the guy playing DeVoe. He explains that he left the dead body of DeVoe in Barry's apartment and he's blackmailing The Flash for murder. What a boring fucking plan. If next half of the season isn't an Agatha Christie-style whodunit, then I'm out.

Stray Observations:

​

"Christmas is ruined, everyone is kidnapped, and it's all my fault." – How did Dibny know my traditional holiday greeting?
I'm still lost on the blue Christmas trees.
I know the show is called The Flash, but I'm looking forward to the series pivoting to Ralph Dibny, Private Eye.
This is at least the second DC television series that's revolved around the hero stabbing someone with a fancy knife. Why are showrunners so obsessed with this kind of thing?
The whole "BAKING SODA" thing was way too reminiscent of "FRANK AND BEANS" from The Office. I know The Flash is reference-heavy, but this just felt like a ripoff.

​
NEXT TIME! Barry invents a fast way to make toilet wine! Dibny takes to wearing the old Flash suit as pajamas! And Wally falls into a well, but no one notices.