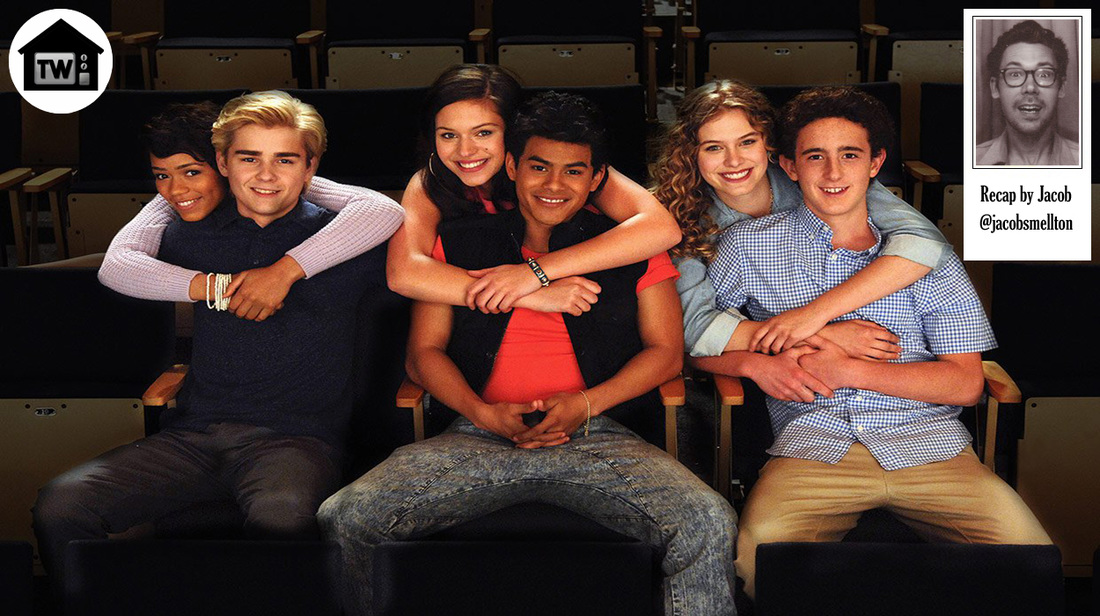 Early reports about this film (I guess we have to call it that) stated that it would be based on Dustin Diamond's memoir of his time on Saved By The Bell, which as it turns out was mostly fabricated. I'm not really shocked that he made up most of his autobiography. I was more shocked with the revelation that Mark-Paul Gosselaar bleached his own hair on set.

The film begins in media res in 1991 with the kids getting their first taste of fame at a Mall is somewheresville America. They're riding in a limo and are all very sad Hollywood babies and would rather be listening to Biz Markie while playing Street Fighter. At this point the film could turn into Less Than Zero in a heartbeat.

"Time out" Zack says, because he is Zack and that's what he does, but then Screech double time outs Zack's time out and gives a Bond villain speech about how this is his movie and I hope you're ready for a lot of Ferris Bueller asides to the camera.

As the film progresses, I will furiously try to call time out on the film, failing at each interval.

Screech talks about his process? Time out. Zack is upset about the course of his career? Time out. Lisa is a Jehovah's Witness? TIME OUT.

After the first of many audition scenes, we're reintroduced to Zack and Lisa, they're both still very blonde (well, not Lisa) and very worried about being Big Time Hollywood Actors.

Early in the film, the camera follows Dustin and Mark-Paul on their first trip to the set, which is a very exciting moment. The kids have been pushing for their entire lives to get to this moment and they've finally made it to the top of a very small mountain with no idea that they'll soon be cannibalizing each other to survive. To get that beatific first moment of excitement across to the viewer, the camera tracks through the studio and ends on a loving pan of – you guessed it, a giant scrim! Welcome to Hollywood babies, population you!

During the first read through for Good Morning Ms. Bliss, Dustin cracks everyone up with a hilarious duck impression. I can hear you screaming at your monitor, "You don't need to tell me that! A duck impression is the funniest thing known to man! Haven't you seen my Bills are Trill shirt?"

If you're wondering, Dustin Diamond apparently does a mother fucker of a duck impression.

So the show gets canceled and the executives go back to their secret base on the moon to recalibrate the series. I now present the soon to be famous "Executives on The Moon" scene from The Unauthorized Saved By The Bell Story.
INT. Day – Secret Executive office on The Moon

Over a round of cucumber waters, four NBC executives discuss the future of SBTB

EXEC 1: It's a show about the teachers! Everyone had a teacher that they loved, except maybe for you, Nerdy Exec.

Everyone laughs.

BIG SHOT EXEC: No one cares about the teachers. It's a show about the kids!

LADY EXEC: Maybe so, but these kids are out of control!

EXEC 1: Kids, teachers, none of it matters because there's never been a live action series on Saturday mornings. Kids won't watch it.

Nerdy Exec paces around the moon base conference room, he stares out into the infinite reaches of the universe and takes a sip of cucumber water.

NERDY EXEC: I don't care if there's never been a live action series on Saturday mornings, kids will watch what we tell them to watch.


After another riveting round of audition scenes, the Saved By The Bell cast is solidified, Tiffani-Amber Thiessen is a nervous Hollywood baby, Elizabeth Berkley is a confident, curly-haired Hollywood baby, and Mario Lopez is an acid-washed creep (who is also a Hollywood baby).

So far here's what I've learned about Saved By The Bell:
1. Everyone was holding hands all the time.
2. There was a lot of pressure for a show about babies calling each other names like "preppy" and "jock."
3. A cast of babies on a show about dating and large cell phones was very concerned with being taken seriously.

The reviews are in! After a very fun first season montage, the cast sits in a faux forest set and reads their reviews. The trades say good things and everyone is happy. Just kidding. The reviews are terrible and everyone is very sad, most of all Dustin Diamond. He put so much effort into his character and the critics just don't get it, man. He really was the barf bag Andy Kaufman of the 1990s. Coincidentally, if Saved By The Bell were made today, Screech's character would be named Barfbag.

After a few more near-cancellations, SBTB blows up! Kids love the Hollywood Babies! Zack becomes sort of a sex symbol or whatever you call it when no one is having sex and everyone is frying their scalp with a home bleaching kit. Things finally get serious on the set of SBTB, Showgirls and .Tiff (amazing new nicknames that you can start using now) want the series to be more like M.A.S.H. and they suggest that the writers let them be surgeons in the Korean War, and Mark Paul Gosselaar slowly becomes Brad Pitt in Interview with the Vampire (constant sulking, very pale, eats a few rats).

After watching a run through of the famous Jessie Spano caffeine pills gif, Screech is kicked out of the practice room for not being as serious as the other Hollywood babies and he ends up back in the faux wooded area. After striking up a conversation with a backup dancer for a K-Pop group who's "working his way up" through the studio system by being an extra (just like George Clooney!) he decides to get fuuuuucked uuuuup.

Damn those beautiful Asians and their flasks full of liquid mischief!

Not only is 1991 the year that Punk broke, but it's also the year that things began to fall apart for the Bayside babies. The show goes to the beach, and the cast begins to feel trapped in the prison of fame. More like Jailed By The Bell, if you ask me. Hey, where'd everybody go? Screech attempts to see Hudson Hawk in the theatre with his K-Pop buddy but instead ends up punching a guy to death (how often do you get to type that sentence?). Lisa and Mark-Paul have a non-lovers' quarrel and Brandon Tartikoff gets in a horrific car accident that segues into a horrific Screech karate montage. 1991 was tough.

The hits keep coming as .Tiff and Showgirls quit the series and bum everybody out. Screech copes by wearing a denim shirt and drinking from the one flask in the prop room. Mark-Paul Gosselaar buys a motorcycle and drinks champagne out of a bottle with Mario Lopez, who wears a lot of neon-colored half shirts. The biggest blow to the Hollywood babies comes when a VHS tape of Screech getting high and quoting Wayne's World (Schwing, etc.) surfaces and the actor is blackmailed into giving his K-Pop buddy … something? Detective Gosselaar channels Franklin & Bash by helping Dustin work out his K-Pop woes and then by having a totally awesome heart-to-heart. The kids graduate in a very heartwarming (read: not heartwarming) montage and the movie calls TIME OUT on itself before we can get to the College Years.

Did anyone else watch this not-very-fun movie that probably could have been a lot of fun? How did your recap that you wrote at 3 a.m. turn out? Who was your favorite character? Personally I loved the 199Whatever graphic that was the secret star of the show. Leave your thoughts in the comments and we'll discuss. Schwing! 1991! Etc.